Get ready to be untethered; we've found the very best wireless earbuds on the market.
With Apple's jettison of the headphone jack on the iPhone 7, it's safe to assume that the days of old-fashioned wired earbuds are coming to a close. And while the Cupertino firm is on the cusp of releasing its very own wireless AirPods in late October, the market is already flooded with top-shelf options at every imaginable price tag.
Of course, you don't have to be an iPhone 7 owner to want the latest and greatest in wireless listening tech. From the athlete looking to pump up their workout to the average schmo who's sick of detangling braided cable every 2 minutes (not speaking from experience at all), wireless earbuds are the answer to many previously unsolvable problems.
To make sure we're all on the same page, these wireless earbuds are different from wireless audio headphones. Most wireless earbud manufacturers are aiming for both the sports market and the everyday, on-the-go type of person — not necessarily the audiophiles. So if you're looking to spend a little extra dough on pure, top-notch wireless audio headphones, check out our guide on the best wireless headphones on the market.
Without further delay, let's look at the latest and greatest the world of wireless earbuds has to offer.
Best Overall: Bose SoundSport Wireless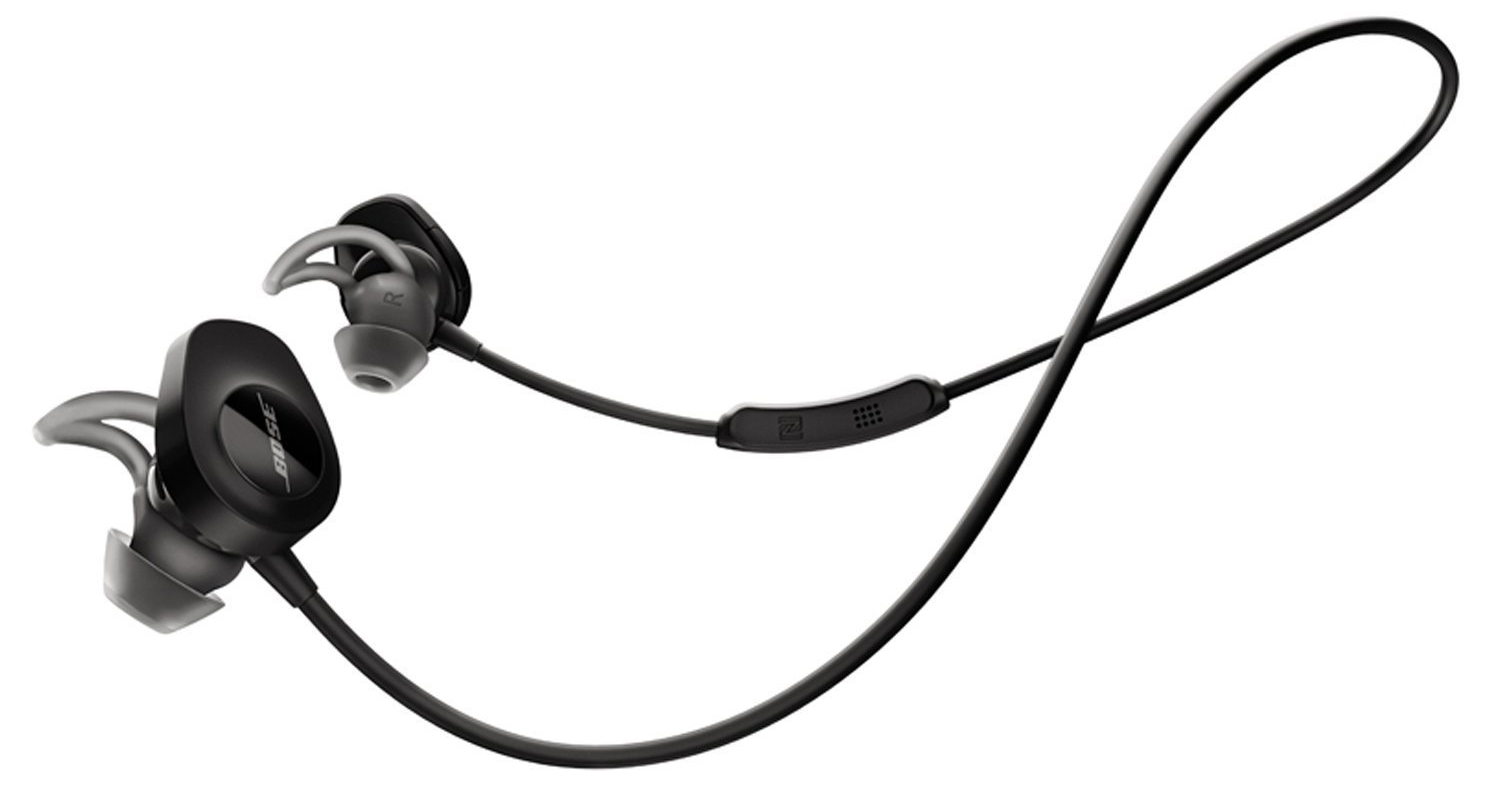 In the audio community, the word "Bose" has been interchangeable with the word "quality" for many years — the Bose SoundSport Wireless Headphones are no exception.
First and foremost, these earbuds just sound great. With high quality drivers and active equalization that keeps the mix balanced at any listening level, the Bose SoundSports can hold their own with just about any wired headphone on the market. While there will always be a slight degradation of signal over Bluetooth streaming, the Bose SoundSport Wireless are just about as close as possible to pure high fidelity sound in a wireless package.
These relatively low-profile headphones are designed to fit snuggly in your ear, using Bose's improved StayHear+ eartips to ensure that no amount of jostling will cause them to fall out. Although the tips don't completely block the outside world, they do create a tight enough seal to allow you to zone out and listen to your favorite tracks.
The Bose SoundSports have features for days, including the latest and greatest in both Bluetooth and NFC pairing, as well as the Bose Connect App to manage all of your connections. The app will also manage your connections automatically after you've paired it with multiple devices, making switching devices for an important phone call a literal no-brainer. On top of it all, the SoundSports are completely sweatproof and weatherproof and boast an auto-off feature that can save the battery a lot of juice.
Speaking of battery life, the Bose SoundSport Wireless earbuds are fairly average with up to 6 hours on a single charge. There are other wireless earbuds on the market with a better battery life, but some of them, like the Jaybird Freedom headphones, require a charging clip that is frankly a bit awkward and unsightly. Although 6 hours is nothing to write home about at this price tag, it should be more than enough to get you through the day on a single charge. And if you do have time to listen to music constantly for more than 6 hours a day, we envy you.
All in all, Bose shocks no one and delivers a solid audio product that simply sounds better than the competition. And while these headphones aren't cheap by any metric, there are certainly worse ways to spend even more money in this market.
The Bose SoundSport Wireless Headphones are soon to be available on Amazon for $149 with free Prime shipping.
Runner-Up: Plantronics BackBeat Fit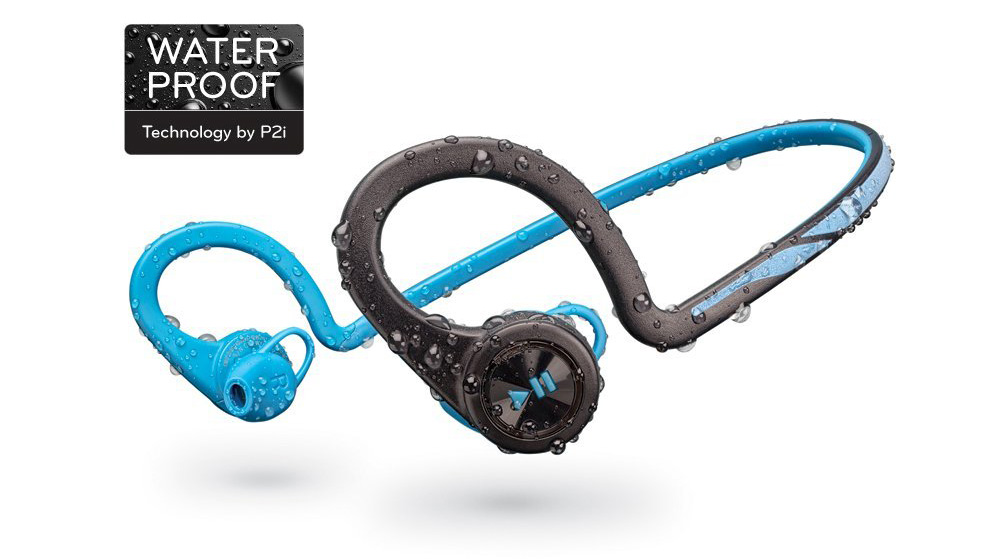 Solid wireless earbuds that sound great, look slick, and cost about half of the Bose SoundSports? We're listening.
The Plantronics BackBeat Fit Wireless Headphones are a formidable competitor on the market, boasting many of the same features as our top pick at around half the price, including connectivity to a smartphone app, sweatproof design, and phone call capability.
In fact, there are some areas where the Plantronics actually bested the Bose SoundSports. The BackBeat Fit wireless earbuds boast an impressive battery life of 8 hours on a single charge, as well as lasting 14 days on standby mode. The Plantronics earbuds' sweatproof design is also a step ahead of the competition, with an extra layer of coating to prevent any water damage. While we still wouldn't recommend Michael Phelps plunging into the pool with these on his ears, they should be able to easily handle the sweat worked up in an everyday workout. On top of all of that, Plantronics includes a neoprene armband for jogging at no extra cost.
So why weren't these our top pick? In the end it came down to sound and control design. Although the Plantronics actually sound rather rich, the design of the earbud allows a lot of outside noise to enter. This makes it harder to hear your music clearly and free of distortion, especially if you're fighting the hustle and bustle of big city traffic. As for the controls, they aren't bad in and of themselves — the placement is the issue. With controls resting on the earbuds themselves, it's frustratingly easy to accidentally skip your favorite song while you're adjusting the fit.
Still, those few detractors don't change the fact that these are a stellar set of wireless earbuds at a very competitive price. And honestly, if Bose-level pristine sound isn't a must have for you, the margin between these and the Bose SoundSports becomes razor-thin. If you're looking for a solid wireless option with one of the best batteries on the market and a stellar design, we can't recommend these enough.
The Plantronics BackBeat Fit Wireless Headphones are on sale for just under $76 on Amazon with free Prime shipping.
Best Value: Photive PH-BTE70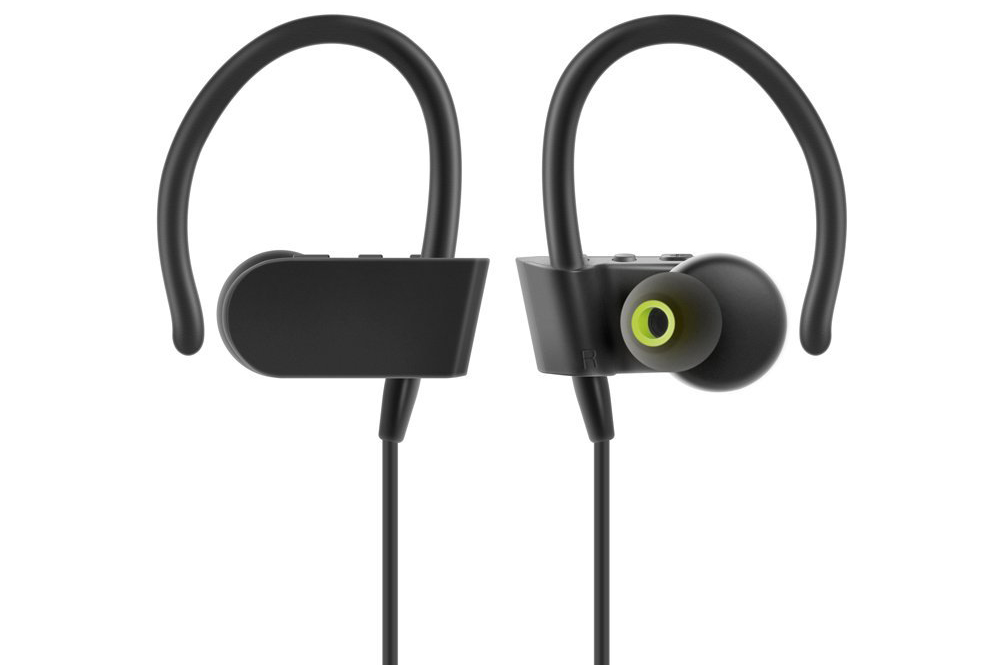 With a $25 price tag, it's fair to be skeptical about the quality of the Photive PH-BTE70 Wireless Headphones. But rest assured, these value earbuds aren't cheap where it counts.
Photive's no-nonsense headphones are designed to be the perfect affordable choice for everyday wireless listening, featuring comfortably fitting earbuds, a hook around each ear to keep the buds in place, and some basic controls above the right ear to facilitate volume changes and finding the perfect song. While there's no frills where the design is concerned, these wireless earbuds boast all the core features one would expect from a top-tier earbud set.
If you're an athlete looking for an affordable option to test out on your daily run, these Photive earbuds are specifically catered to you. On top their hooked design, these earbuds are completely sweatproof, making them ideal for long workout sessions set to your favorite albums. With up to 6 hours of playtime on a single charge (matching our top pick), you'll work up quite a sweat by the time these puppies power down.

As for the technical specs of the Photive wireless earbuds, they're really quite impressive for the price. The value earbuds feature Bluetooth 4.0 with aptX codec for high fidelity music streaming, matching other big industry players in streaming quality, but not necessarily in sound replication. These earbuds sound good, just not great. But that's to be expected when the competition is 5 to 7 times the price. The other noticeable downside is a relatively short leash for Bluetooth connectivity, cutting off around 20 feet. Still, this isn't enough to offset the other positives that make the Photive PH-BTE70 earbuds a tremendous value.
At the end of the day, not everyone wants to spend a fortune on wireless earbuds. If you're looking for an extremely affordable option to test the waters of wireless music listening, we can't think of a better option than these.
The Photive PH-BTE70 Wireless Headphones are on sale for $24.95 on Amazon.