It's a bird! It's a plane! No, it's an unmanned aerial vehicle!
Drones have revolutionized both the professional and recreational photography and videography markets. With easy maneuverability, focused stabilization, and a high quality camera, the right drone can help you grab that impossible to reach shot you've always been looking for; but just how much of this relatively young market is cheap gimmicks and flashy sales techniques?
To help cut through the noise, we've determined exactly what makes the perfect drone tick — or fly. The right UAV should first and foremost be able to fly with ease and focus and shouldn't impede clear video. Of course, a drone should be equipped with a quality camera, as well as means of controlling the camera. Finally, the perfect drone should be fun to control and be loaded with the high-tech advancements needed to make piloting a breeze.
While the market is already rich with top-shelf options, we're confident that we've found the best of the best. Let's dive in.
Best overall – DJI Mavic Pro
---
For professionals and drone enthusiasts alike, the DJI Mavic Pro is the perfect marriage of unparalleled flying ability, a high quality camera, and a low profile design. Simply put, it's the best all-around drone that money can buy.
If you're aspiring to make the most out of your drone purchase, chances are you'll be taking it on the road. While there's many great quadcopter options on the market (including DJI's Phantom 4, which we will get into below), the Mavic Pro is the only one that offers a compact, travel friendly design without sacrificing function or quality. Unlike other premium drones that require tedious disassembling before being crammed in your luggage, the Mavic Pro is designed to fold in on itself and fit safely in even the tightest bag.
While the travel-ready aspect already gives the Mavic Pro a leg up, its engineering sends it over the top. First, let's take a look at the camera.
While flying into winds up to 19-24 mph, this sleek and compact UAV offers stable and crisp HD video at 4K/30fps or 1080p/96fps, as well as photographs in 12MP Raw or JPG format. The onboard camera shoots at slightly smaller frame than the DJI Phantom 4, but offers a rotating module to change the orientation from landscape to portrait, a useful tool for photographers. It also features focus adjustment that allows the user to hone in on any object and move within 19 inches of it, which is a more useful feature in close up videography than in high-flying aerial capture.
Moving on from the camera, the Mavic Pro is not only up to par with the DJI Phantom series, but an improvement. This quadcopter's improved OcuSync transmission system allows the drone to fly as far as 4.3 miles away while live streaming 1080p video to whatever smart device you've attached to its video-game like controller. Once it's time to return home, the Mavic Pro's Precision Landing system uses its video and GPS information to guide and land it with one inch of where it took off.
The accompanying app is truly where the fun begins. Within the app, you can have total control of the Mavic Pro and adjust everything from flight path to color balance. The Intelligent Flight Modes offered include Point of Interest, which allows the drone to circle a selected point, Waypoints for repeating paths, and the Follow Me function. You can also manipulate the Mavic Pro's path with TapFly — which is exactly as straightforward as it sounds. Finally, there's ActiveTrack for following any moving item and Terrain Follow to maintain a safe distance from the ground and obstacles ahead.
The controller is a well-designed and equally compact device that has a lot to offer in and of itself. However, its best feature is how it incorporates your smartphone as a live video monitor. Once you've mounted your phone to the bottom of the controller, you can track your shot right along with the Mavic Pro itself. If you're interested in quickly firing up the Mavic, you can flip the RC to WiFi switch and bypass the controller altogether.

Really, the only downsides to the DJI Mavic Pro are that the camera's field of view isn't quite as wide as DJI's Phantom 4, it's not the best in strong winds, and that it's slightly on the pricier side. Ultimately, that's a small price to pay for revolutionary compact folding design and various other improvements over DJI's Phantom series.
Breakdown
Excellent flight distance and video transmission
4K video quality at 30fps, 1080p at 96fps
Rotating camera for portrait and landscape
Travel friendly design
Encompassing app and flying features
Comfortable and compact controller
Refreshing design compared to competition
FAA registration required
Whether you're a professional videographer or an amateur hobbyist, DJI's Mavic Pro is the best drone money can buy. From its unparalleled flying abilities, 4K enabled camera, and travel-friendly design, the Mavic is the perfect drone to fly at home or take on the road with you. If you're looking for a drone that can do just about everything
Runner up – DJI Phantom 4
---
The Phantom series is DJI's flagship drone line, and for good reason. The UAV firm has built on the success of its past models and delivered the DJI Phantom 4, a powerful drone that's loaded with all the bells and whistles of a premier quadcopter.
In some regards, the DJI Phantom 4 is superior to the Mavic Pro. Its sturdy design and hefty housing allow for stronger wind resistance and faster top flying speeds (45mph in Sport Mode) than our top pick. It also features the signature Phantom wide lens that is more engrossing than the Mavic Pro's camera. On the flip side, the Phantom 4 fell behind the Mavic Pro in a few key spots. While the Mavic Pro can fly up to 4.3 miles and stream 1080p video, the Phantom 4 can only venture out 3.1 miles and stream 720p video. The Mavic Pro also boasts a superior design for travelers and remote videography, while the Phantom 4 is undoubtedly bulky and difficult to disassemble.
Ultimately, the Phantom 4 and the Mavic Pro are both stellar drones from the same company that suit slightly different markets. After taking everything into account, we determined that the Mavic Pro was a better choice for more people, but that's not to discredit the Phantom 4 in the slightest. Having said all of that, let's dive into the specs of this excellent UAV from DJI.
The Phantom 4 is more streamlined than its forerunners, displaying a more consolidated gimbal and camera design. The landing gear and layout is also improved to prevent accidents on the end of the drone's journey. The controller that comes with it is aesthetically different from the Mavic Pro, but offers virtually the same experience as our top pick.
Identical to the Mavic Pro, the Phantom 4 shoots video at 4K/30fps and 1080p/96fps and photos at 12MP Raw and JPG formats. This beast of a drone boasts a f/2.8 lens that captures a sweeping cinematic image, complete with vivid and distinct color and clarity. The app has all of the same smart features listed under our Mavic Pro review above and they're paramount to getting the full experience out of the Phantom 4.
Breakdown
Strong, wind-resistant design
4K video quality at 30fps, 1080p at 96fps
Clean and streamlined design
Encompassing app and flying features
Useful controller with smartphone connectivity
FAA registration required
DJI undoubtedly has the corner on the drone market, offering a litany of heavy-hitters in their roster. Although the Phantom 4 doesn't check all of the boxes that the Mavic Pro does, it's an uncompromisingly well-built drone that surpasses our top pick for any user who needs a UAV with stronger wind resistance. In the end , it comes down to what you need from your drone, and we can wholeheartedly recommend the DJI Phantom 4.
Best on a budget – Holy Stone F181 RC
---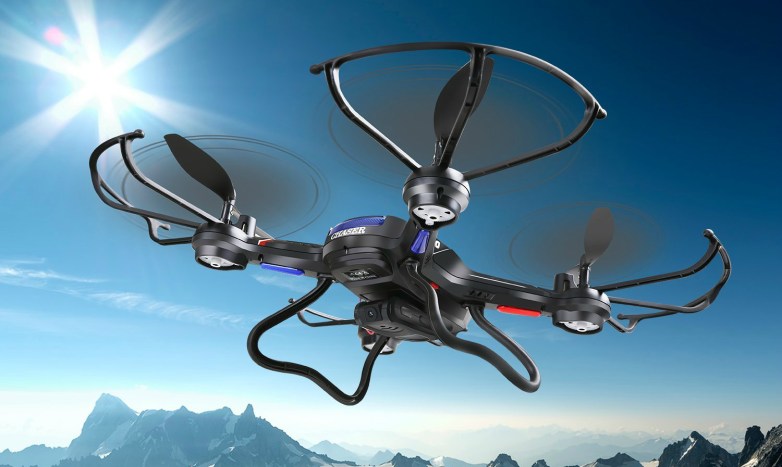 If you're looking to dip your feet into the world of video drones without applying for a loan, the Holy Stone F181 RC is an excellent place to start.
To say the Holy Stone is minor league compared to DJI's two drones on our list is a gross overstatement, but for anyone looking to see what the drone craze is all about, this $109 drone is surprisingly comprehensive. For starters, its camera is equipped for 720p video, which isn't up to par with more premium options, but still an effective way to get high-flying shots in high-definition without breaking the bank. The Holy Stone comes with a quality transmitter that exhibits a small LCD screen for total control of this little drone. It also has an altitude hold function that allows the user to release the throttle and keep the drone at the same height for a more precise shot.
The Holy Stone F181 offers a meager 7-9 minutes of flying time at a maximum of 100 meters on 80 minutes charge, which is par for the course on entry-level quadcopters. Unlike many other UAVs of the same price, the Holy Stone offers 360 degree 4-way maneuverability for unique flipping and turning shots. Being only 14 ounces, the Holy Stone is susceptible to rapid wind changes and isn't built to withstand the elements like its more expensive competition. However, if your F181 gets caught in the wind, this drone offers a Headless Security System that prevents the quadcopter from losing its course or flying backwards.
Breakdown
Affordable price
Headless Security System to prevent losses
720p HD video camera
Modest flying time
Low profile design with protective frames
Well-made transmitter
FAA registration not required
In the end, this isn't the greatest quadcopter on the market — not by a long shot. But if you're looking for a well-designed entry-level UAV that can still shoot stellar HD video, the Holy Stone F181 RC is the best affordable drone that we could find. If you're eager to try out a drone for yourself and don't want to reach too deeply into your pockets, we recommend picking this one up.