A few years ago, Google unveiled a bunch of bold plans for the future of technology, including Project Jacquard, which aimed to add smart features to clothing that would give users the ability to perform various tasks on their devices by simply touching their clothes. Levi's partnered with Google to launch a first smart jacket, which hit stores in late 2017. It turns out that Apple is also interested in intelligent fabric, but that doesn't mean it'll make any Apple Jackets of its own.
The first day of the year brought Apple a new patent award. Filed back in September 2016, the design patent, titled The ornamental design for a fabric, as shown and described, was awarded to Apple, but it doesn't reveal too many details about the new material. Being a design patent, the only thing we get is the following drawing, which shows the potential design of such fabric that Apple may use on future smart devices and accessories.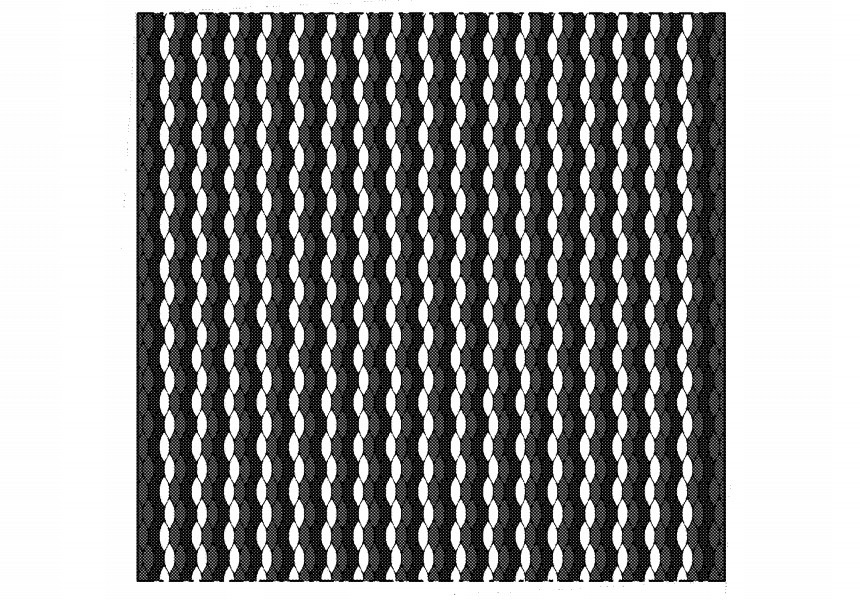 However, as Dwell points out, this isn't Apple's first fabric-related patent. Apple has filed several other patents over the years that are related to bringing smart features to a fabric.
Smart fabric could contain various components that you'd find in smart devices, including fiber optics, nanoelectronics, and thermochromic dyes, which would be embedded in conductive or semiconductive threads and yarns. The intelligent fabric would be able to respond to pressure and touch and detect environmental changes.
While Apple isn't expected to start clothing lines of its own, the fabric could be used in accessories targeting its products, including iPhone, iPad, Apple Watch, Mac, and Apple TV. A different patent that Patently Apple discovered in mid-December describes such technology for a fabric-based Apple TV remote. The fabric would be able to respond to inputs from the user and transmit those controls to the equipment.
There's no telling when Apple will launch accessories or new products made of smart fabric, or if we'll ever see such products from the iPhone maker. But the increasing number of patents for smart fabric does indicate Apple is interested in bringing smart features to fabrics in the future.