Though Apple is widely regarded for its world-class software, the launch of Apple Maps back with iOS 6 was nothing short of an embarrassment. Famously, the initial incarnation of Apple Maps was riddled with bugs, frustrating usability issues, and above all else, mapping directions that were far from reliable. I once even showed up late to a wedding because Apple Maps bizarrely navigated me to a school yard as opposed to the proper wedding venue. Thankfully, Google Maps was there to save the day.
Over the past few years, Apple Maps has improved considerably. Not only has Apple added a plethora of new features to the app, mapping directions have improved as well. Nonetheless, Apple Maps still can't shake the widespread perception that it's nothing more than a second-rate version of Google Maps and Waze. The good news, though, is that Apple is well aware of Apple Maps' shortcomings and the company will soon begin rolling out a completely new version of its mapping software built entirely from the ground up.
Originally brought to light by Matthew Panzarino over at TechCrunch, Apple over the past four years has been working hard to develop a new version of Apple Maps that will no longer be built atop of third-party data. Remember those Apple vans that were spotted in various cities over the past few years? Apple has been using them to help build out its own library of map data.
"The new Apple Maps will be the first time the data collected by these vans is actually used to construct and inform its maps," Panzarino notes. "This is their coming out party."
The updated version of Apple Maps will debut in the California area with the next iOS 12 beta and will subsequently roll out to other cities later this year.
Perhaps the most interesting aspect of Apple's new mapping initiative is that will be relying upon the millions of iPhones already in use for real-time data regarding road and driving conditions.
The secret sauce here is what Apple calls probe data. Essentially little slices of vector data that represent direction and speed transmitted back to Apple completely anonymized with no way to tie it to a specific user or even any given trip. It's reaching in and sipping a tiny amount of data from millions of users instead, giving it a holistic, real-time picture without compromising user privacy.

If you're driving, walking or cycling, your iPhone can already tell this. Now if it knows you're driving it can also send relevant traffic and routing data in these anonymous slivers to improve the entire service. This only happens if your maps app has been active, say you check the map, look for directions etc.
The updated version of Apple Maps will also feature, improved search results, richer satellite imagery and more detailed mapping information overall, as evidenced via the photo below.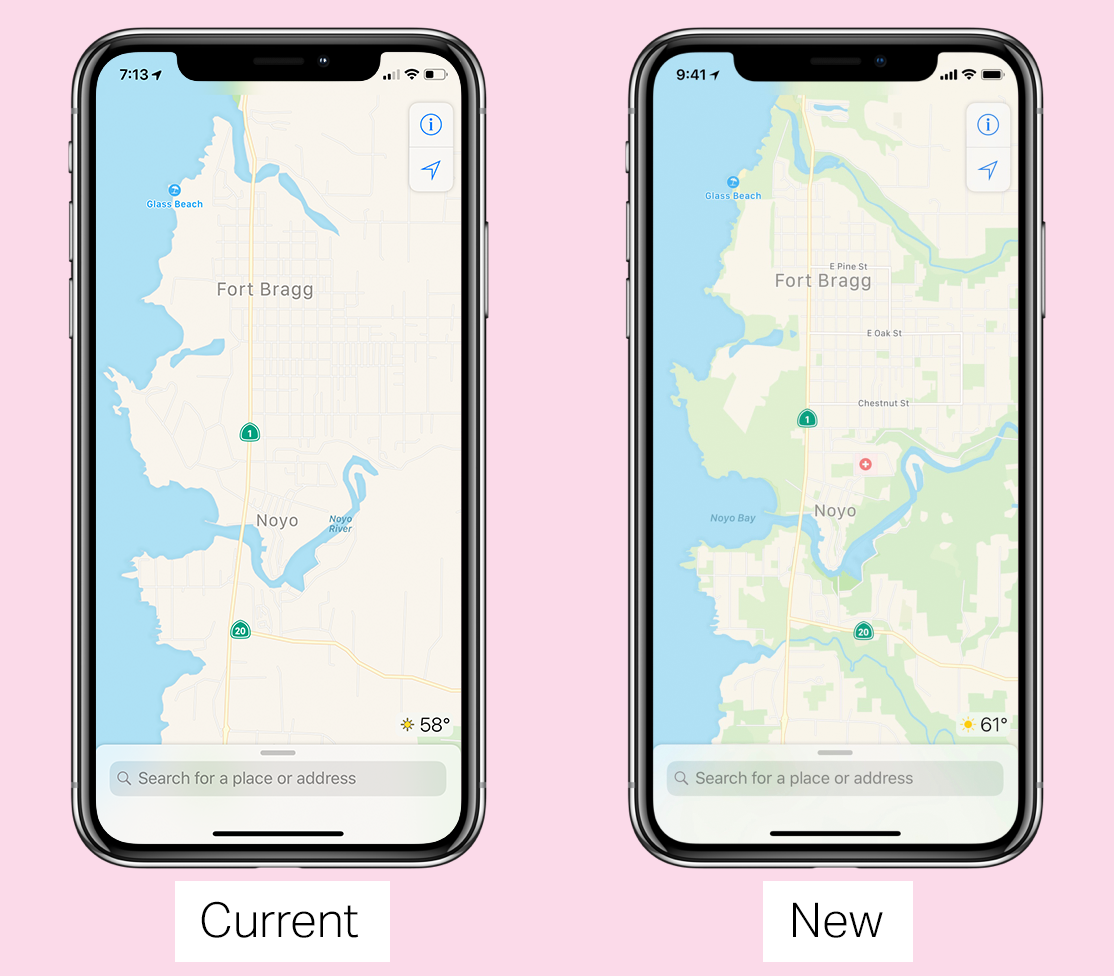 In short, Apple Maps, nearly six years after a less than stellar launch, may finally be poised to compete with the likes of Google. There's a lot more information about Apple's mapping plans in TechCrunch's full article which you can check out over here.