The idea that Google would release the first developer preview of its next-generation mobile operating system on Pi Day (March 14 — or 3/14) was a nice one. After all, rumors suggest that Android P could end up launching as "Android Pie," so serving up the first developer build on Pi Day would've been a very Googly thing to do — whether the move was a hint at the new version's release name or just some fun trolling. Instead, Google decided to surprise everyone with an unexpected Android P release on Wednesday, and Android fans spent the rest of the day checking out all of the new features baked into Google's newest OS.
While there will likely be several additional new features added to Android P before it's released to the public this fall, it seems clear that Android P will not be a massive update. As a matter of fact, many of the new features Google is highlighting in Android P are, dare we say, a bit boring. 2018 may turn out to be a year of refinement for both of the world's top mobile platforms though, because Apple is also rumored to be shifting focus in iOS 12 away from exciting new features so that it can work on improving stability and performance.
Even still, there are definitely some great new additions in Android P, and one of them can be yours right now.
Even if you have a Pixel or Pixel 2 smartphone that's able to run Google's first Android P Developer Preview, we strongly suggest that you fight temptation. It's natural for Android enthusiasts to want to check out Google's latest and greatest Android features as soon as possible, but the first build of Android P is nowhere near being ready for public consumption. It's best suited to developer devices, not the phone you carry with you all the time.
Even if you fight the urge to update your Pixel phone — or if you have some other Android phone that isn't even compatible with the Android P Developer Preview — there's still a way that you can get a taste of Android P.
Everyone seems to love the new look of Android P's home screens, which have gotten a terrific refresh in Android P. The top of the screen is largely unchanged, but the dock is completely different. The new look is great, but far more important is the fact that it puts the Google search bar right at the bottom of the screen where users can easily access it. Here's a screenshot from Android news blog Droid Life: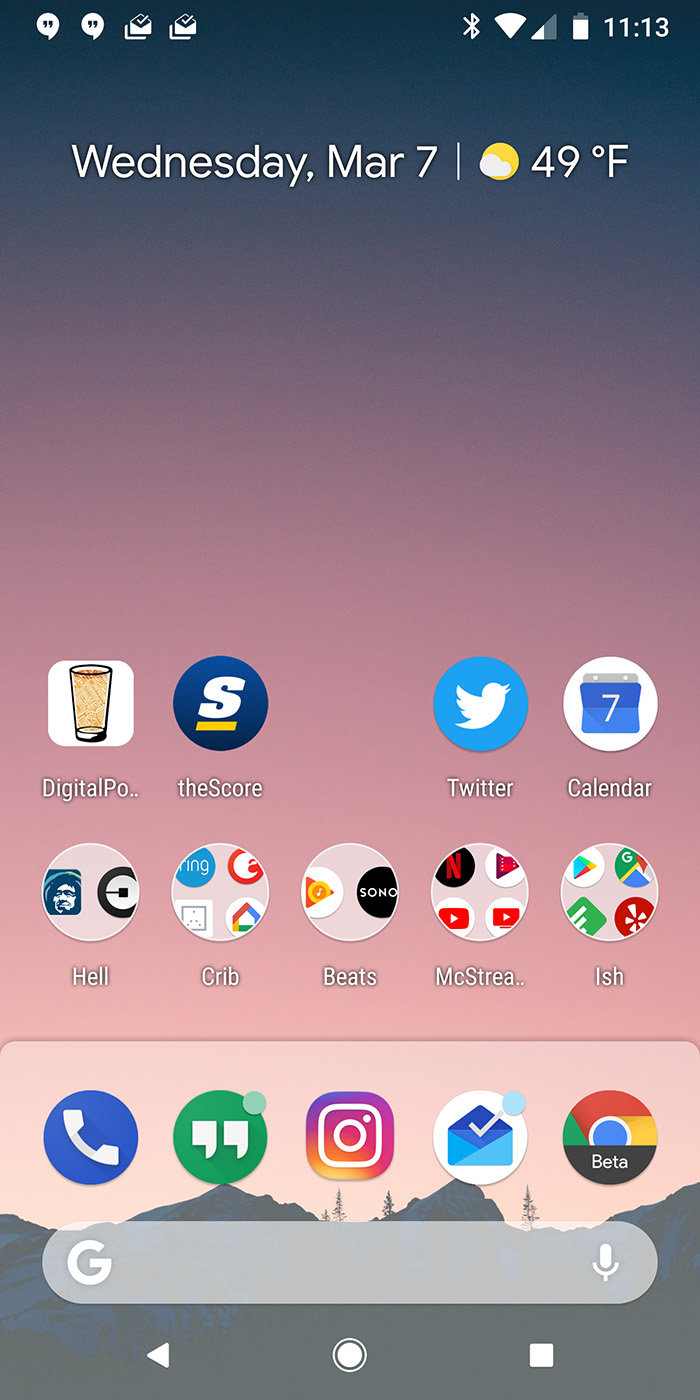 We love it, but not quite enough to install an incomplete, potentially buggy version of Android P. Luckily we don't have to. Droid Life has managed to get its hands on the official Android P launcher, which is an updated version of the Pixel Launcher found in Android Oreo. Want to check out the awesome new launcher on your own Android phone? You can download it right here