Microsoft may not make phones of its own, but that doesn't mean it's less interested in your mobile experience. Not only does Microsoft make a bunch of interesting mobile apps, including the popular Office suite, but the company is looking to bridge the gap between PC and mobile, and even link the two. The Your Phone app that ships with the Windows 10 October update will bring a part of your Android experience to Windows 10. And that means you'll be able to run Android apps on your computer.
What the Your Phone app does is to offer you instant access to photos and messages on your Android device. That way you won't have to pick up the phone to answer texts and share images. All you need to do is install Your Phone on your Windows 10 device, and then link it to your Android device, as long as the latter is on Android 7.0 or later — here's a demo:
If you're an iPhone user, the feature only lets you surf the web on your phone and then send that webpage to your PC.
But what's more interesting is the ability to run Android apps on Windows 10. That kind of experience could help you ditch your mobile phone while you're working.
For the time being, however, the feature doesn't work beyond texts and photos. The official Windows 10 October update announcement only mentions support for texting and photo library access. But The Verge does say that Microsoft showed Snapchat texting support on Windows 10 — here's what it looks like:
Microsoft is bringing mobile devices even closer. Control your entire phone from your desktop 😱 pic.twitter.com/ixlnq2hegu

— Owen Williams ⚡ (@ow) October 2, 2018
Full-featured Android app support is supposedly coming later, although we don't have a timeline for that.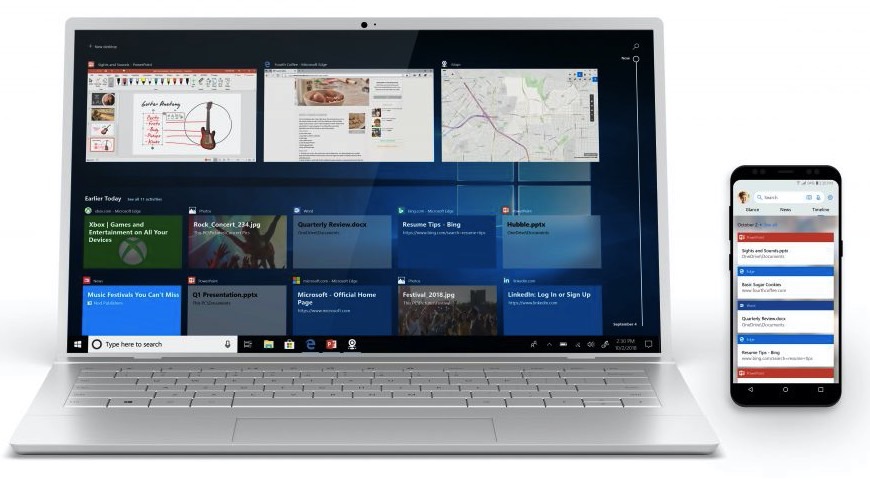 Speaking of timelines, Timeline is the name of a Windows 10 feature that lets you pick up where you left off with your Windows activities. But it also supports Android and iPhone. The PC's timeline is available on mobile devices, which means you'll be able to scroll back in time on your phone to find relevant files, websites, and documents — here's a demo of the Timeline feature: