This week, following several rumors regarding the reveal of Android O, Google put up a page on its Android site counting down to August 21st, which is the day when it plans to introduce "the next release of Android and all of it's super (sweet) new powers." Google will host a live stream at 2:40 PM ET from New York City to unveil the new OS, but it might have accidentally confirmed the name already.
On Friday, Google shared a post on Google+ in reference to the event, confirming that the event would take place on the same day as the solar eclipse. But the post also included a suspicious video file called "GoogleOreo_Teaser_0817_noDroids (1).mp4," which suggests that Oreo will indeed be the name of the next version of Android. This could have been a mistake or a placeholder, but as Android Police notes, shortly after the post appeared, Google changed the name of the file to "OctopusTeaser.mp4," possibly to throw those who had seen the post off the scent.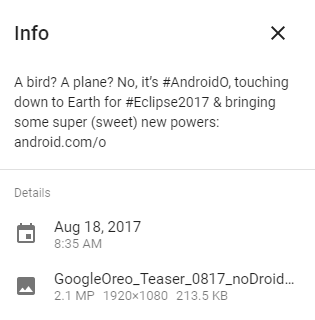 Whether Google spoiled the surprise or not, Monday is going to be a busy day. Shortly after shielding our eyes from a total solar eclipse, Google is going to hold a live stream to discuss Android O, reveal its name and hopefully give us an official release date for the OS update. Be sure to check back in on Monday at 2:40 PM ET to see what Google has in store (and to find out if the company accidentally ruined the long-awaited reveal days before the official reveal event).