The developer preview of Android O has launched today, giving a lucky (and brave) few an advance look at the next version of Android. It will be some months until we start seeing Android O roll out across all Android devices, but now we at least know what we're missing out on.
Better battery life and performance
It's difficult to wave a magic wand to make everything on a phone run better and for longer, but that's what Google is trying to do with Android O, via the magic of background apps. Google is targeting a few key areas where apps running in the background of your phone are using too much resources to basically do nothing, and making things better.
The video below explains the problem of implicit broadcasts, one of the biggest problems Google is trying to address. Implicit broadcasts are when an app or service on the phone announces an event that might be of interest to other apps or services, for example when your phone reconnects to the internet after a period of lost connectivity. Those broadcasts wake up many dormant apps, and are a large part of the reason your phone's battery dies weirdly quickly when you have spotty cell coverage.
The other areas being targeted are background services and location services. Those are both features that developers have started using more recently, and the changes mostly look like they're designed to optimize and streamline. It's good news for Android users, although it means even more work for developers.
Higher-quality audio
Thanks to a partnership with Sony, Google will be integrating new Bluetooth technologies into Android O that allow for higher-quality wireless music. Given the current trend of axing headphone jacks, anything that makes Bluetooth music better is good news, and Sony's tech is some of the best in the business.
The big feature is LDAC support. LDAC is a proprietary Sony encoding system that promises better, higher-bitrate music transmission over a regular Bluetooth connection. It does require hardware that supports LDAC, which really just means Sony headphones and speakers at this point. But with free integration into Android, there's a good chance that we'll start seeing more LDAC headphones in the future.
It also raises a worrying point, which is that we might be at the beginning of a Bluetooth unravelling. Apple's newest wireless headphones (like the Airpods) have quick-connection features that don't work on Android devices. If Android devices start supporting proprietary encoding methods that don't work on iOS, it's easy to see the currently-universal Bluetooth system devolving into a mess of competing codecs and compatibility, which would be a shame.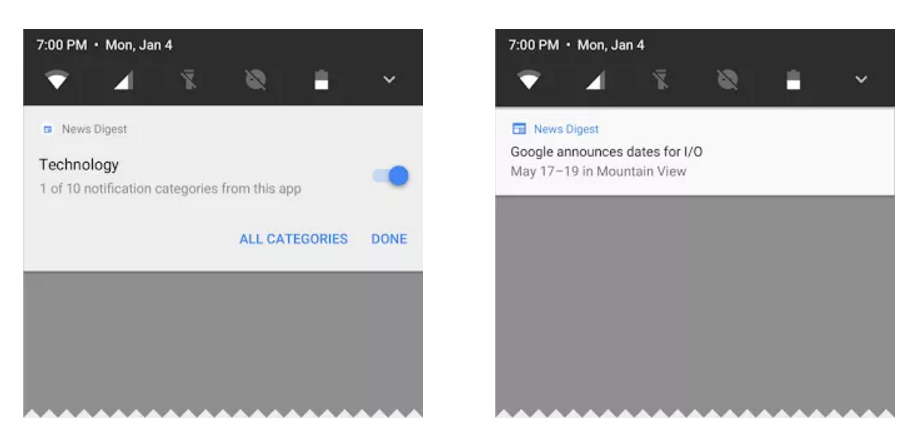 Notifications that don't suck
One of my biggest complaints whenever I use an Android phone are the litany of unnecessary notifications. Multiple notifications from the same app are a particularly dumb kind of irritation, so it's awesome news that Google is actually fixing this. In Android O, notifications will be grouped together to help bring down the total number of notifications.
Even better, you'll be able to choose what kinds of notifications you want. High-priority, low-priority and "marketing" will all be different options, which is good news because it means I might be able to finally disable Postmates offers about free delivery for good.
Picture-in-picture videos
If you've used the YouTube app on any device in the last year, you'll be familiar with picture-in-picture viewing. Basically, it lets you resize a video to a small box in the corner while you're still able to browse around the device. It's ideal for keeping an eye on something while doing something else, so Google is making it possible for videos system-wide.
Keyboard support
Anyone using an Android phone probably won't care about this, but it's superb news for Chromebook users. Basically, Google is adding better support for using keyboards to navigate Android apps. In particular, this means things like arrow keys and tab can be used to navigate through Android apps. I've been using a Chromebook for work lately, and the one thing stopping Android app support from being great is that you can't tab through different fields when filling out forms. This fixes that.
Much better VOIP apps
Buried in the change notes is news about a "telecom framework," which will let VOIP apps act like the device's main telephone app. Currently, only the conventional phone app can trigger most of the features associated with voice calls, but this framework will enable any (authorized) app to work as the main phone app.
This is a huge upgrade for anyone who uses a VOIP app over a data plan to make phone calls. For example, Google Hangouts offers free calling to any number in the US or Canada, so I use that to avoid any long-distance fees, or to make much cheaper overseas calls. The telecoms framework should mean more VOIP apps fill out with features, and more people can ditch their carrier-provided number. This is a good thing for customers, and awful news for any cell carriers still making money selling a $20-per-month talk-only plan.