A story last week revealed something that should have been obvious from the very moment that Amazon released the first Echo: Putting a cloud-connected always-recording microphone in your home doesn't come without risks. Namely, that the speaker might malfunction, record private conversations you're having with your partner, and then send them to someone hundreds of miles away. The situation worked itself out harmlessly enough, but as we pointed out, it really reinforced that we don't know as much as we think we do about the always-listening virtual assistants that we've invited into our homes.
But it isn't that Amazon doesn't let you see the inner workings of your Alexa device — it's just that they're buried within settings menus and no one can really be bothered to go check. Just like with your Facebook privacy settings, laziness trumps having control over your own data. As it turns out, finding and deleting recordings that Alexa has made isn't difficult, and anyone spooked by that story should go do so right now.
The easiest way to access your Alexa history is through the iOS or Android app:
Open the app, and tap the three-line (or hamburger) menu button in the top-left corner
Go to Settings, and then scroll down to find History
Each of the items that appears is a different time that Alexa has been triggered. If Alexa recognized what was being said to her, the text of what you said will show up. If she doesn't understand what was said, it was likely a false triggering (Alexa misheard something else you said as "Alexa"). However, Amazon still stores the audio recordings of those false triggers, unless you use the app to delete that recording.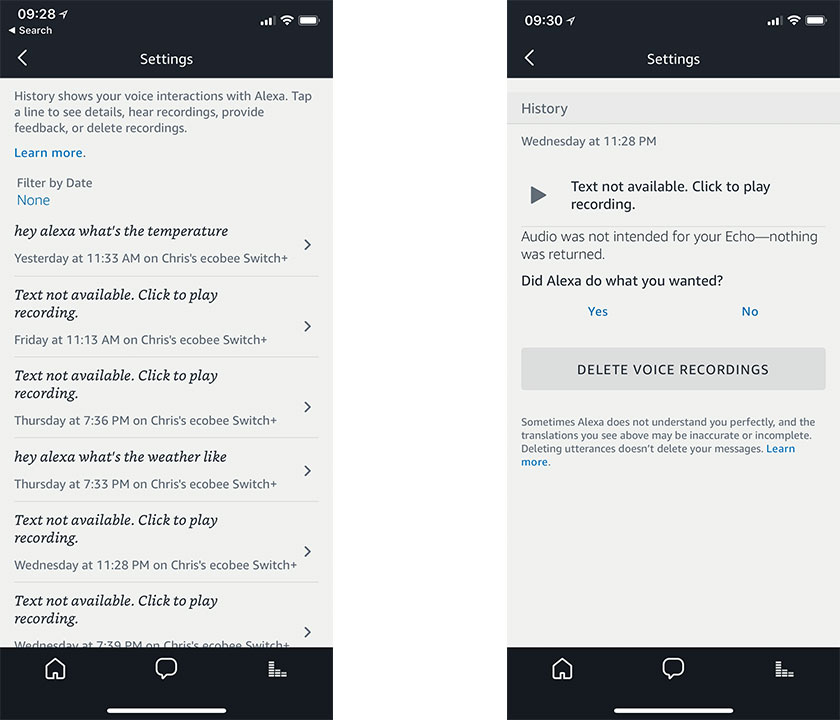 I was surprised to find that even for my Alexa, which is in a low-traffic area of the house, there were five or six false triggers per day. Although Alexa hasn't been sending any of my conversations to other people, it's still unnerving to see that Amazon is recording snippets of my everyday life, and I had no idea.
Deleting the recordings is simple: Just tap on the action within the History menu, and you'll get the option to delete recordings. As far as I can tell, there's no way to bulk-delete the recordings, so you're going to be stuck with a lot of tapping if you want to wipe the history.