It was just Wednesday that we told you all cryptocurrencies were tanking, save for Bitcoin, which was trading well above $11,000. Sure, Bitcoin's priced dropped compared to Tuesday's highs, but it didn't seem to be as affected as all its rivals.
Well, fast forward to Thursday morning, and all digital coins are trading well below yesterday's prices, and Bitcoin wasn't spared. 
So what's happening? In short, we have no idea.
Bitcoin is down more than 7.5%, while all the other top 10 coins are trading 6% to 10% lower than Wednesday — and they were tanking on Wednesday too. That's the think about cryptocurrencies, you never know which way price will swing. But what's particularly strange right now is that there's no bad news to dictate a price drop.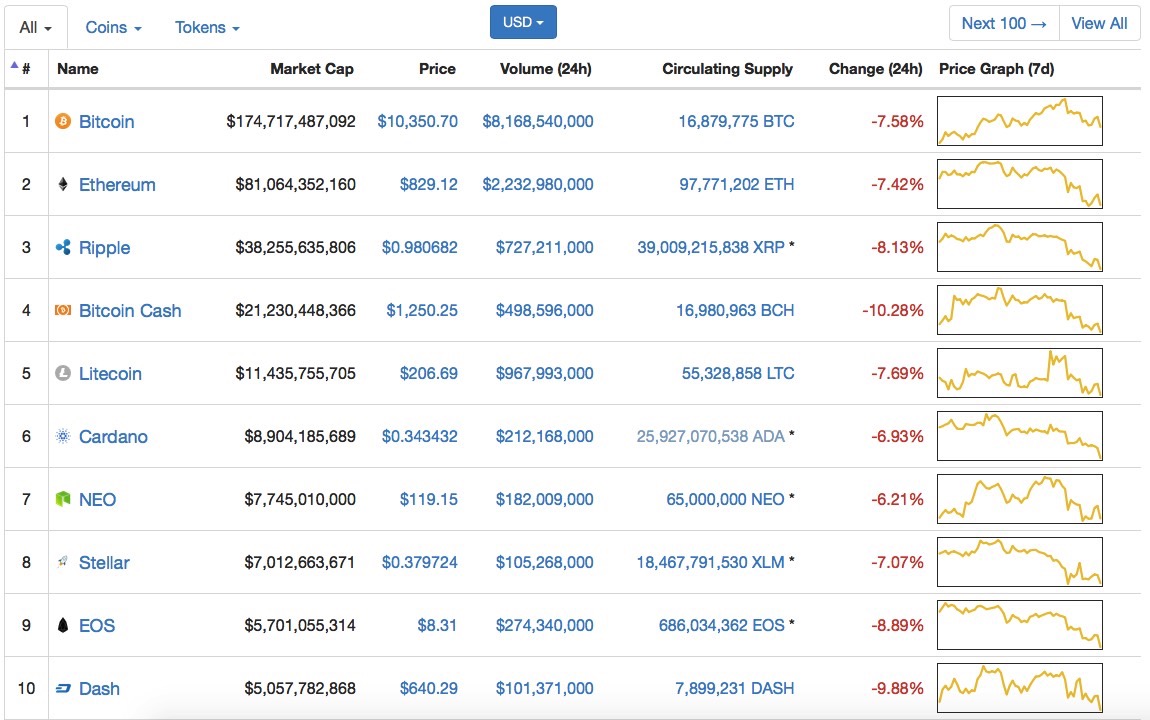 In fact, we have a bunch of interesting developments, including Coinbase and Bitfinex's integration of SegWit, a Bitcoin upgrade supposed to reduce transaction times and fees for trading Bitcoin.
Our engineering team has finished testing of SegWit for Bitcoin on Coinbase.

We will be starting a phased launch to customers over the next few days and are targeting a 100% launch to all customers by mid next week.

— Coinbase (@coinbase) February 20, 2018
Ripple (XRP), the third largest coin by market cap, just inked deals with five other banking institutions, NewsBTC says, including banks from Brazil, India, Singapore, and Canada. Yet XRP is still dropping at exchanges.
Telegram, meanwhile, is preparing a second round of funding before its public ICO, according to The Verge, and the company may raise $1.6 billion before the general public investment round. That would set a massive record for this particular type of investment.
A 21-year-old just raised $34 million to build an anonymous crypto-trading platform, Business Insider explains. That's one idea regulators won't appreciate.
In other crypto news, Finland is having a hard time ditching some 2,000 Bitcoin seized from drug dealers a few years ago. Therefore, it'll hold a public auction to sell them, CCN says.
UPDATE: Bitcoin just dropped below $10,000 at around 8:30 AM, and it looks like it'll dance around the $10,000 for the time being. That's an almost 10% drop compared to 24 hours ago. All the other coins are trading below earlier levels, which is 10-15% lower than yesterday.