It took Bitcoin several weeks to reach $10,000 again after the price fell below $6,000 in early February's bloodbath, and it marked the first time since November it dropped so far. Bitcoin then quickly smashed through $11,000, and $12,000 looked like a reasonable target just yesterday.
But after a few days of growth, all cryptos were trading lower early Wednesday morning. Prices fell for most coins, but Bitcoin seems to be the least affected. So what happened?
First of all, this isn't another bloodbath. At least there's no reason for one — not that the cryptomarket behaves like anything else and needs logical reasons for its wild swings.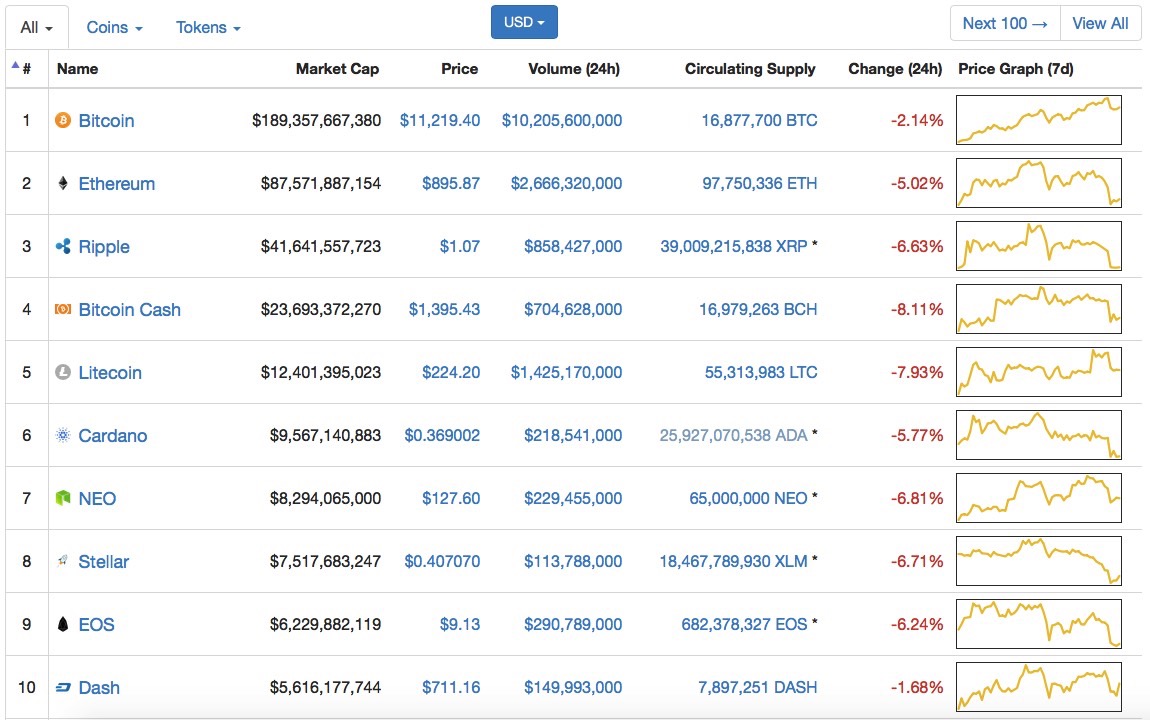 Some people do believe that Bitcoin is here to stay for a long while. But that doesn't mean the other coins will have the same fate. Some will wither and die, and that's a fact. They can't all thrive, so make sure you know what you're investing in.
That said, Bitcoin is down 2% in trading on early Wednesday, but that still puts it at over $11,200. The other nine coins from the top 10 are losing anywhere from 1.68% to 8.11% in value. Remember, however, these numbers can change without notice.
Compared to Tuesday, the whole crypto market lost nearly $30 billion — the market cap for all coins it at $483.57 billion as I write this.
As for new developments, the crypto-related news cycle is mostly positive. South Korean regulators have reaffirmed their interest to offer a better deal to cryptocurrency fans, as Reuters reports. "The whole world is now framing the outline (for cryptocurrency) and therefore (the government) should rather work more on normalization than increasing regulation," chief of South Korea's Finance Supervisory Service (FSS) Choe Heung-sik told reporters.
The same Reuters says that Japanese crypto exchanges are looking to form a self-regulating body. Nothing is official at this time, but 16 companies are apparently looking to safeguard investors in the region, after last month's cyber money heist worth $530 million.
PayPal's CFO John Raine talked to The Wall Street Journal earlier this week, revealing that he believes Bitcoin or other digital coins will be good for payments. "Given the volatility of Bitcoin right now, it's not a reliable currency for transactions because if you're a merchant and you have a 10% profit margin, and you accept bitcoin, and the very next day bitcoin drops 15%, you are now underwater on that transaction," he said.
"The technology, there is real merit to it. I do think, though, it will be years down the road before we see the kind of ubiquity and acceptance that make it a form of currency that is used every day," he added.
Former JP Morgan trader Danny Masters who started his own commodities fund in 2000 before pivoting to crypto in 2014 told Business Insider that ICOs are better than IPOs. He warned, however, that not all of them are worth investing. He said that just 5% are worth investing, thus echoing the concern that not all tokens out there are worth your money. If you see any Litecoin fork that looks like a scam or any token endorsed by Steven Segal, think twice before you buy.