It might sound the same (for now), but you'll definitely see the difference!
Last Friday, Apple released the iPhone 15, iPhone 15 Pro, Apple Watch Series 9, and Apple Watch Ultra 2. While those devices certainly got most of the attention, the company also quietly updated its AirPods Pro earbuds with a few new features as well. I picked up the new version of AirPods Pro 2, now with USB-C, to see if I could notice any differences.
USB-C all the things
The first and obvious thing that I could tell was different about these earbuds was that wonderful USB-C port on the bottom of the case. That's the biggest upgrade with this new version of the earbuds — like the iPhone 15 lineup, Apple has ditched Lightning for AirPods Pro and added a USB-C connector to the bottom of the charging case.
The update represents one more step from Apple into the USB-C future. Now, you can change your iPhone, AirPods Pro, iPad, and MacBook with the same cable (as long as all of your devices have a USB-C port, of course). As someone who has been traveling more of late, I personally appreciate the idea that I could finally leave my Lightning cable at home (as long as I don't bring my AirPods Max with me).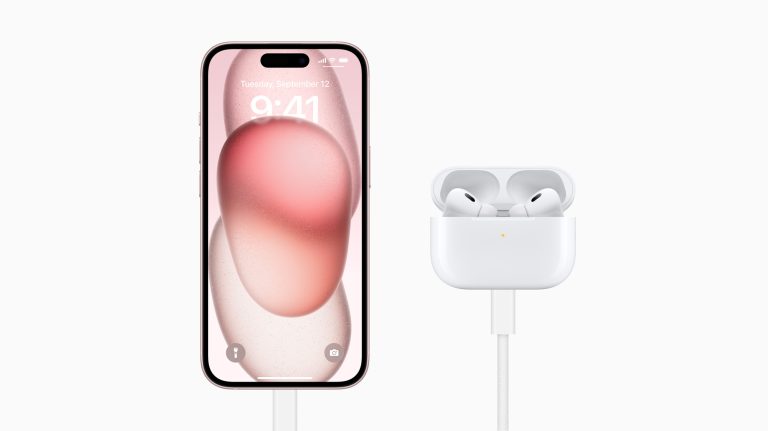 Of course, as an Apple Watch user, I would still need to bring an Apple Watch charger with me. So, I'm down to two cables instead of three. However, I have been thinking of buying one of those travel chargers that allows you to wirelessly charge your iPhone, AirPods, and Apple Watch. They are usually run using a USB-C port, so I could theoretically get away with that accessory and then just unplug the cable to charge my iPad and Mac when I need to. That's the dream — I just need to wait for Apple to re-release the MagSafe Duo Charger with USB-C.
To dust resistance we have returned
So, other than USB-C, what else is new with the latest version of AirPods Pro? Well, one of the other upgrades is that the new version is not only water-resistant but dust-resistant as well. The earbuds have been upgraded from a water-resistance rating of IP54 under IEC standard 60529 to a water and dust resistance rating of IP54 under the same IEC standard.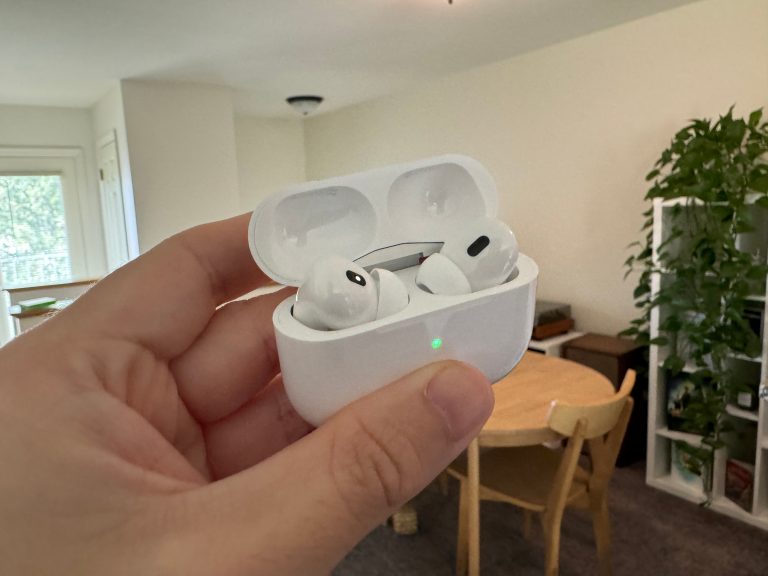 While this means that the earbuds and case should perform better in conditions that feature small particles like wearing them at the beach with sand or on the trail with dirt, this one is tough to notice the difference until you drop them into those kinds of elements and see what happens. As someone who goes hiking and camping, I appreciate having the added protection against those kinds of conditions. However, for most, this wouldn't be a reason to upgrade.
The last feature will cost $3,500
The last difference with the AirPods Pro 2 with USB-C is a feature that none of us will get to enjoy until at least early next year, and it's also dependent on you buying Apple's $ 3,500 Vision Pro mixed-reality headset. The new version of the earbuds, and only this version, are able to achieve lossless audio quality when using them with the Vision Pro.
Apple says that this is due to the new version of the earbuds operating on a 5GHz connection instead of the 2.4GHz connection used by the Lightning version of AirPods Pro 2. The company claims that, with the new version, it was able to achieve a "groundbreaking wireless audio protocol."
AirPods Pro (2nd generation) with MagSafe Charging Case (USB‑C) will enable Lossless Audio with ultra-low latency to deliver the perfect true wireless solution with Apple Vision Pro.2 The H2 chip in the latest AirPods Pro and Apple Vision Pro, combined with a groundbreaking wireless audio protocol, unlocks powerful 20-bit, 48 kHz Lossless Audio with a massive reduction in audio latency.
It's impossible to tell how good the difference is in terms of audio quality without connecting these to the Vision Pro and, since I can't do that until next year, it's impossible to say if this feature is worth it yet.
Is it worth the upgrade?
After spending a few days with the new AirPods Pro 2, I've decided that they are worth the update for me, especially since I got them for $50 off through a Best Buy sale and also got a decent trade-in value for my Lightning ones. I'm all-in on USB-C and appreciate the dust resistance for the kinds of activities I take them with me on. I also may be picking up the Vision Pro when it launches, so I might as well have the earbuds that will gain extra features with the headset.
However, for most people, this upgrade isn't going to be worth it. The Vision Pro is going to be a very niche product when it launches and, unless you are also obsessive about getting your charging down to one cable, you're not going to see much benefit about upgrading from your current AirPods Pro 2.
That said, if you are still rocking the first generation AirPods Pro, this is a major upgrade in both audio quality, noise cancellation capability, and all of the new software features in iOS 17 that make the earbuds even better. If that's where you're at, join us in the USB-C future!