Among the many, many bad things to come out of this election cycle, one that seems to be lingering with a particularly bad odor is the fake news industry. A whole army of websites have risen up to farm completely false headlines for advertising revenue, and Facebook is facilitating the whole thing.
Even a week after the election, some of Facebook's most-shared stories are brand-new and completely untrue stories. Ever curious about the kind of crap that people share? Now you can bear witness yourself. All of these stories have been trending on Facebook in the last 24 hours, and all have more than 10,000 shares — and some have far, far more than that.
DON'T MISS: The best leather cases for Apple's iPhone 7 and iPhone 7 Plus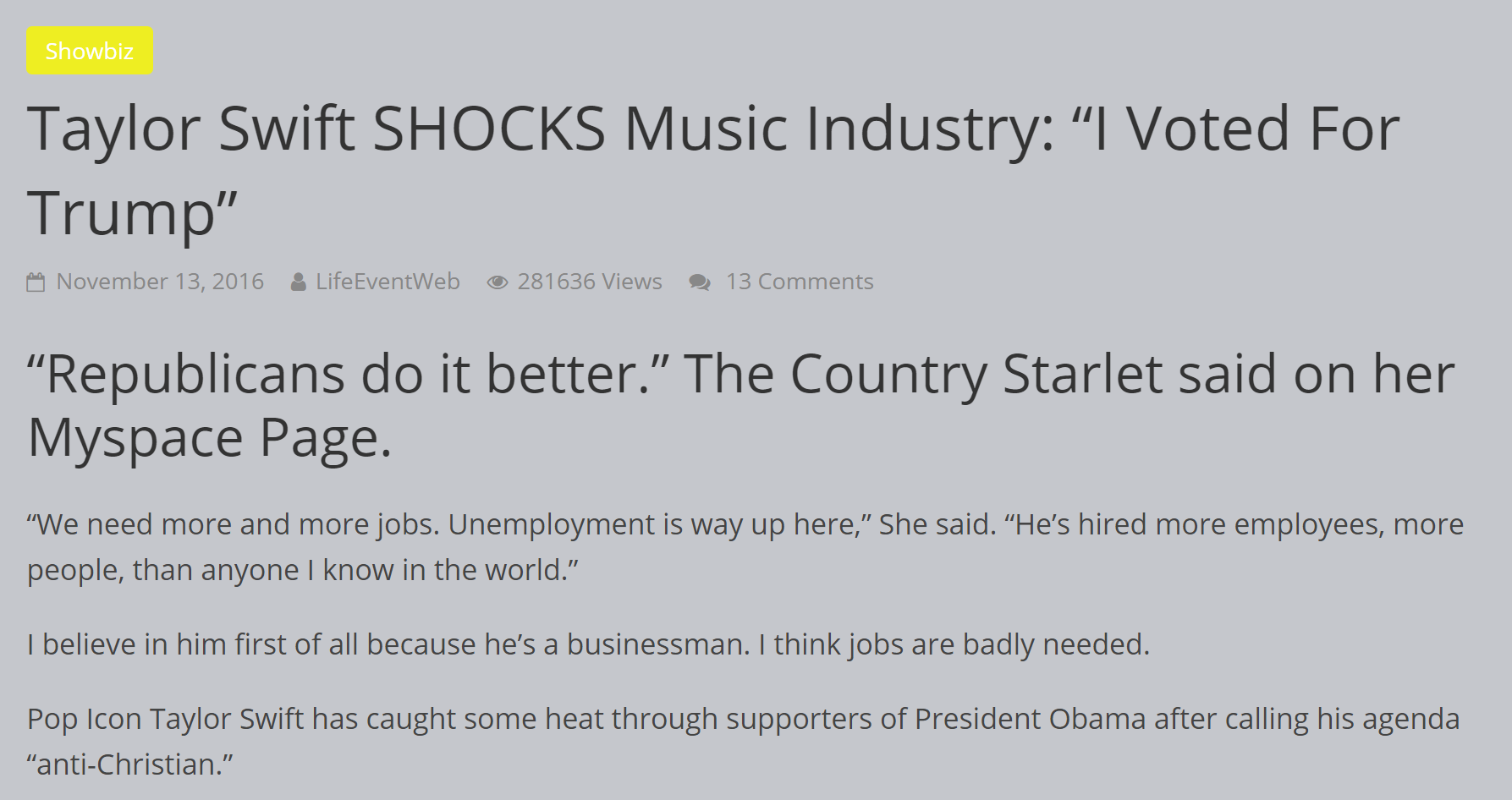 This story has viral success written all over it. Famous celebrity, politics and an enticing headline all make for something that's bound to be shared all over 15-year-olds' feeds. Unfortunately, it's also 100% fabrication.
The first tip-off that this was fake would probably be the mention of MySpace, but apart from that and the awful GeoCities-era website, there's nothing instantly indicating that this article is fake — which is the problem. This isn't like when people accidentally share an Onion article; it's deliberately misleading, lacking any backlinks:
"I felt like I really accomplished something special. It's like exercising – you think about it and you're like, 'Wow, there's going to be a long line, there's going to be a lot of effort involved,' but afterwards you feel so good."

"I watched the debates and I read all kinds of articles on each person and each vice president and what they believe in and where their priorities are," she said.

In the end, however, "I went with my gut instinct," she said. "I pressed the button. And I feel good about it!"
Needless to say, Swift did not make a MySpace announcement that she voted for Trump.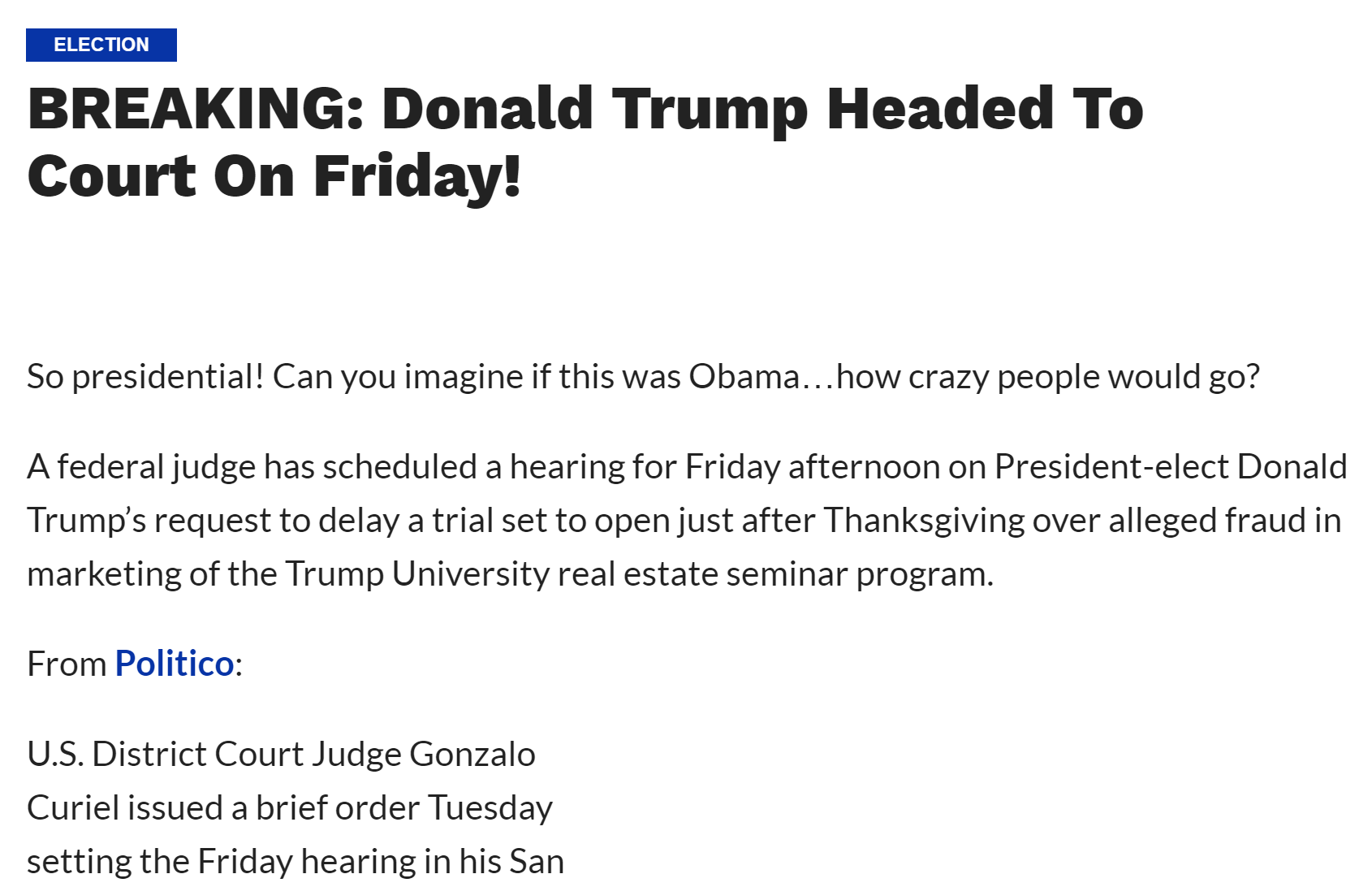 This article from realtimepolitics.com (a nice nod to RealClearPolitics, an actual news site) is fairly unashamed about taking a real article from Politico, stealing most of the article text, and then putting a completely fake title on top.
While there will be a hearing on Trump's Trump University case (or a hearing about the trial date, more specifically) on Friday, Trump won't be present and it's just another conversation between lawyers. That's probably not the message you're getting from that headline, though.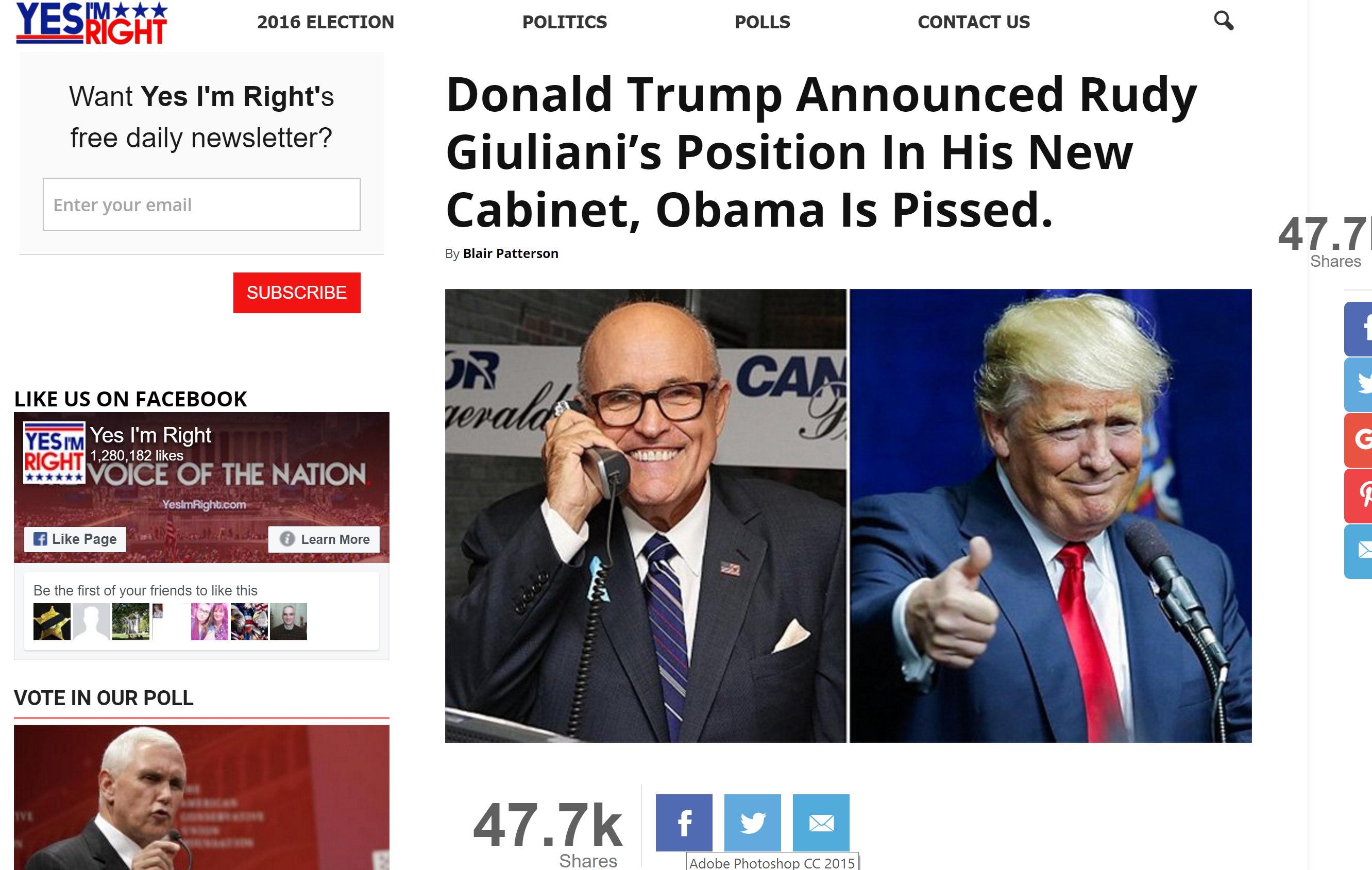 More articles, more completely fake stories. Sure, there are rumors going round that Giuliani will be Trump's Secretary of State. But there's also stories saying that his business dealings would create a conflict of interest, and it's a no-go.
One thing is for sure: Trump hasn't announced anything yet. That hasn't stopped this article being shared nearly 50,000 times on Facebook, though.
Would you believe this, but CNN hasn't said anything about Hillary beating Bill up on election night. There's a series of tweets from a radio host claiming that a CNN reporter told him that, and another anonymous source allegedly said the same sort of thing to The American Spectator, a story that also ended up on Breitbart and all over Facebook.
But aside from two anonymous sources speaking to famously unreliable websites, there's zero evidence of anything, so I'm not really sure the headline "CNN: "Drunk Hillary" Beat Sh*t Out Of Bill Clinton On Election Night" works well. But it sure does sound good.