PowerRoam 1200 Power Station
The Ugreen PowerRoam 1200 offers a great emergency power supply at a reasonable price — plus it works with solar panels.
Pros
Good I/O selection
Large battery
Solar panels work well
| Buy From | List Price | Sale Price | |
| --- | --- | --- | --- |
| | $999 | $999 | See It |
Having continuous access to power isn't just convenient — it's sometimes medically vital. I live in the Santa Cruz area, which has just suffered through a season of torrential rain storms that have brought serious flooding and damage to businesses and homes. And, with it came a series of power outages that have seriously disrupted all aspects of modern life — and have prevented my wife from being able to sleep with the CPAP machine that she relies on to breathe uninterrupted.
Of course, there are plenty of other reasons to have access to continuous power too. From camping to outdoor parties to simply wanting to charge your phone on the go, a power station can seriously come in handy.
One of the most recent of these power stations is the new Ugreen PowerRoam 1200. I've been using it for a while now to find out just how it performs.
Ugreen PowerRoam 1200 design
The PowerRoam 1200 is a midsize power station that's designed to be easy to use, easy to carry, and full-featured.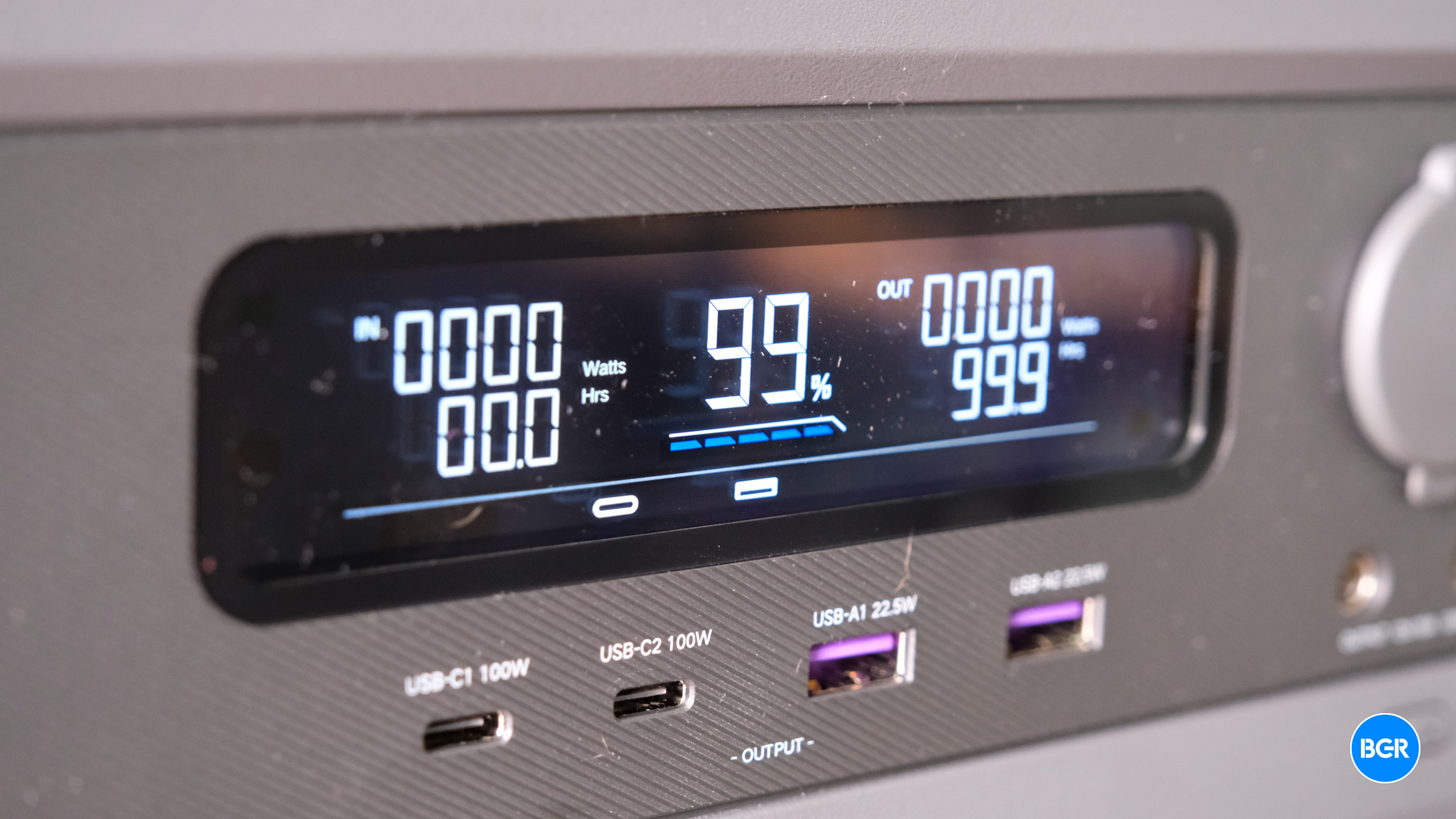 For the most part, it achieves this. The power station isn't necessarily completely unique in design, but it certainly looks good and is built from premium materials. The station has a gray and black color scheme, and it's built almost completely from plastic. Thankfully, that plastic is tough and strong, meaning that the PowerRoam 1200 should be able to withstand most bumps and bruises from day-to-day life.
On the top of the PowerRoam 1200 can be found a sturdy handle, which is unremovable. I don't really mind the fact that the handle can't fold or be removed, but some may prefer a more versatile solution.
The front of the PowerRoam 1200 is home to an informational screen, which will give you information about the battery level, input and output power, remaining discharge time, and whether or not the device is connected to Wi-Fi and Bluetooth. It's bright enough to see easily and offers enough information for most situations.
There's also a light on the front, which is controlled via a button. It's bright and works well, though I wish there was an easier way to turn the light off, perhaps by holding the button — to turn it off currently you have to cycle through the lighting options, including a strobe light.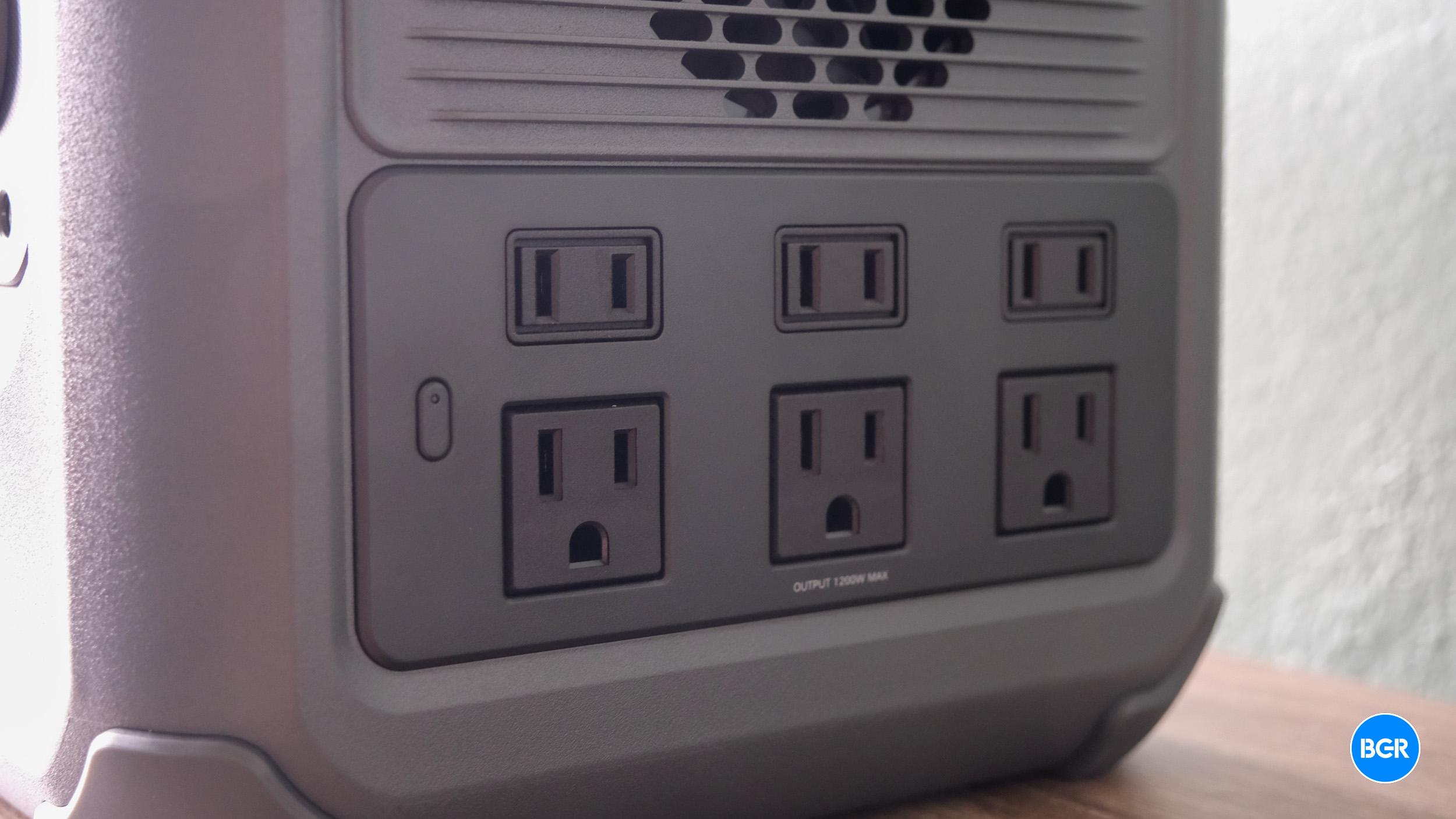 I did encounter a bug whereby the power station turned on and then cycled on and off continuously. After some button mashing and a factory reset, I was able to fix the issue.
In the box, you'll get a solid selection of accessories, including an AC power cable, DC car charging cable, and DC5521 to DC5525 cable.
Ugreen PowerRoam 1200 ports
For many, the power selection will be one of the most important considerations to make — and thankfully, the PowerRoam 1200 offers a pretty good port selection.
On the front of the power station, you'll find two USB-C ports that can supply 100W each and two USB-A ports that can supply 22.5W each. There are also three car/DC outlets, which supply 120W in total.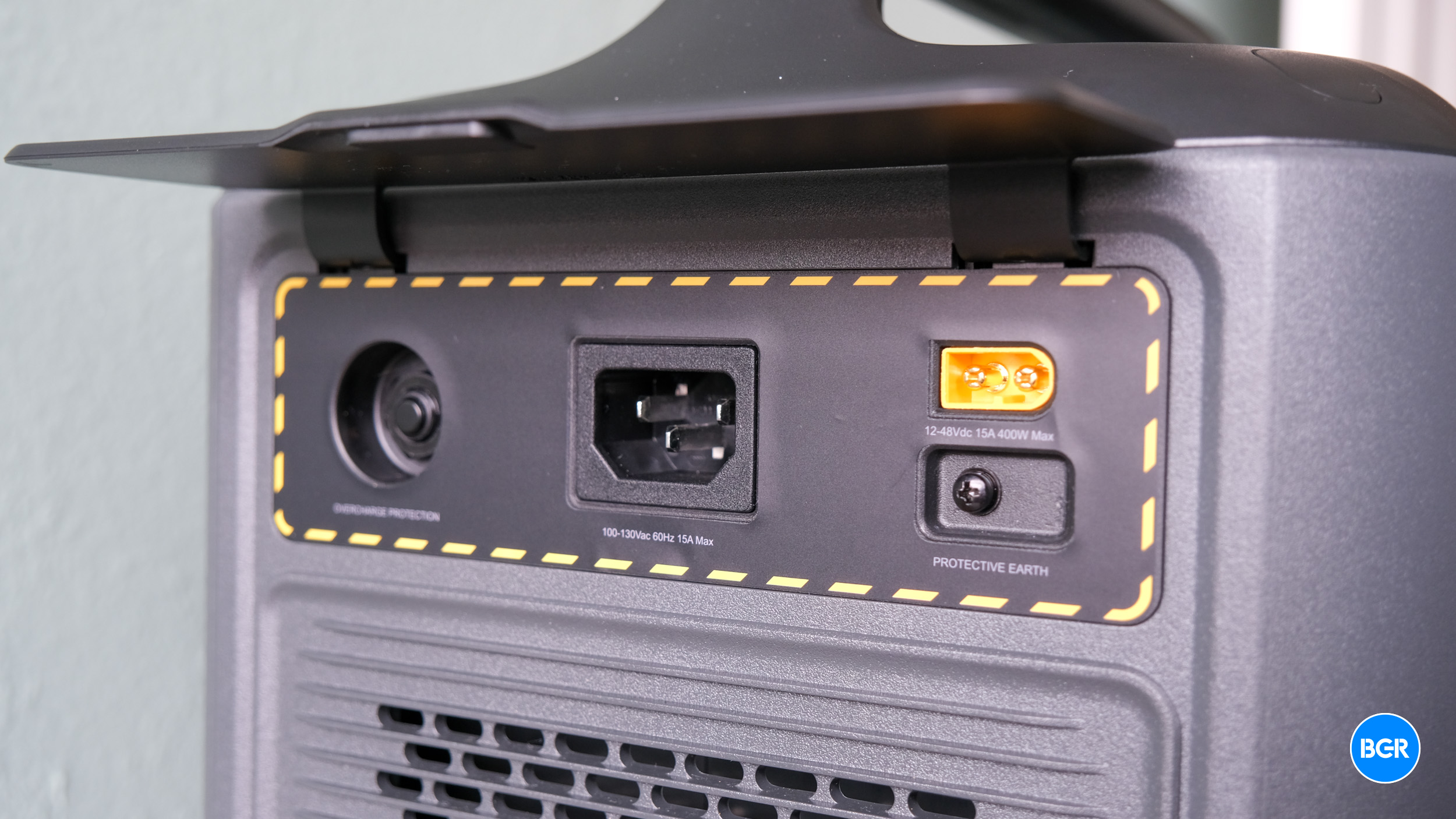 On the right side is where you'll find six AC power outlets, three grounded and three ungrounded. It's nice that there are so many AC power outlets, at least on the U.S. model.
On the left side, you'll get the power inputs, including inputs to simply plug into a standard home power outlet, and inputs for the optional solar panels. We'll get into using the solar panels a little later.
Ugreen PowerRoam 1200 app
The Ugreen PowerRoam 1200 works with the Ugreen app, and once everything is set up, the app works pretty well. Getting set up, I found, was a bit of a pain — with lots of bugs and issues. But again, once you're finally logged into your account, it works fine.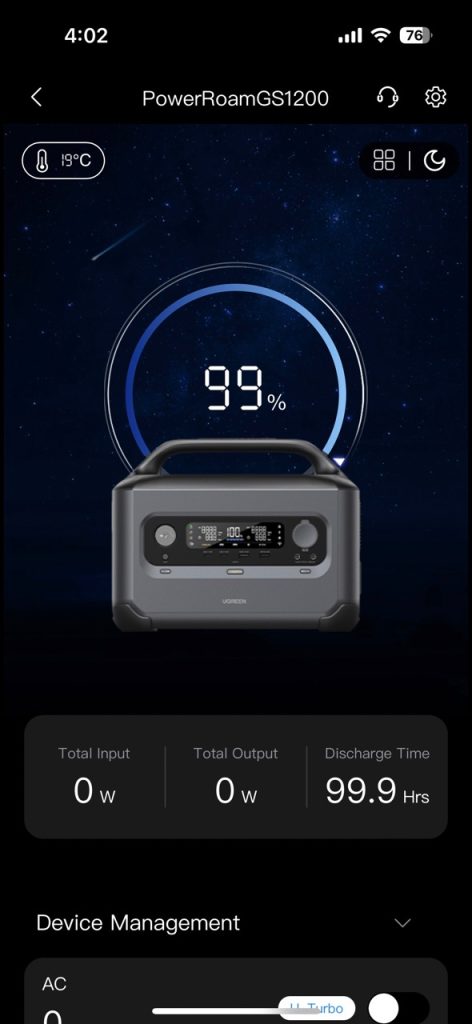 From the app's home screen, you'll be able to see the PowerRoam 1200's battery level, along with total input and total output. You'll also be able to turn on and off the sections of outputs. While you can't control individual inputs and outputs, you can turn off the USB ports, for example. It's a handy way to get a little more control of your power station.
That's about all you get from the app itself. I hope Ugreen works a little more on the stability of its apps, and perhaps adds more features — like maybe the ability to set timers for outputs. But still, it's nice to get that smart control in the first place.
Ugreen SC200 solar panels
As mentioned, the PowerRoam 1200 works with solar panels for completely off-the-grid charging, and they work very well. The solar panels are easy to carry, with their own plastic carry handles, and each panel has a plastic stand to ensure that they stay up as needed when you're charging your power station.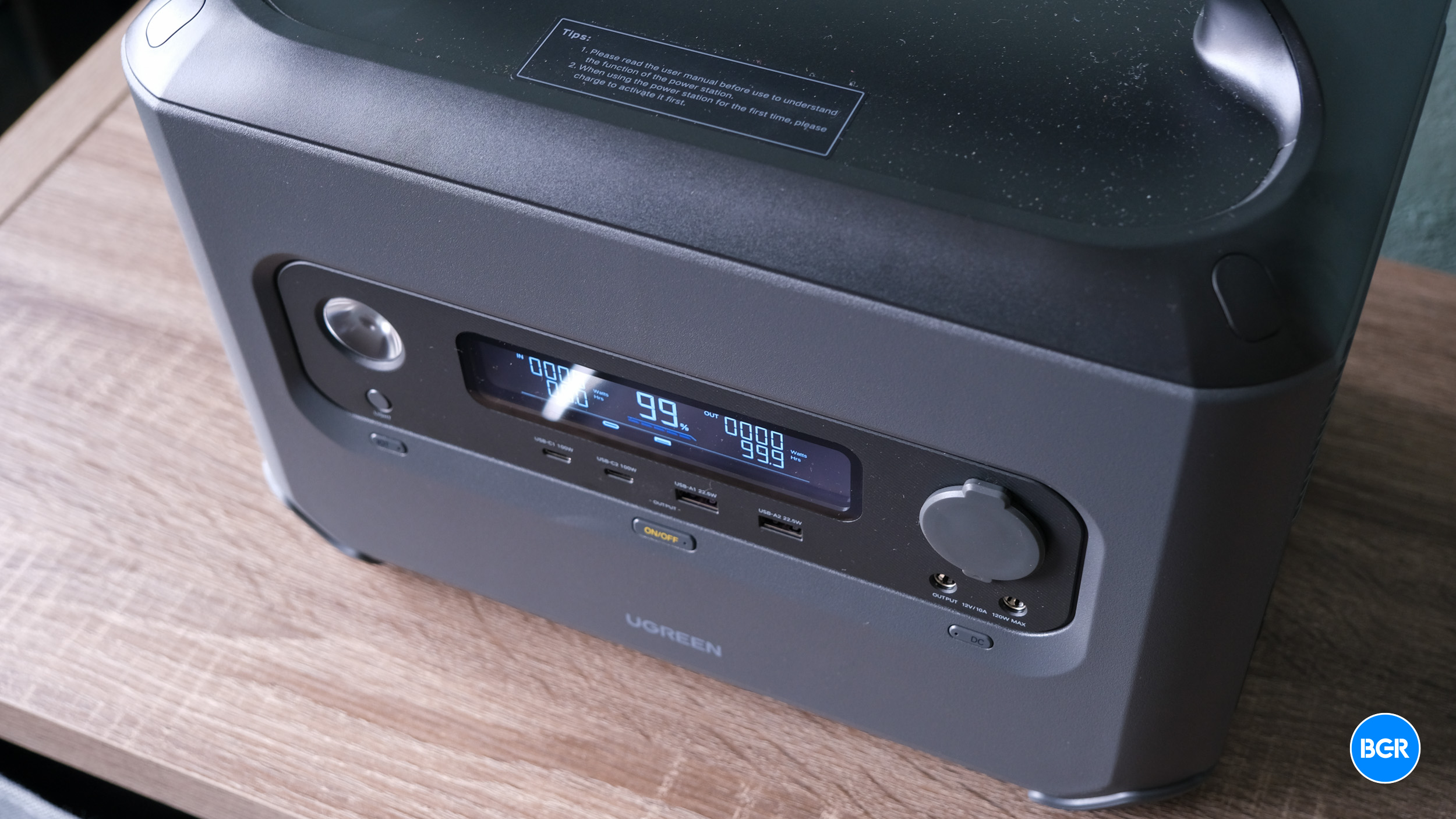 A cool feature on offer by these solar panels is that they'll help you place them at the best angle with an angle guide. This will help you get the best power output from the panels. The solar panels are an excellent addition to the system as a whole, and worth it if you plan on needing more than the power station can supply, or if you really want to plan for longer power outages.
Conclusions
The Ugreen PowerRoam 1200 is an excellent way to plan for power outages or ensure that you have a high-performance power station for camping. It's an excellent option at a reasonable price, and the solar panels make it an even more compelling choice.
Should I buy the Ugreen PowerRoam 1200?
Yes. It's a great power station at a solid price.