The Sonos Era 100 replaces the Sonos One as Sonos' entry point for wireless home audio — and ultimately, it's a worth successor.
Pros
Excellent audio quality
Slick design
Great smart features
Easy setup
Sonos is entering a new era. The Sonos One has long been central to the company's mission of offering premium, whole-home wireless audio, considering its small stature, decent price for the quality of audio, and smart features. But now, the company is finally replacing it with a new offering — the Sonos Era 100.
The Era 100 sits alongside the also-new Era 300, which offers a glimpse at what Sonos sees as the future of immersive, spatial audio. But the Era 100 takes a slightly more reserved approach. It's built to simply offer great wireless home audio, without the extra bells and whistles, and higher price, of the Era 300.
Of course, at $249, the Sonos Era 100 has to compete. Gone are the days of limited wireless home speaker options. These days, there are first-party options from Apple, Google, and Amazon, and some of them sound pretty great. Can Sonos compete in an era of decreased competition?
Turns out, the Sonos Era 100 sounds pretty great — but through no fault of Sonos itself, it misses some features that those first-party options get to offer.
Sonos Era 100 design
The Sonos Era 300 offers a radically new design that takes inspiration from previous Sonos products, but changes things in an effort to better support spatial audio tech. Without the need to support spatial audio, the Era 100 does no such thing.
That's not a bad thing though. The Sonos One has long offered a sleek and stylish design, with a premium build quality. That carries over to the Sonos Era 100, which, like its predecessor, is also available in either a matte black or matte white. We're reviewing the black model.
Of course, the design isn't the same. The Sonos One is a bit smaller than the Era 100, but not by much. The Era 100 is a little less than an inch taller and about half an inch deeper than the One, so there is not a big difference in the footprint. The Sonos One has a rounded rectangular shape whereas the Sonos Era 100 has a more rounded design, although not fully circular. Other design aspects are different too, like the vertical Sonos logo on the front, the dimple on the top for the volume controls, and so on.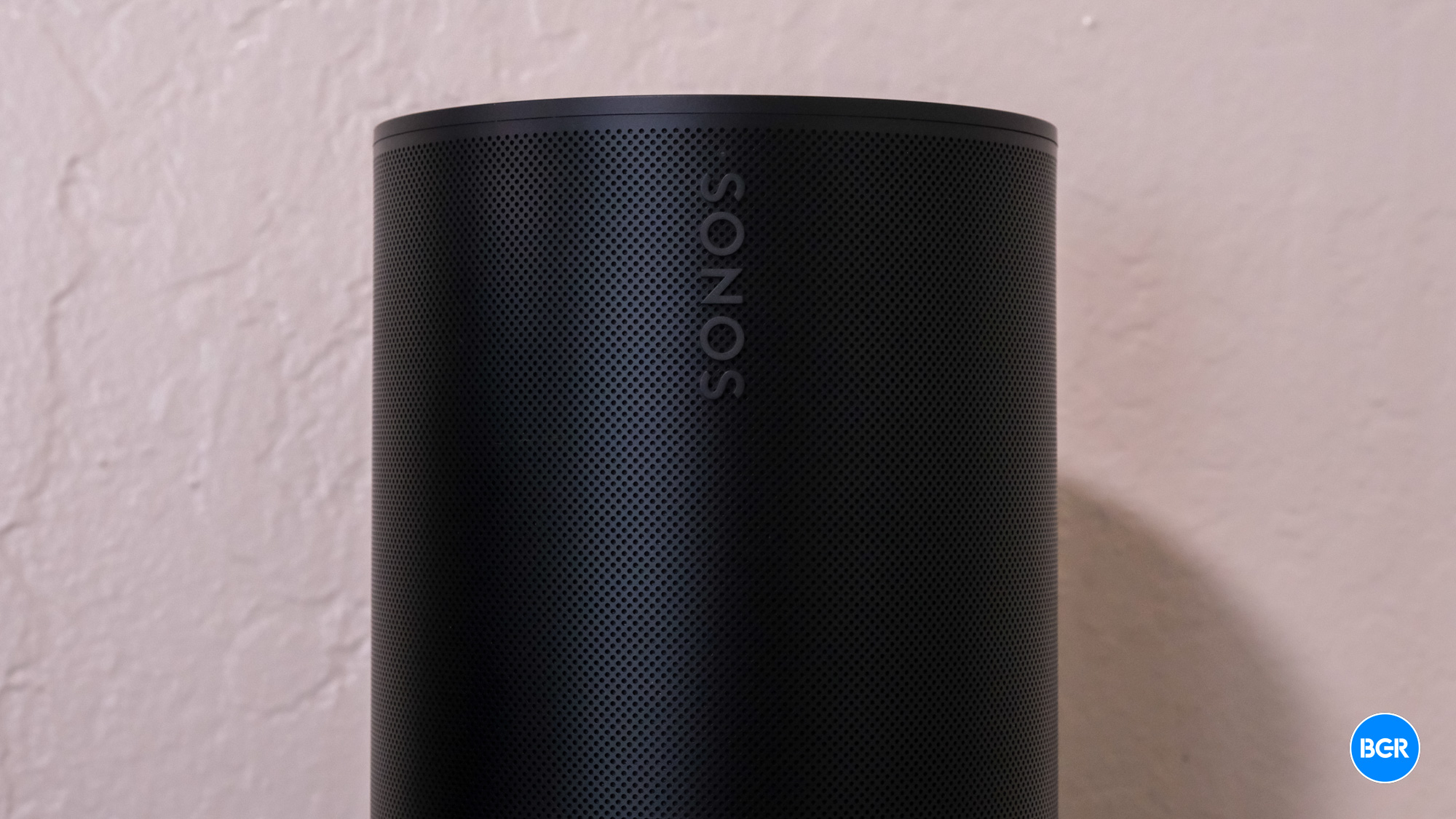 The Sonos Era 100 has capacitive touch controls for play/pause and forward and back, which is similar to what most Sonos speakers offer. There's a small groove running through the middle of the speaker, which lets you slide your finger to increase or decrease the volume. You can also tap on either side for volume. Towards the front of the top of the Era 100 are buttons for play/pause, reverse, and forward. Towards the back of the top can be found a voice assistant button, while on the back there's a switch to turn off the microphone altogether. Also on the back is a Bluetooth button. Yes, the Era 100 supports Bluetooth. We'll get into that a little more later.
On the back, there's also a USB-C port, and through an adapter that can allow for ethernet connectivity, a line-in audio jack, or both. This is great for those who might want to use the speaker with a record player or another wired source.
Generally speaking, I like the design of the Era 100 — though that's far from a surprise. It keeps all the things that I like about previous-generation Sonos speakers, like the premium materials and matte build, and offers a slightly refined look overall.
Sonos Era 100 features
The Sonos Era 100 may not have the same spatial audio features as the Era 300, but it does add some helpful smart features that make it better than the previous-generation Sonos One.
One of its most notable features is the support for Apple's AirPlay 2, allowing seamless streaming of audio from Apple devices. With AirPlay 2, users can wirelessly send their favorite music, podcasts, or videos straight to the Era 100 speaker, enabling an effortless and enjoyable listening experience. Not only that, but AirPlay 2's multi-room audio capabilities let users play the same or different content on multiple speakers throughout their homes, perfect for setting the ambiance during gatherings or creating a whole-home audio experience.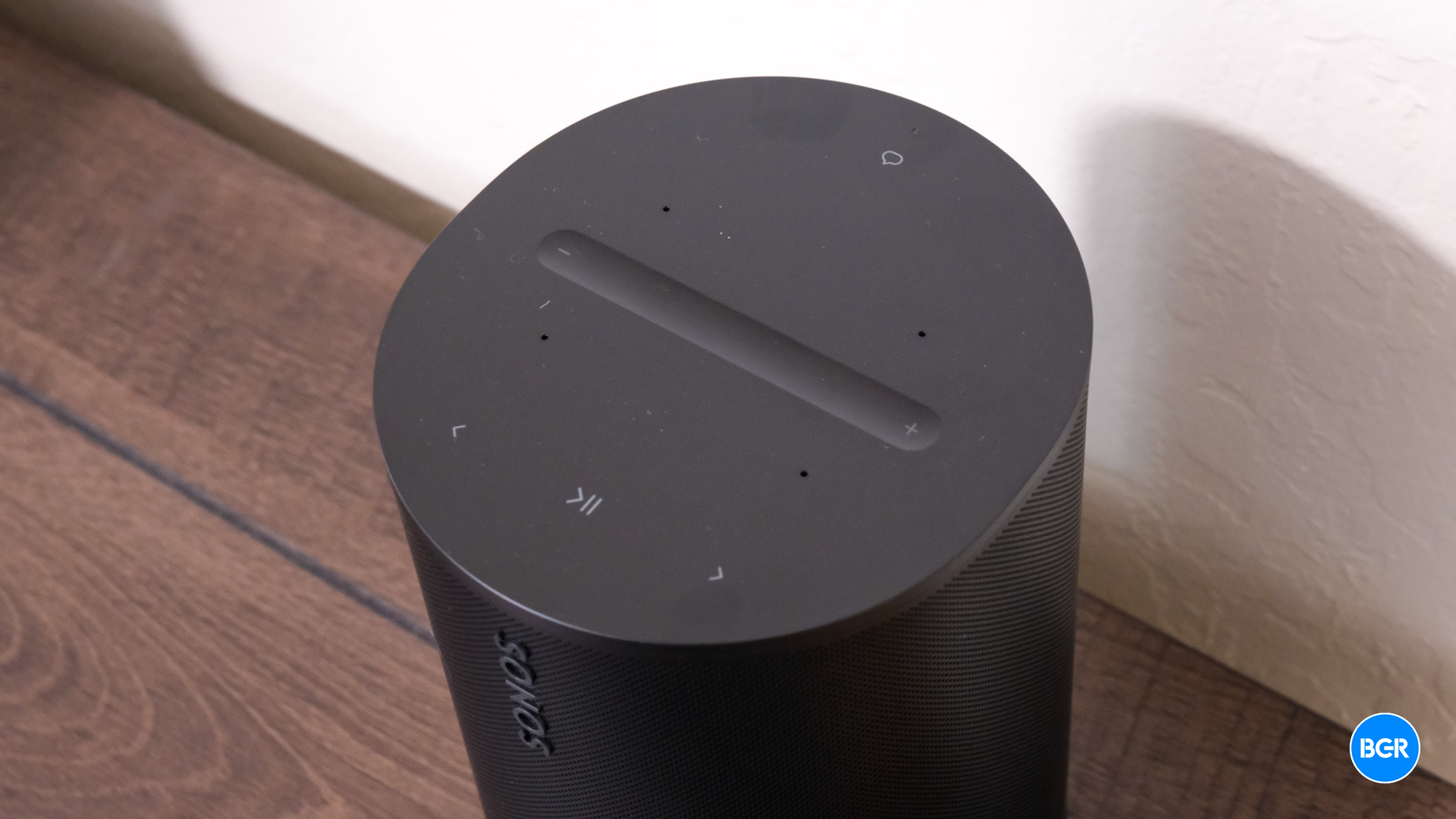 Another standout feature of the Sonos Era 100 speaker is the support for Sonos' Trueplay technology. Trueplay uses advanced algorithms to analyze the speaker's surroundings and automatically adjust the sound output to deliver optimal audio performance. It's a feature we would expect to see, but it's still nice to see. Also, Trueplay now finally supports Android devices, through the new Quick Tuning feature.
The Era 100 speaker also supports Amazon's Alexa, however you won't get Google Assistant support here. This is likely due to ongoing litigation between Sonos and Google. Support for Siri would have been nice too, even though it still requires users have a HomePod in the house.
But the Era 100 does add one important feature — Bluetooth. Bluetooth support means that users can effortlessly connect their devices to the speaker, ensuring compatibility with a wide range of smartphones, tablets, and computers that might not be Apple devices that support AirPlay 2. This feature also enables guests to easily pair their devices, making it a versatile and user-friendly option for entertaining.
Sonos Era 100 app
As you would expect, the Sonos Era 100 works through the Sonos app, and the Sonos app remains unchanged. That's a good thing though — I find the app to be well-designed and easy to use, though ultimately, I don't use it all that much.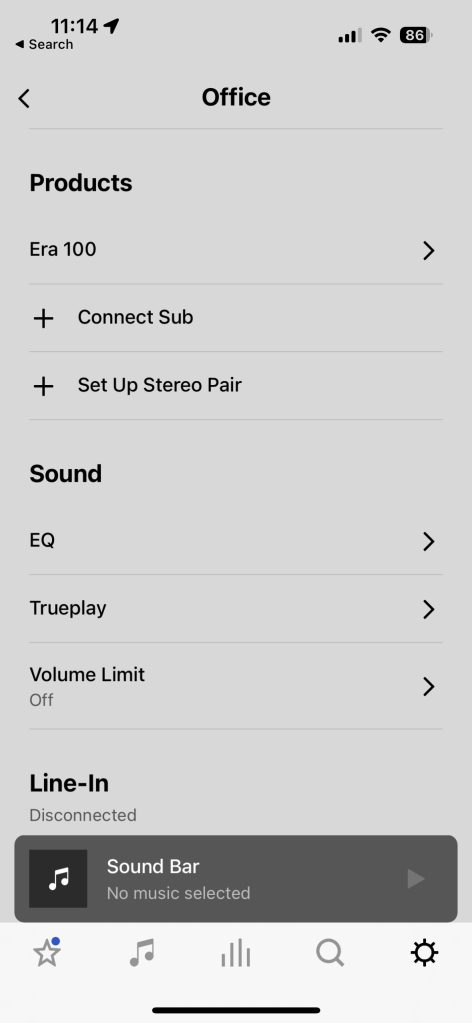 From the app, you can add and manage your different Sonos speakers. Setting them up is a breeze. Usually, when you plug in a speaker the app will automatically detect it, and prompt you to start the setup process. This only takes a minute or so, and during it, you'll be able to select where in your home your speaker is. You'll also be able to tune the speaker with Trueplay, if you have a phone that supports the tech.
Once your speaker is set up, you'll be able to play music through linked services, set up compatible voice assistants, and so on. Ultimately, I really only used the app for the setup process though — then turning to AirPlay to play and manage audio through Apple Music or other apps.
Sonos Era 100 sound quality
As mentioned, the Sonos Era 100 does not offer support for Dolby Atmos — but that doesn't mean it doesn't sound great. Far from it, the Era 100 sounds excellent, and is a seriously worthy sequel to the Sonos One.
Despite the speaker's small size, the Era 100 offers excellent bass response. Kick drums are powerful and deep, while bass-guitars are smooth and strong. Bass response in particular is one area where the Sonos Era 100 excels over smaller-format speakers like, say, the HomePod Mini, and when you put them side-by-side you can hear a clear difference.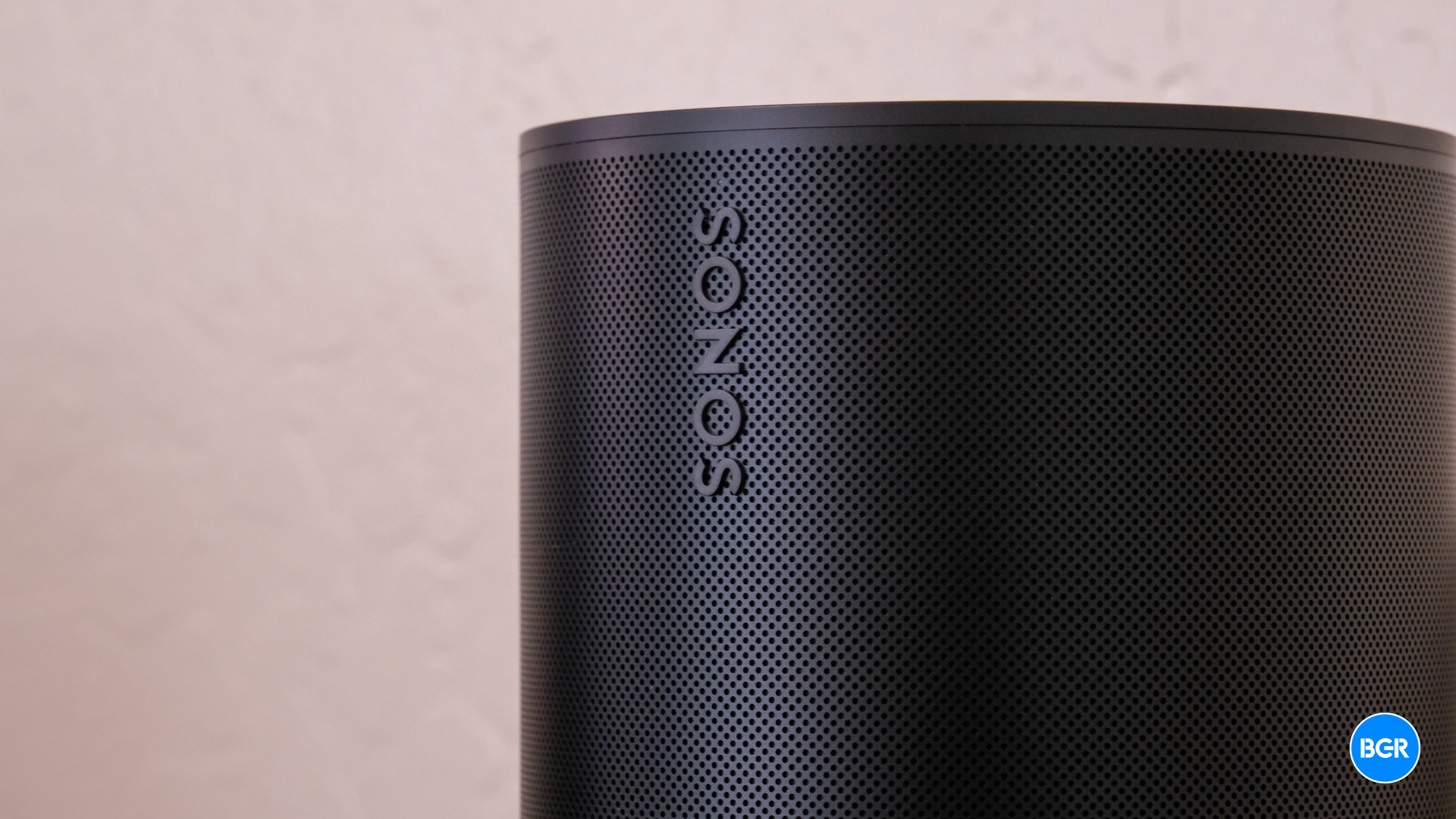 Mids are well-tuned too. The low mids offer decent warmth, without sounding muddy or overbearing. The high-mids offer enough bit for vocals and guitars to cut through a mix nicely.
Last but not least is high-end response, which again, is excellent. There's good detail and clarity, ensuring that music is exciting and natural-sounding. You won't get quite the level of detail as you might from far more expensive audiophile-grade speakers, but as far as consumer speakers go, and in this price range, the Sonos Era 100 is among the best.
For Apple users, an immediate comparison will be drawn with the HomePod, which is a little more expensive than the Era 100. Ultimately, I think most will prefer the audio quality of the Era 100, which is a little more well-rounded and offers better bass response. The HomePod does seem to offer a little more clarity in the high-end, though.
To be clear, the Era 100 isn't necessarily the most accurate speaker out there, but most won't care about that. There's definitely more bass than you might get on reference speakers, and some cuts in the mids. Again, this is all in the name of sounding great — something the Era 100 achieves.
Conclusions
The Sonos Era 100 is an impressive continuation of Sonos' entry-level speaker line. It takes most things that were great about the Sonos One, but builds on them with a better audio quality, fresh design, and so on. For some, the lack of Google Assistant will be sorely missed, but if you're an Alexa or Apple user, then you'll love how Sonos integrates with the rest of your smart home and delivers the best audio quality you can get under $250.
The competition
Most of the competition comes from first-party options from Amazon, Google, and Apple, and those options have been getting better and better. Ultimately, the Sonos Era 100 beats most of those options in audio quality. The only real exception to that rule is the HomePod, which also sounds excellent, but comes at $50 more than the Era 100. If you're deep enough in Apple's ecosystem to want Siri actually built in to the speaker, then the HomePod is probably the way to go — but if you don't mind using AirPlay and could stand to save a little cash, then you should probably go for the Sonos Era 100, which ultimately sounds a little more well-rounded.
Should I buy the Sonos Era 100?
Yes. It's an excellent-sounding speaker, with some great smart features.