The Roborock S8 Pro Ultra offers excellent cleaning performance and is extremely self-sufficient — but all at a high price.
Pros
Extremely self-sufficient
Excellent cleaning performance
App works well
Good-looking design
Super smart features
| Buy From | List Price | Sale Price | |
| --- | --- | --- | --- |
| | $1,599.99 | $1,599.99 | See It |
Tesla is hard at work on the Optimus, a humanoid robot that it claims could one day take care of all the menial tasks that we mere humans don't want to do — like cleaning, manual labor, and so on. But until it's actually released, we'll have to make do with slightly less advanced robots to take care of our cleaning — and perhaps the best of those is the new Roborock S8 Pro Ultra.
The Roborock S8 Pro Ultra aims to do as much of the work of cleaning your floors, and maintaining itself, as possible. But it's also… very expensive, and while it gets close to allowing you to completely forget about it, there are some compromises to make.
Here are my thoughts after using the vacuum for a few weeks.
Roborock S8 Pro Ultra design
If you've seen a Roborock vacuum before, you won't be surprised by the design of this one, at least when it comes to the vacuum itself. It's a large circular vacuum that measures 13.8 inches in diameter and 3.8 inches tall, which isn't that much bigger than other robotic vacuums, but not smaller either.
On top of the vacuum, you'll get the LiDAR sensor, which the vacuum uses in conjunction with cameras to map out your home and detect obstacles. Also on the top of the vacuum are three buttons — a home button, a power button, and a mop only button, which doubles as a child lock.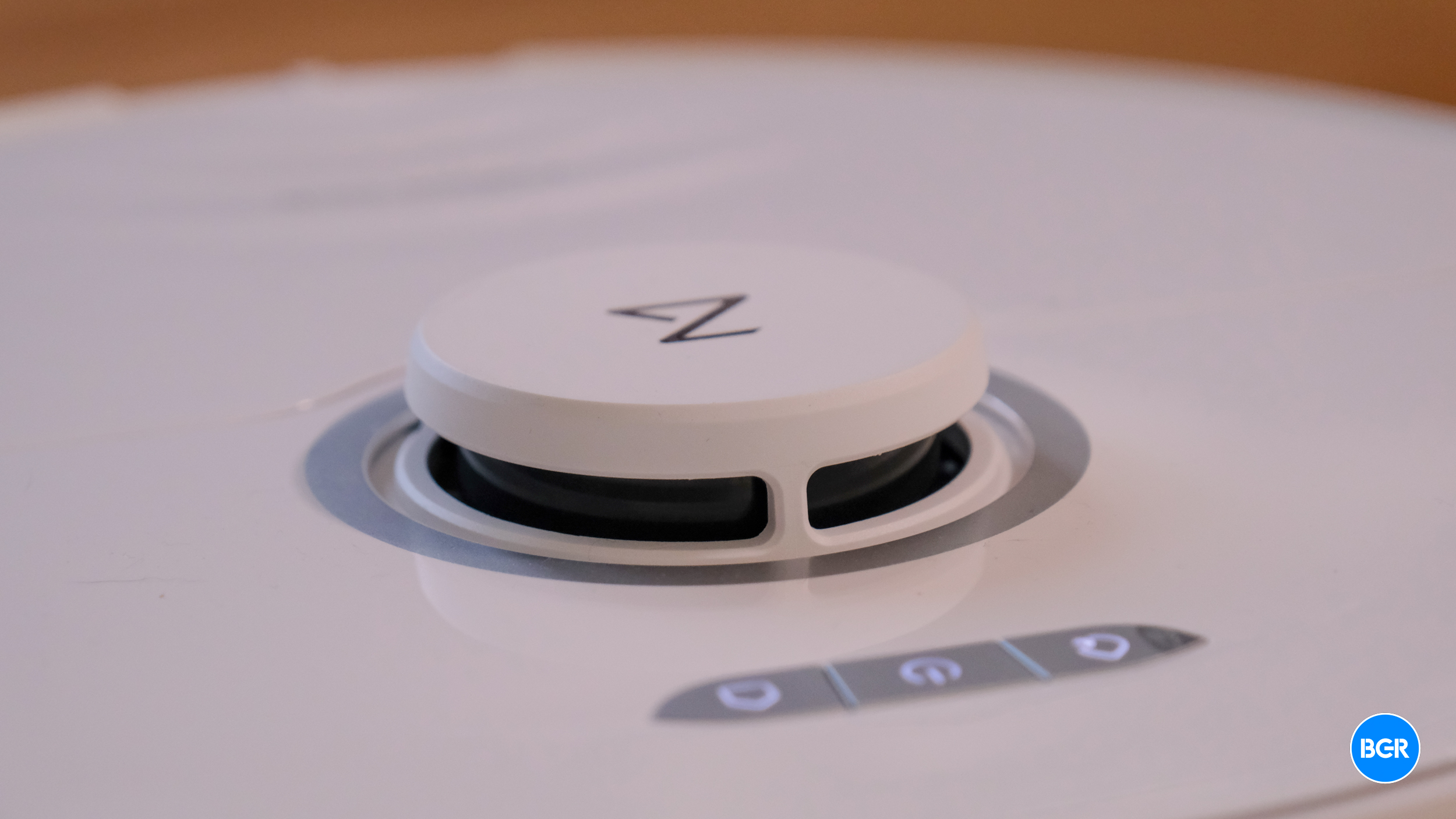 On the bottom of the vacuum are the six cliff sensors that it uses to prevent falling off edges, along with a side brush for edges, main brush, and mop mount.
The real heft, of course, comes from the docking station. The docking station has a large entrance, with three large sections on the top. One of those is for clean water, which is used to clean the floors and the mop pad; another for the dustbin, which the vacuum empties into; and another for dirty water, which accumulates during the mop cleaning phase. You'll need to find a place for the docking station, however, we were able to hide it in a corner.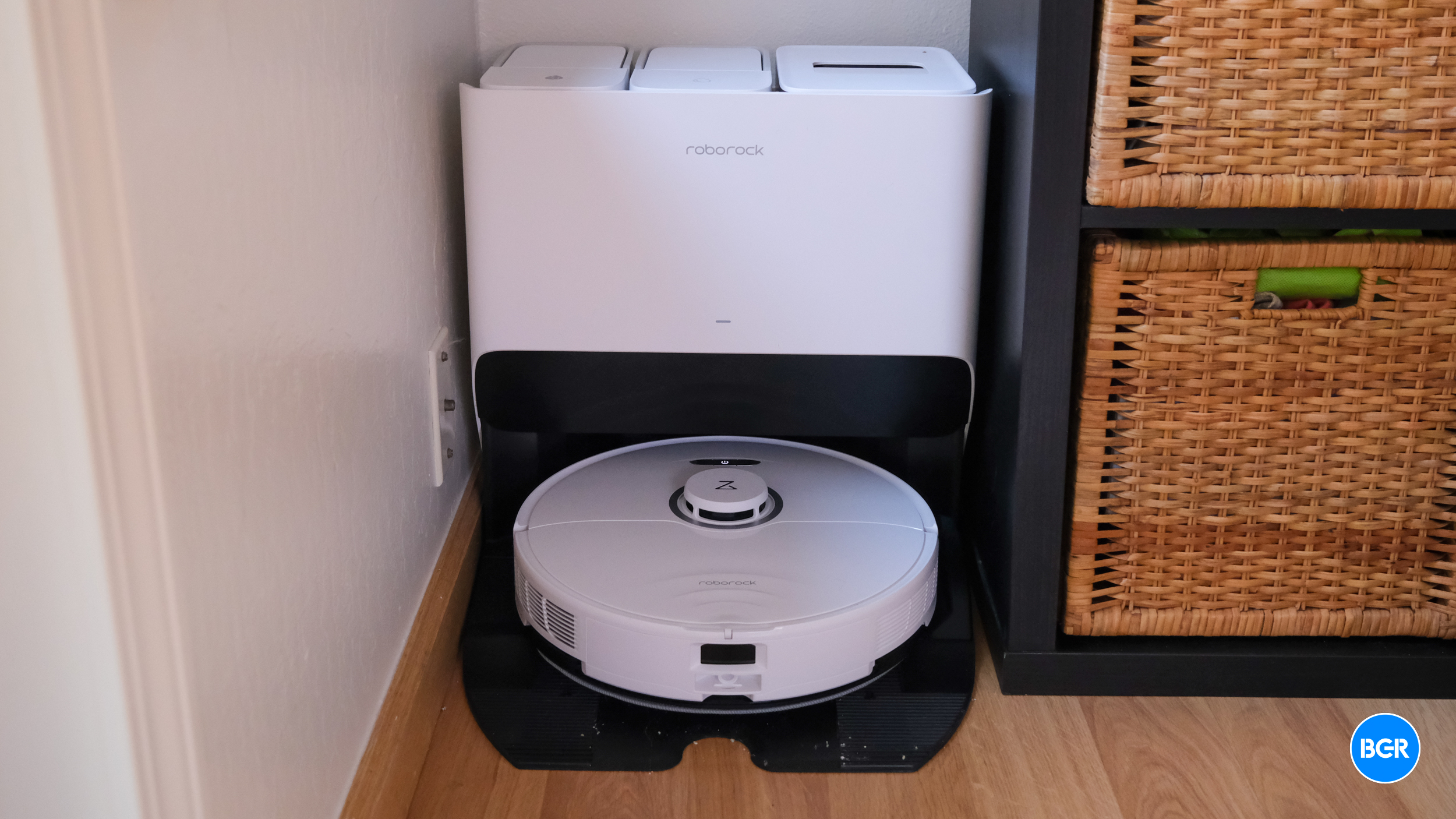 The vacuum is available in either all-white or all-black. We're reviewing the all-white model, however, they both look great. The device is made entirely from plastic, but it seems strong enough. Of course, we didn't drop-test it.
Generally, the Roborock S8 Pro Ultra looks and feels good. It doesn't radically change the design of the robotic vacuum, but design only matters so much.
Roborock S8 Pro Ultra setup and app
Setting up the Roborock S8 Pro Ultra, thankfully, is relatively easy. You'll start by putting together the pieces of the docking station and setting the vacuum on the docking station to charge. We found that it took a few hours to charge fully, so you may want to look for something else to do while you wait.
You'll also want to set the device up in the app, which is also pretty easy. You'll start by downloading the Roborock app and creating an account, then follow the on-screen instructions and add the vacuum to your account, which will include holding down two of the buttons on the vacuum to initiate Wi-Fi pairing.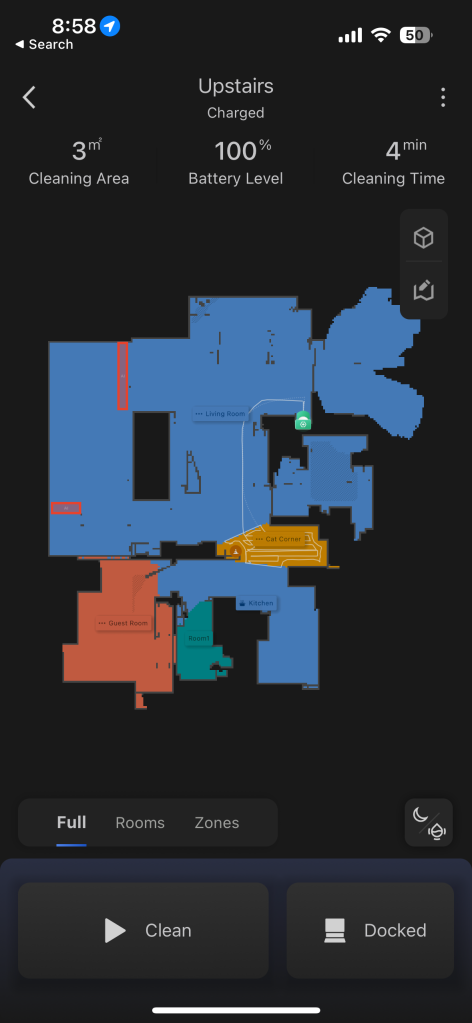 Once it's charged, of course, you'll want the device to run free and create a map of your home. While it does this, you'll probably want to make sure that there are cables and other things that could jam it up lying around — just during the map creation. Once the map is created, it'll automatically split rooms up, and you can manually name them, split more rooms, and so on. You can also create no-go zones — so you can put those cables back and make sure the vacuum doesn't chew them up.
Using the app, in general, is pretty easy. There's a home screen where you can see your vacuum or vacuums if you have multiple. Tap on the vacuum, and you'll be taken to a map view, where you can send the vacuum to clean a room or zone or clean the home as a whole. You can also dive into the settings menu to create schedules for the vacuum, set how often it cleans the mop pad, set obstacle avoidance settings, and more. The settings are very in-depth and comprehensive, and I recommend going through those settings when you first set up the vacuum.
The schedules, in particular, are quite helpful. You can create multiple schedules, and have the vacuum clean the whole home, rooms, or zones only, and so on. And you can set up Siri Shortcuts, which means you'll be able to clean a part of the home using only your voice or a quick button on your phone. The vacuum works natively with Google Assistant and Amazon Alexa.
Roborock S8 Pro Ultra features
The biggest thing that sets the Roborock S8 Pro Ultra apart from much of the competition is how self-sufficient it is.
Like many other modern robotic vacuums, the S8 Pro Ultra automatically empties dirt from its smaller dustbin into a larger dustbin in the dock. The S8 Pro Ultra also automatically refills the water tank from the tank in the dock, and it cleans and dries the mop pad itself. In other words, the only time you'll have to interact with it is to refill the clean water tank and empty the dirty water tank, which I had to do after around four or five cleans of a living room, two bedrooms, a kitchen, and a bathroom. That's equivalent to around once a month with once-per-week full cleans.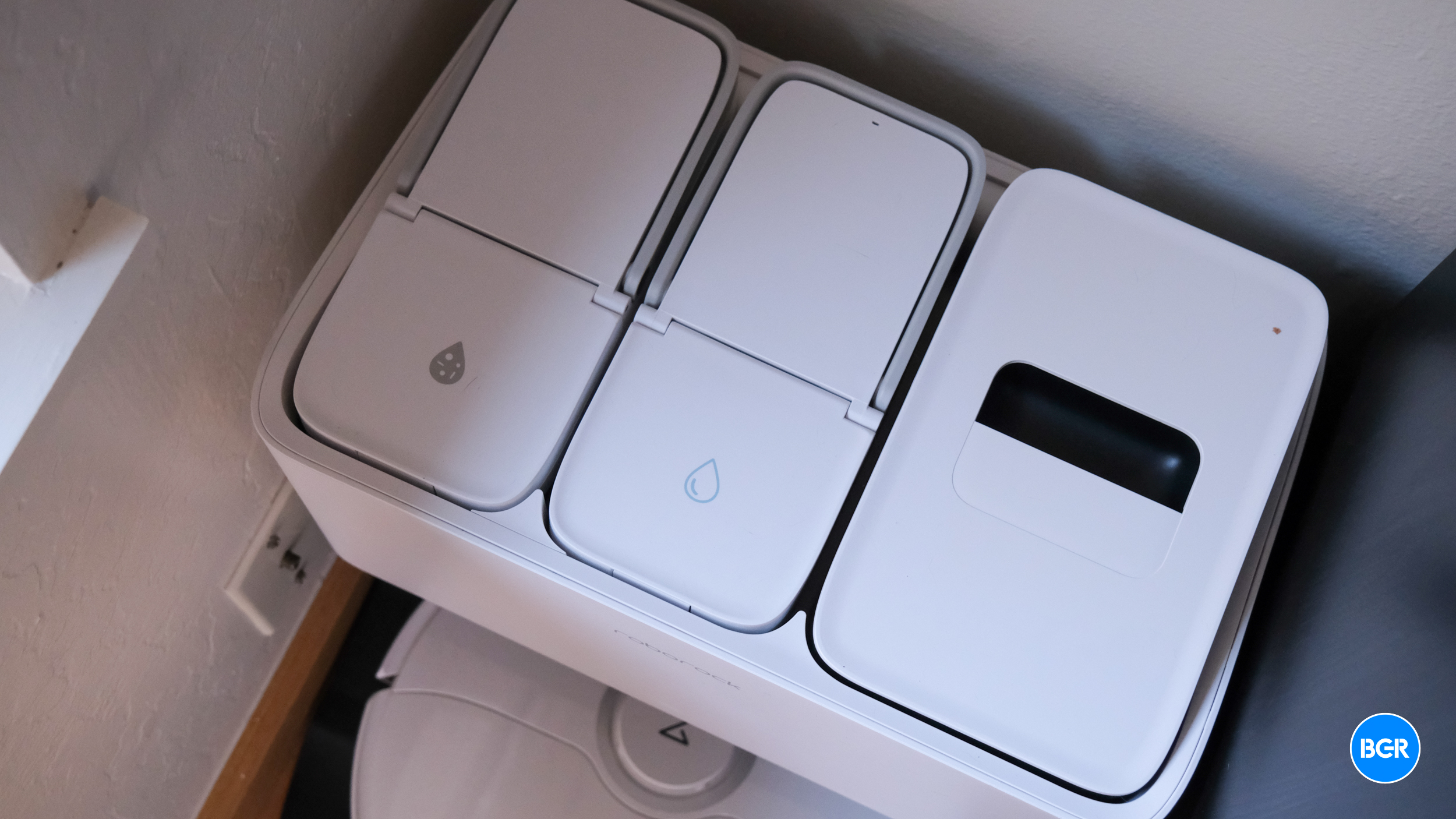 Unfortunately, unlike most of Roborock's other mopping vacuums, the S8 Pro Ultra doesn't allow you to remove the mop mounting plate, making it much harder to remove the mop pad. Presumably, this is because the vacuum cleans the mop pad. However, some might want to remove it for cleaning high-rise carpet, considering the vacuum's VibraRise 2.0 system only lifts the mop pad by 5mm. I don't have much carpet in my home, so this wasn't a concern for me.
It has some great automatic cleaning features too. The device is able to automatically raise and lower the mop pad depending on whether it's cleaning hard floors or carpet. And, it has a dual brush system on the bottom that's built to better pick up dirt.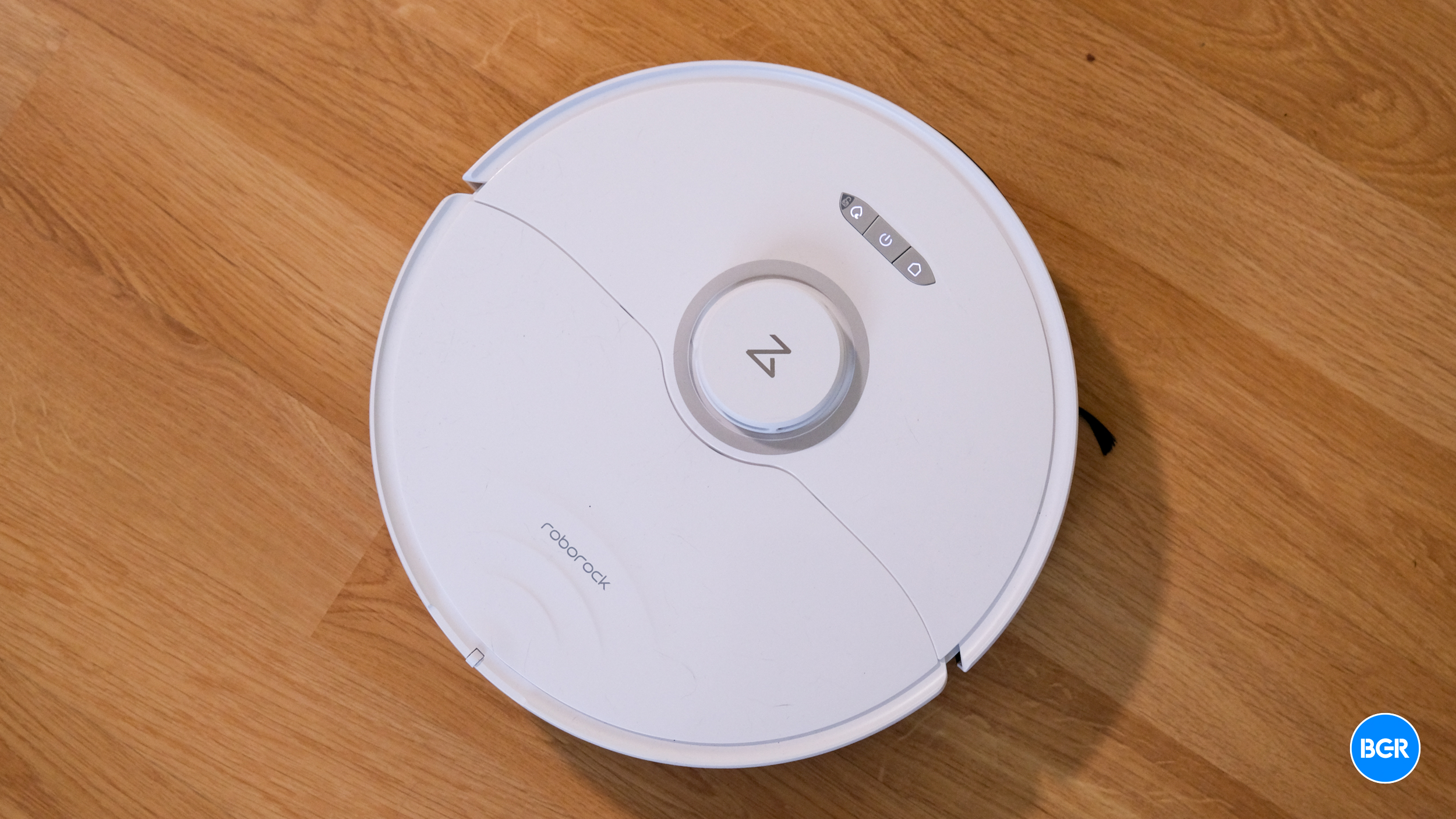 The S8 Pro Ultra is one of the smartest vacuums on the market, and it shows. It also has a good battery life — the vacuum is able to last a few hours on a single charge, and it had over 60% battery remaining after a full clean of the main floor of my home. It should have enough for even larger homes, and if not, the vacuum will simply return back to the dock to charge before picking up where it left off.
Roborock S8 Pro Ultra cleaning performance and use
The vacuum offers three main cleaning modes — a vacuum and mop together mode, vacuum mode, and mop mode. Within those modes, you can tweak mopping intensity and vacuum suction, allowing you to set things to the way you want them.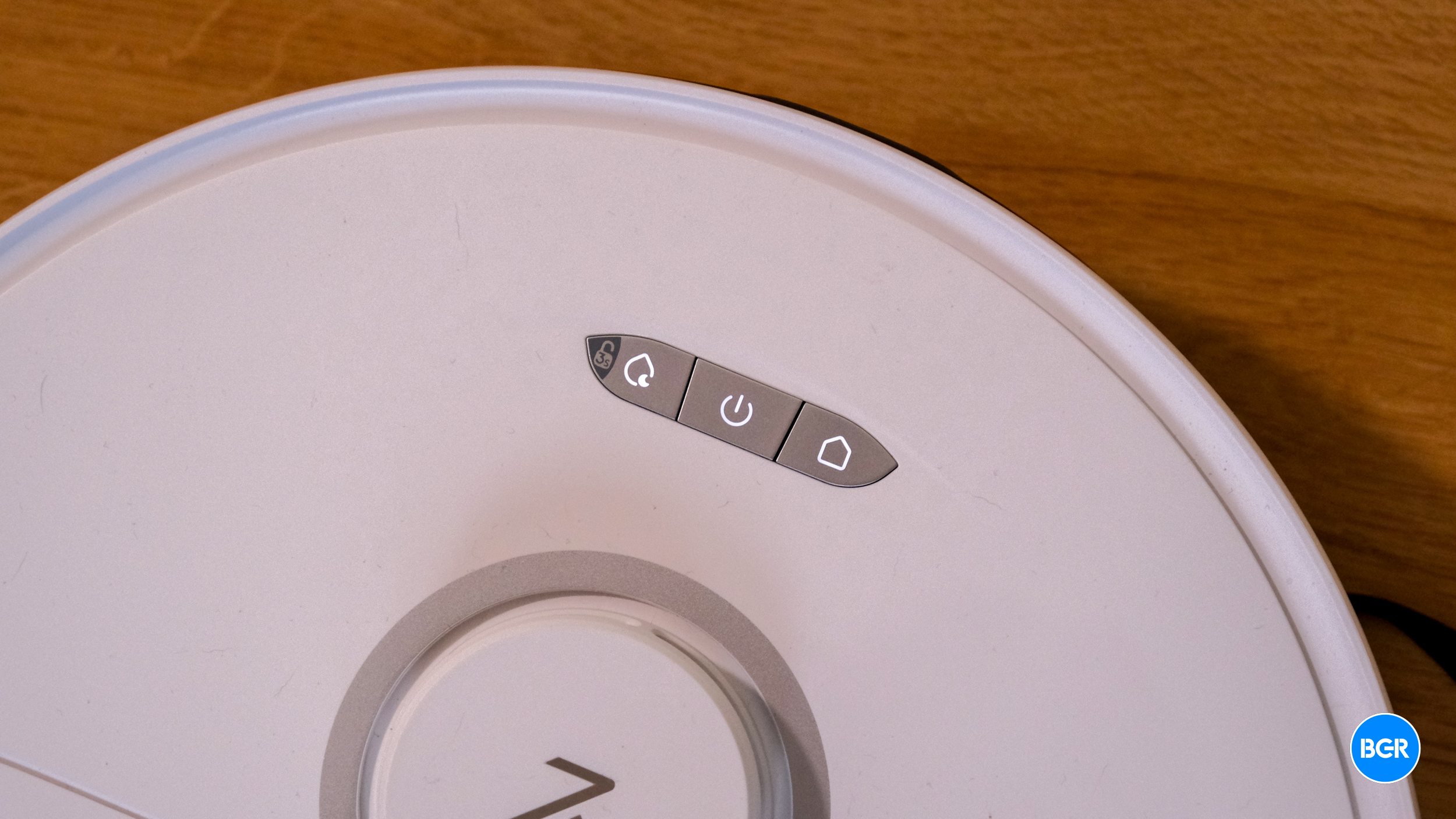 While cleaning, the vacuum had no problem making its way around my home, and displayed excellent obstacle avoidance. Even without a no-go zone, the vacuum carefully avoided my cat's water bowl, ensuring that not a drop of water was spilled.
Generally, the cleaning performance on the Roborock S8 Pro Ultra was excellent. With day-to-day dirty and dust, I found the floors to look sparkly clean after every cleaning session. Part of that has to do with the fact that the vacuum regularly cleans the mop pad, returning to the docking station mid-clean to ensure that it doesn't simply track dirt around your home on a dirty mop pad. It takes a few minutes to clean the pad each time it does so.
Like any robotic vacuum, the S8 Pro Ultra is definitely built for day-to-day cleaning more than for huge spills, but it can certainly clean medium-sized spills without any issues. Big, sticky messes, however, should probably be manually cleaned, as the S8 Pro Ultra won't get everything. This is normal for a robotic vacuum, though.
After a number of cleans, I was told to empty the dirty water tank, and that water was indeed very dirty, It smelled bad, too — and I was honestly quite surprised to see how much dirt it picked up from my generally clean home.
Conclusions
The Roborock S8 Pro Ultra is a killer robotic vacuum that pushes the boundaries in automatic cleaning. It's more hand-off than ever, delivers excellent cleaning performance, and has a range of super-smart and super-helpful features.
All that at a high price, though. At $1,600, the Roborock S8 Pro Ultra is one of the more expensive machines on the market. If you're willing to spend some serious cash on a top-tier robotic vacuum, you'll love the Roborock S8 Pro Ultra.
The competition
If you don't want to spend quite as much, there are some other options out there. You could, for example, go for another device in the Roborock S8 lineup, which won't come with the same high-tech dock, but still offers excellent cleaning performance and great smart features.
There's another option that does have many of the same features, however — the Ecovacs Deebot X1 Omni. It also self-cleans the mop pad, has an arguably more stylish dock and a great app. I generally prefer the Roborock app, and it has better mopping performance, so I think it's the better option here.
Should I buy the Roborock S8 Pro Ultra?
Yes. It's the best robotic vacuum on the market right now.