Mixed reality products are well and truly on the way. While the likes of the Meta Quest Pro perhaps isn't the best bang for your buck, the Quest 2 is still a great product that makes virtual reality a whole lot more fun. But Meta isn't the only player around — and companies like Nreal have been building some pretty interesting options.
The latest of these options is the Nreal Air AR glasses, which is built to offer an affordable augmented reality experience, with a device that can connect to your phone or computer. The Air looks closer to normal glasses than a full VR device like the Quest, and it has a relatively high-quality display.
At $380, they're also not overly expensive — like products like the Meta Quest Pro. But you'll still want to make sure you're getting a product that has something to offer you. Do the Nreal Air smart glasses perform? I've been using them to find out.
BGR may receive a commission
Pros
Lightweight design
Crisp display
Not overly expensive
Cons
Software can be a bit buggy
Wired design
Nreal Air design
The Nreal Air have a relatively unique design compared to other mixed reality products. Unlike the Meta Quest Pro, these glasses are actually quite sleek and stylish. They fit into a case that's only slightly larger than your average glasses case, and there's a cable that connects to the back of the left arm — going behind your ears. The glasses also come with a front cover to block out any outside light, which helps enhance the experience.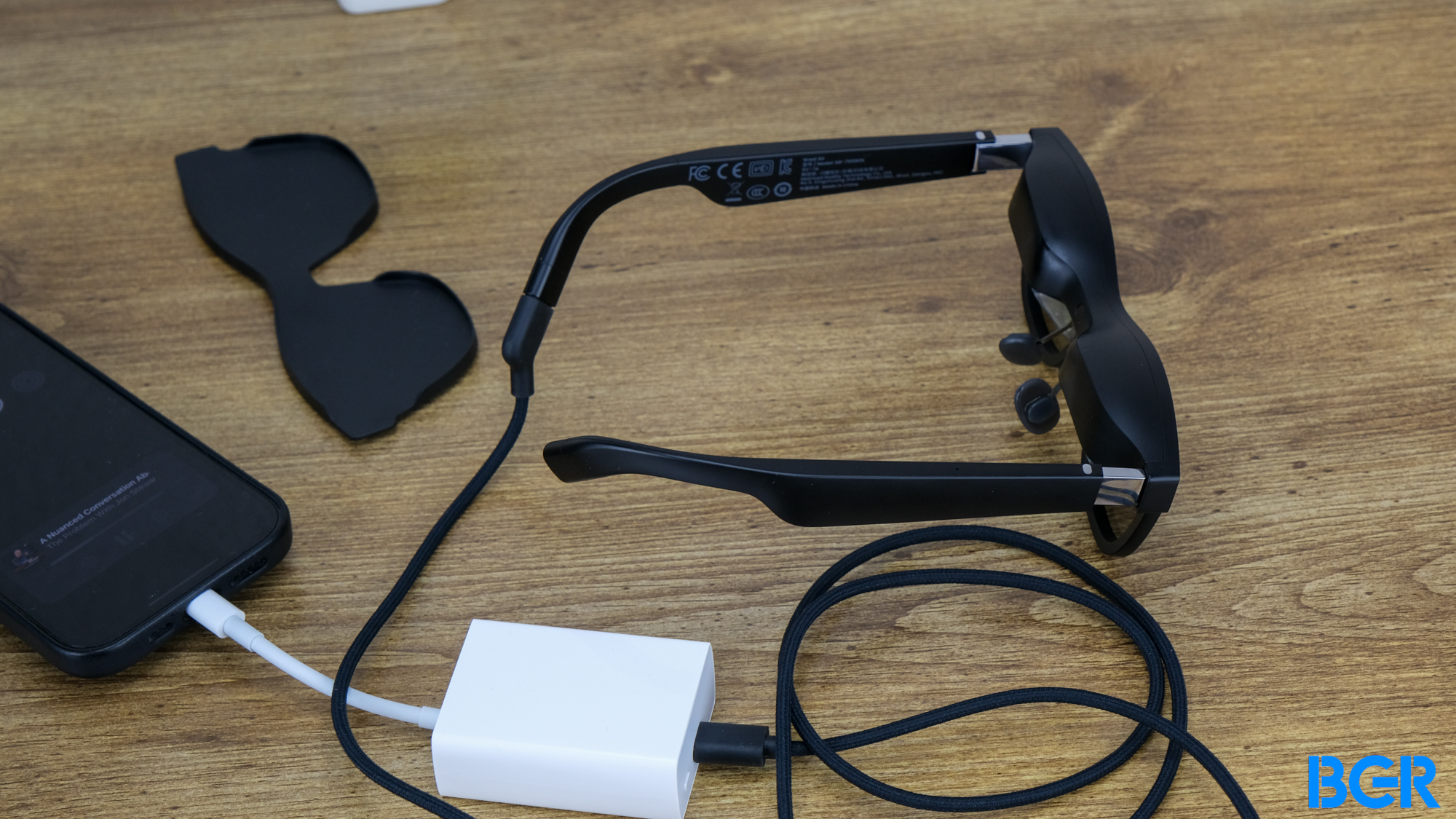 The glasses themselves are also relatively lightweight — but they still don't really look like normal eyeglasses. That's not necessarily a bad thing, but don't expect to be able to walk down the street with them. Glasses like that are still a ways off, and there's no prescription lens support here either.
On the bottom of the right arm, there are a few buttons — including a power button and a rocker that can control volume or display brightness.
Generally, I like the design of the Nreal Air, and I think they look quite nice. However, if you're expecting something that looks like normal glasses, you may be disappointed.
Nreal Air display
The display is quite good too. It works by reflecting the light from the top over the glass in front of your eyes, which is kind of cool. It's a 3840 x 1080 pixel OLED display that produces fairly crisp images, at least compared to other options out there. The colors are also quite vibrant, which helps with the realism of the experience. Unfortunately, the field of view isn't great — it's just 46 degrees, which is quite small. I definitely would have liked a much wider field-of view, and found myself having to move my head a lot to see content on the screen in AR space.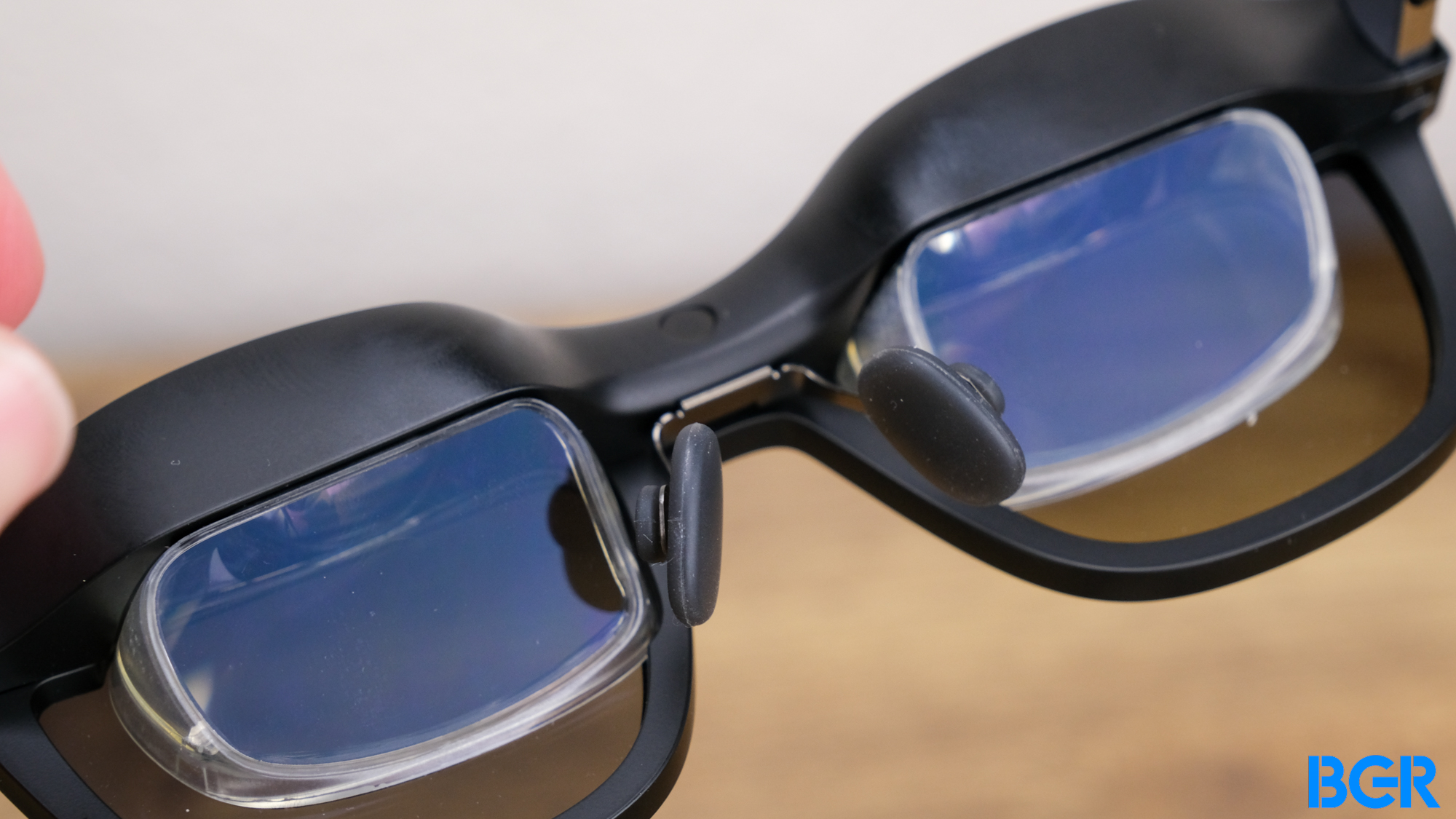 The glasses do also get quite bright. They can reach up to 400 nits, which is good — but they can also be a bit too bright at times. You do have the option of changing the brightness, though, so that's nice.
Overall, I think the display on the Nreal Air is quite good. The colors are vibrant and crisp, and you can get quite bright. The field of view is also a bit disappointing, but it's still usable.
Nreal Air comfort
The Nreal Air AR glasses are quite comfortable to wear. They're lightweight compared to other virtual reality headsets, but they still don't really feel like regular glasses. After wearing them for a while, you can start to feel the weight of the device on your face, and it can become uncomfortable at times — particularly if you're wearing them for an extended period of time.
The types of materials also factor in the comfort, and while this isn't the most premium device of it's kind on the market, it's far from cheap feeling and the molded plastic feels good in use.
Overall though, I think the comfort level is quite good. The glasses don't slide around too much and they fit snugly on your face.
Using the Nreal Air
The Nreal Air works with a range of different platforms, and how they work will depend on the platforms that you use them with. On Android, for example, they work with the Nebula app, which has its own interface and services. The Nebula app uses your phone as a remote, allowing you to point at content and select it quickly and easily. It works quite well, but the user interface isn't as fleshed out or sophisticated as that on Meta's headsets.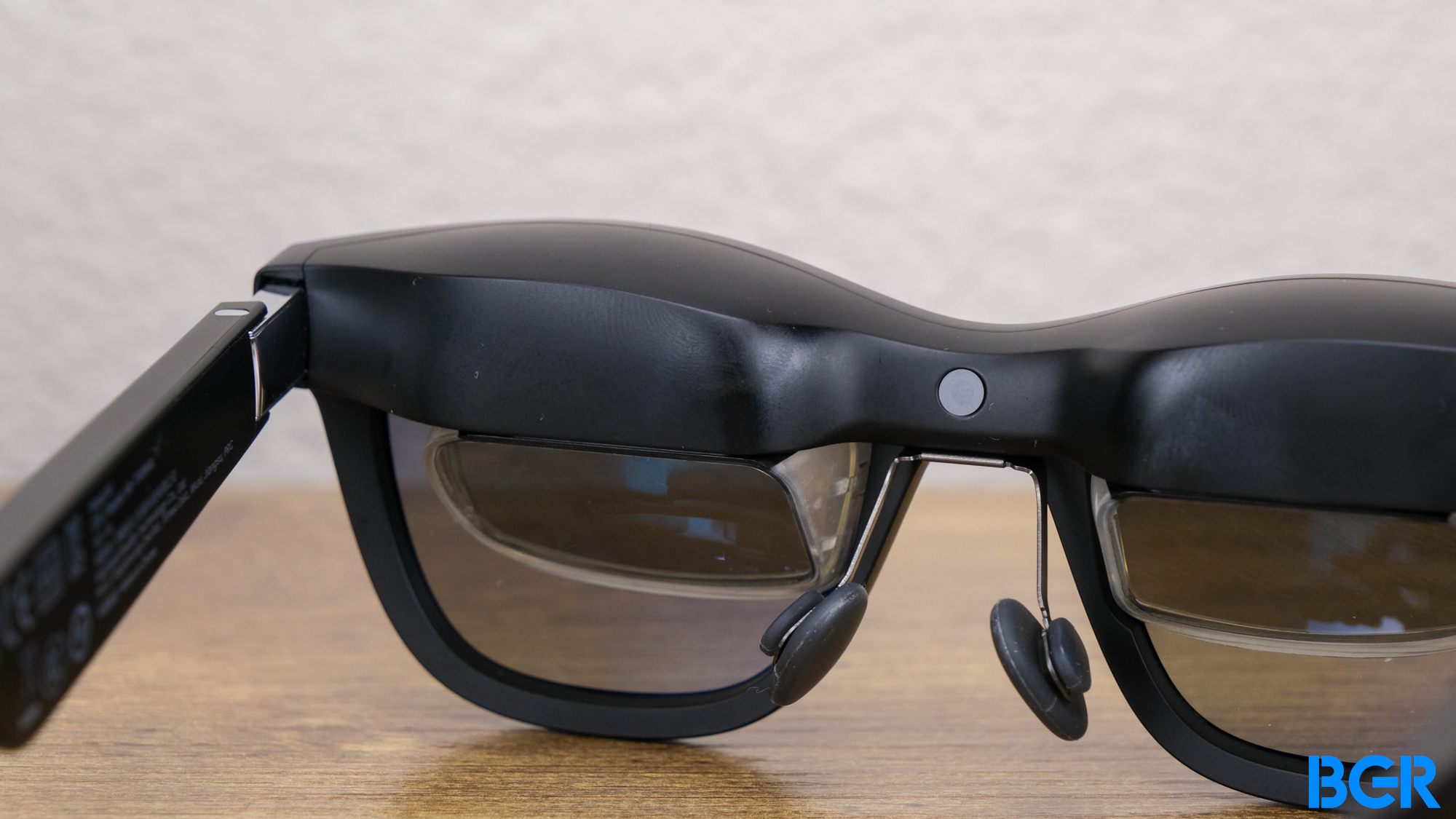 I used the headset on Android, but I mostly used it on iOS and Mac. On iOS, the headset basically just displays whatever is on the phone's display, which can be a bit limiting. On Mac, however, there's a version of the Nebula app that allows you to create up to three virtual desktops. It works very well, and lets you set those desktops to exist in virtual space — with head-tracking so you can look around and see the different displays.
The Nebula app for Mac is still in beta, but I found it to work quite well. It can be a little jittery at times, but content generally looks good, and text is mostly crisp. In fact, I was able to work in this virtual space for a while — though eventually, I took the glasses off and reverted to using a laptop like a laptop. I could imagine using the Air more in my work life, though.
Conclusions
Overall, I think the Nreal Air is a good augmented reality headset. It's comfortable to wear for extended periods of time, and the display looks quite good. On top of that, it works on most major platforms — though not in the same way on each.
The field of view could be better, and the brightness can be a bit much at times. But if you're looking for an accessible way to dip your toes into AR, then the Air is a good option — especially as it's more affordable than some of the other options out there.
The competition
There isn't a ton of competition in this space. Some consider options like the Meta Quest 2 as competition, but they're a little different in how they work and how you would use them. If you're looking for a gaming option, the Quest 2 is probably better — but if you want something for productivity or are interested in the AR aspect, the Nreal Air is a great option.
Should I buy the Nreal Air AR glasses?
Maybe, but only if you're willing to spend almost $400 on a pair of AR glasses.