The iPhone 15 Pro Max offers a renewed design, better camera features, and more. So much so, that it's the best iPhone ever made.
Pros
Stunning design
Upgraded camera
Excellent performance
Great display
| Buy From | List Price | Sale Price | |
| --- | --- | --- | --- |
| | $1,199.99 | $1,199.99 | See It |
Apple is seemingly pulling out all the stops for this year's iPhone 15 Pro and 15 Pro Max. While the standard iPhone 15 offers relatively minor improvements over the last-generation iPhone 14, Apple had a lot to say about the major advancements that the iPhone 15 Pro brings to the line — and, it turns out, they help make the Pro iPhone feel more pro than ever.
The iPhone 15 Pro Max is particularly impressive. Sometimes, Apple brings new features to the Pro Max model before bringing them down to the standard Pro — and this proved to be one of those years. Unlike the iPhone 15 Pro, the Pro Max offers a 5x telephoto camera. That means that you'll have to make your buying decision not just based on the size of the phone, but also whether or not you care about that extra zoom.
The iPhone 15 Pro Max is also more expensive than last year's iPhone 14 Pro Max, with a starting price of $1,199 instead of $1,099. How does it actually perform? I've been using the iPhone 15 Pro Max for a while now to find out.
iPhone 15 Pro Max specs
Dimensions
159.9 x 76.7 x 8.3 mm
IP rating
IP68
Display resolution
1290 x 2796 pixels
Display size
6.7 inches
Display type
LTPO OLED
Display refresh rate
120Hz
Display brightness
2000 nits (peak)
Chipset
Apple A17 Pro
Memory
8GB
Storage
256GB, 512GB, 1TB
Rear cameras
Wide: 48MP, f/1.8, sensor-shift OIS
Ultrawide: 12MP, f/2.2, 120-degrees
Telephoto: 12MP, f/2.8 periscope, 5x zoom
Video
4K at 60fps, 1080p at 240fps
Front camera
12MP, f/1.9
Ports
USB-C 3.0
Battery size
4,441mAh
Charging
25W wired, 4.5W reverse wired, 15W MagSafe, 7.5 Qi Wireless
Connectivity
Bluetooth 5.3, Wi-Fi 6E, 5G
Colors
Black Titanium, White Titanium, Blue Titanium, Natural Titanium
Price
$1,199.99
iPhone 15 Pro Max design
The iPhone 15 Pro Max may not reinvent the wheel when it comes to design, but there are still a series of design changes that make for a more premium phone that also happens to be more useful.
For starters, the build of the phone is different. Apple has swapped the aluminum build for a titanium one, and it indeed looks great. I love the brushed metal look here, instead of the glossy look from previous models. The use of titanium also helps make the phone lighter, and indeed the iPhone 15 Pro Max does feel noticeably lighter than the iPhone 14 Pro Max.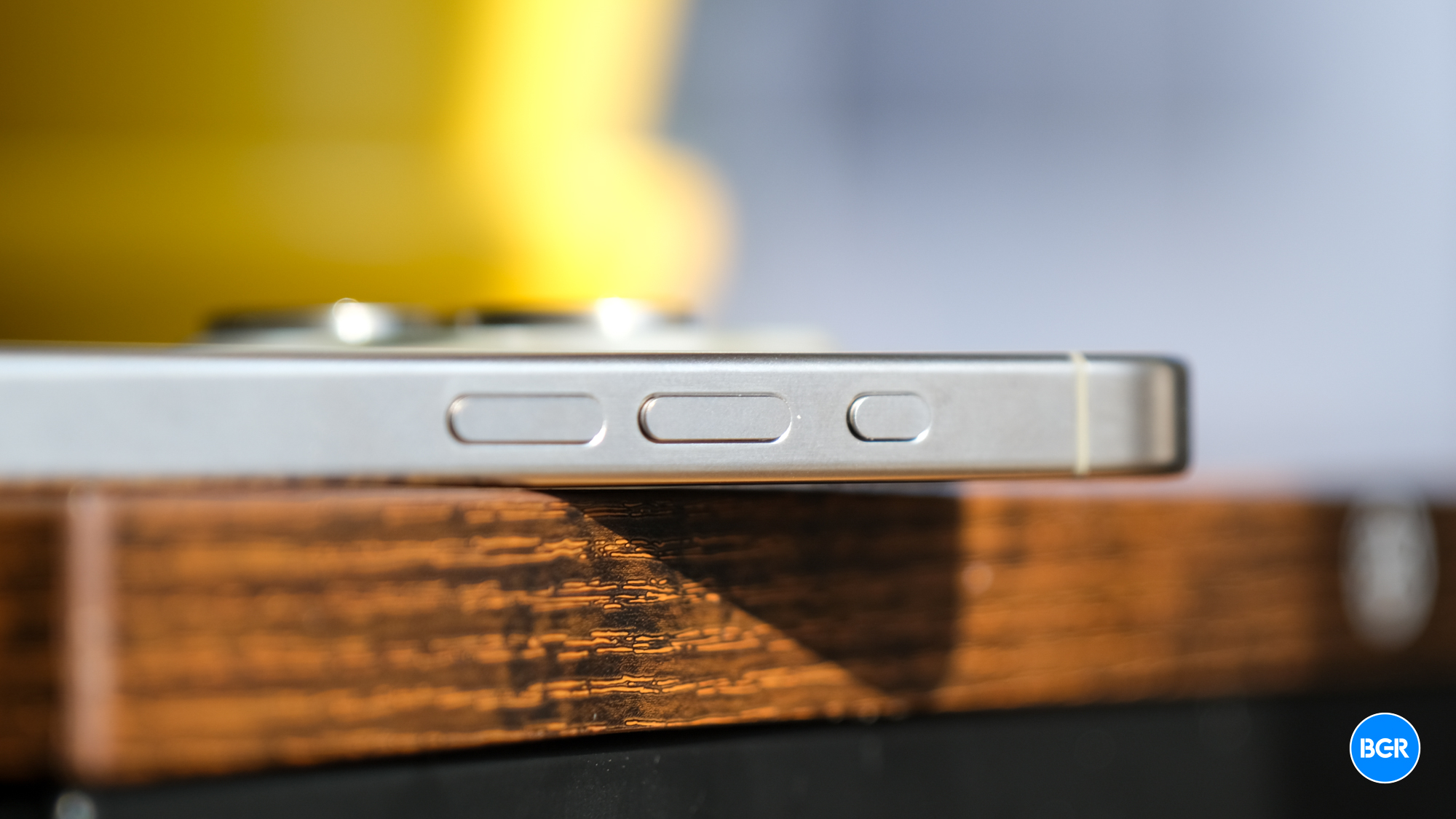 Perhaps even better than the build, however, is the addition of a new button. The Action Button replaces the good ol' ringer switch, and it's a great change. I haven't turned on my ringer switch in years. You can set what you want the Action Button to actually do when you first set up the phone, and options include things like opening the camera, turning on the flashlight, and more.
It also lets you leverage Siri Shortcuts for the Action Button, which makes it quite powerful. I do wish you could program multiple actions with double presses, for example. Hopefully, that'll come in a software update.
Another huge change comes in the form of the switch to USB-C from Lightning. This is long overdue, but also quite helpful for someone who regularly uses USB-C-equipped devices.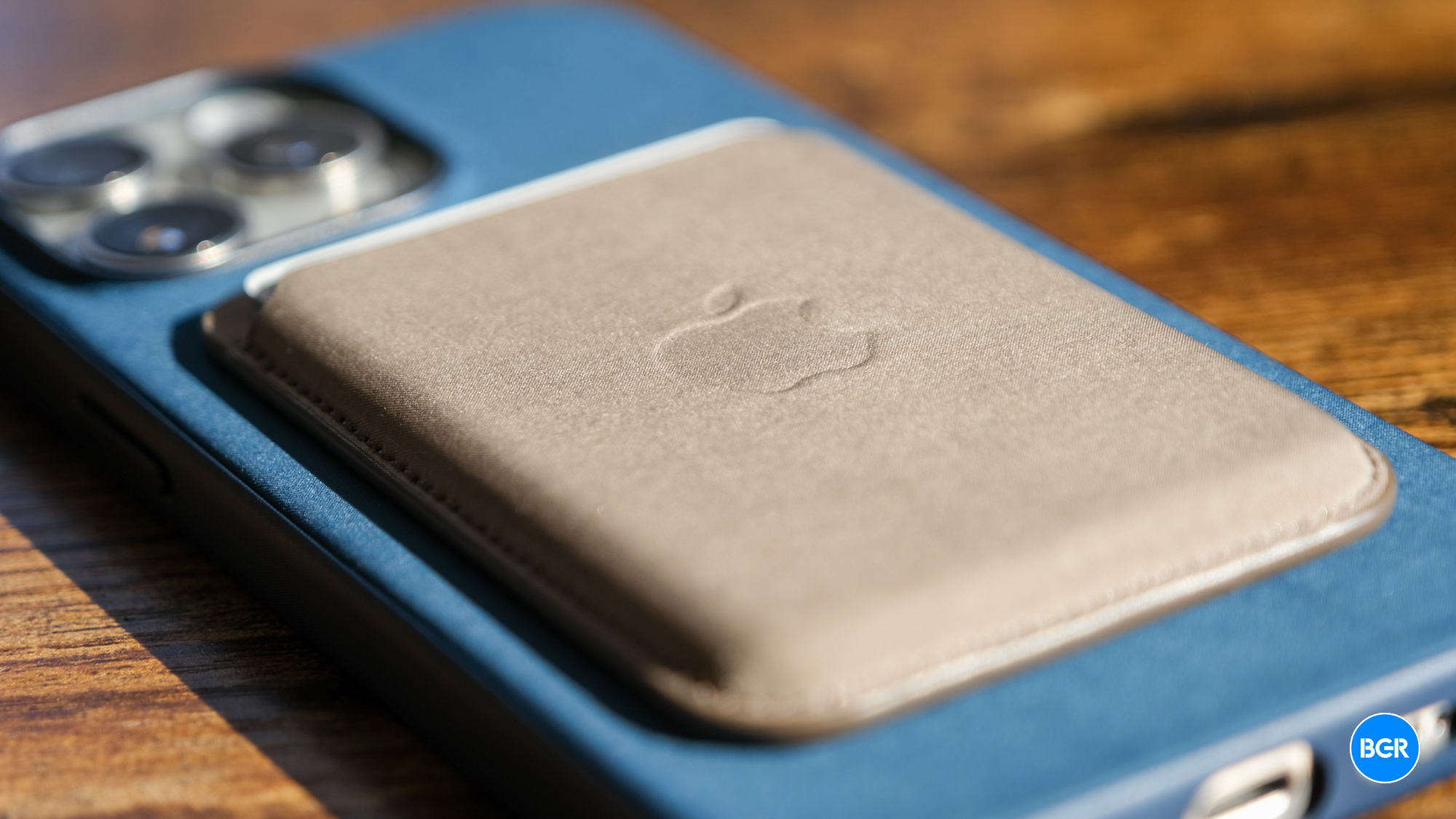 Last but not least, the iPhone 15 Pro Max comes in a series of different colors. I have the Natural Titanium model, and it looks great. I'm using it with a new FineWoven case, and I actually like the case — seemingly unlike many other reviewers. I will note that it scratches easily, though.
Generally, the iPhone 15 Pro Max looks and feels great. It's a high-end phone, and I like all the changes that Apple has made to the design.
iPhone 15 Pro Max display
The display on the iPhone 15 Pro Max looks excellent — but it's also mostly the same as the previous-generation iPhone 14 Pro Max. The iPhone 15 Pro Max has an LTPO OLED display with a 120Hz maximum refresh rate and a 1290 x 2796 resolution.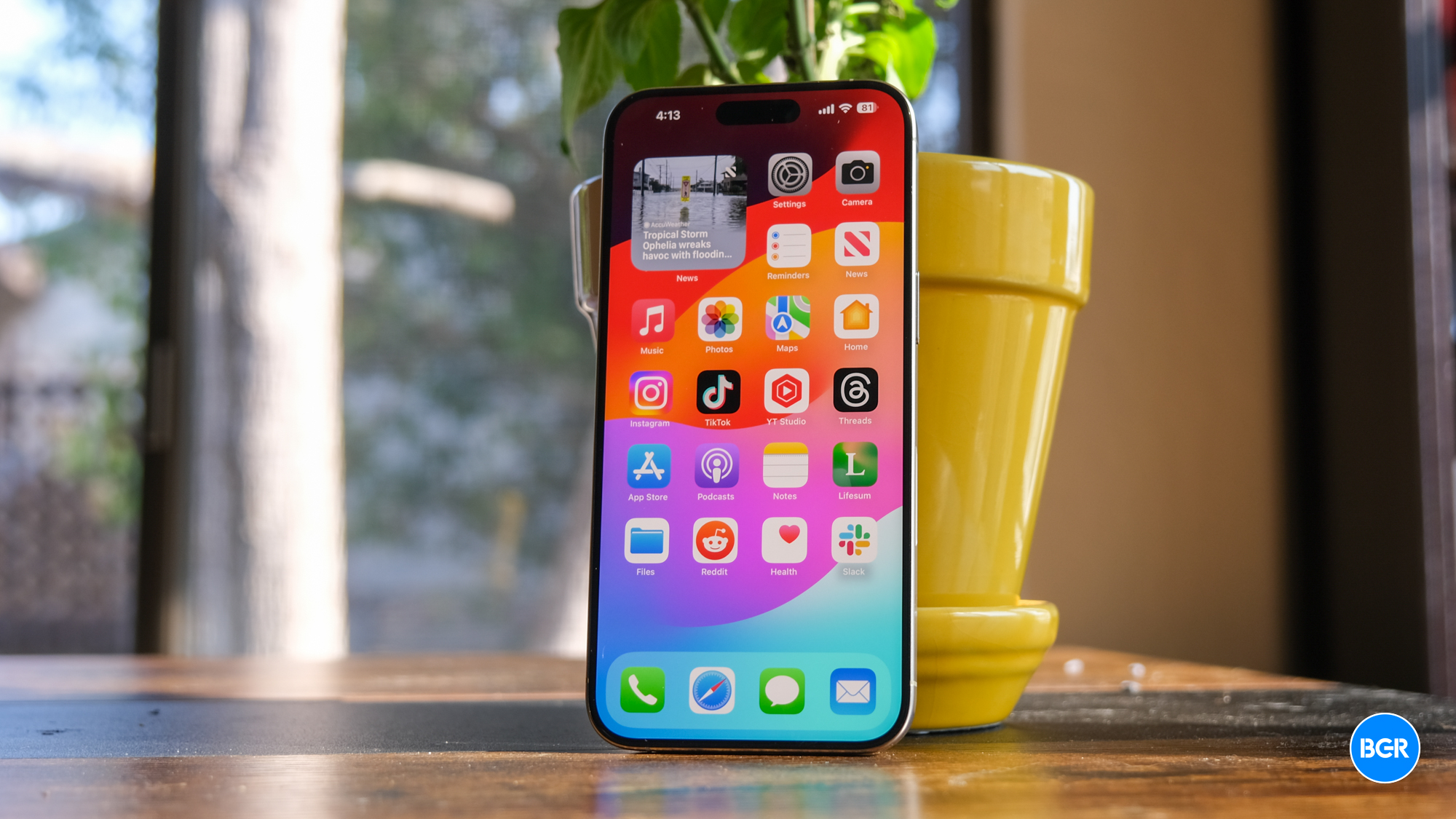 As mentioned, it's a good-looking screen. It gets nice and bright and offers vibrant colors and good detail. I still like the Dynamic Island — it's helpful and offers glanceable information like the timer progress and media controls. I'm used to using it now, too.
iPhone 15 Pro Max performance
One of the headline new features on the iPhone 15 Pro and Pro Max is the inclusion of an all-new chip called the A17 Pro. It's the first to be built on TSMC's 3nm process, which should directly translate to far improved performance. Indeed, at the launch event for the phone, Apple touted the device's ability to process console-quality video games like Death Stranding and the upcoming Assassin's Creed: Mirage. That's a pretty huge deal — and if developers actually take advantage of this, it could have a significant impact on the gaming industry as a whole.
In day-to-day life, the performance of the iPhone 15 Pro Max is great — though that's like the iPhone 14 Pro devices before it. You can multitask easily, load even more intensive mobile games quickly, and so on.
I was unable to test any of the upcoming console-quality games on the iPhone, but they'll start coming out in the next few months. I did conduct benchmark tests on the phone, though, and found that it indeed performs like an absolute beast — and beats any other smartphone out there in terms of performance.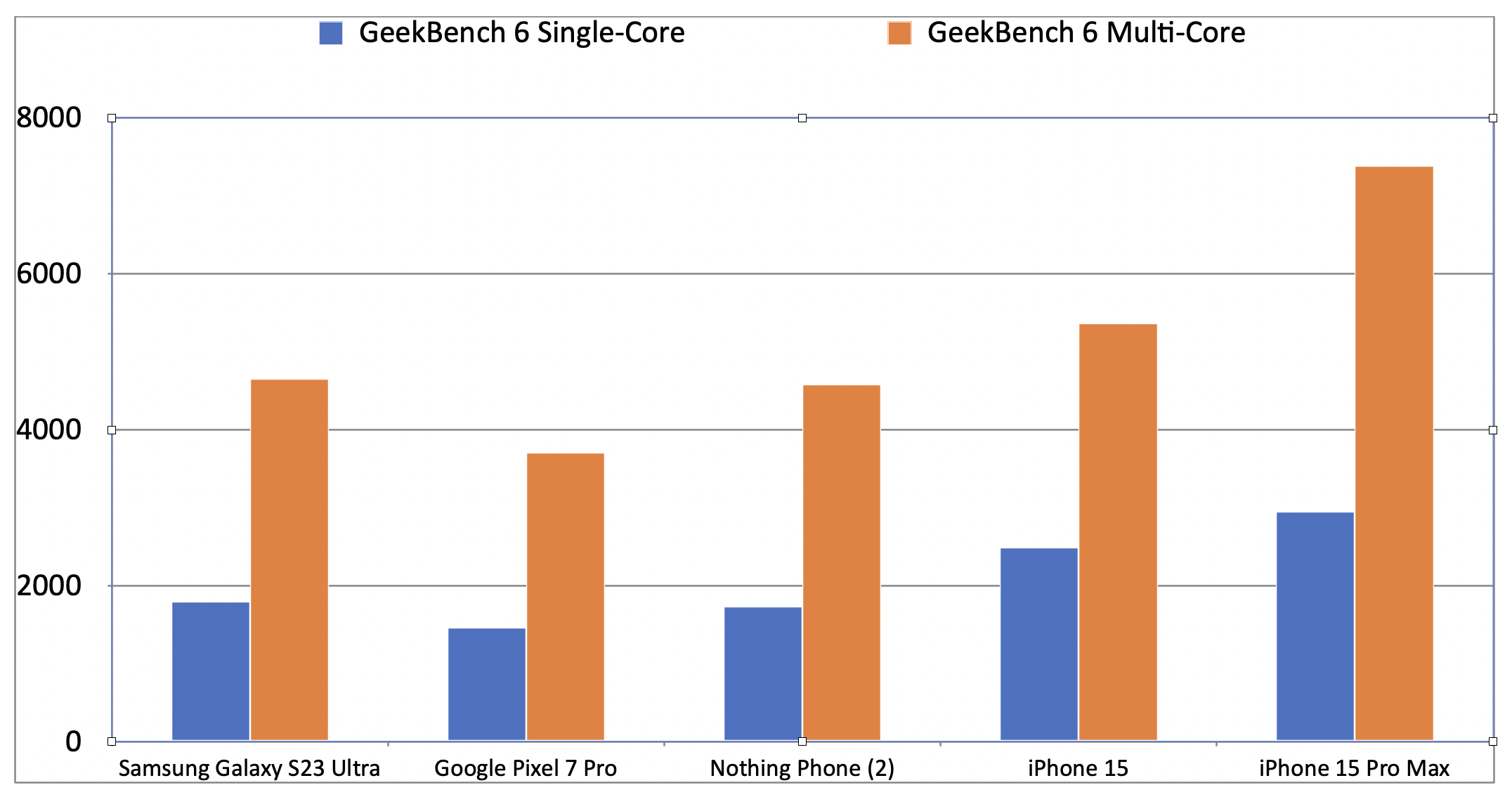 As can be seen here, the iPhone 15 Pro Max is head and shoulders above the competition, including the second place — which happens to be the iPhone 15. Safe to say, if you want a great-performing phone, the iPhone 15 Pro or 15 Pro Max is worth considering.
iPhone 15 Pro Max battery and charging
The bigger iPhones have always had a bigger battery — and thus a better battery life. The iPhone 15 Pro Max has a 4,441mAh, and Apple rates it as offering up to 29 hours of video playback. Generally, I found the battery life to be quite good. I easily get through a full day of use, usually with around 40% or so remaining. I wouldn't be able to get through a second day, though — and I still charge my phone every night.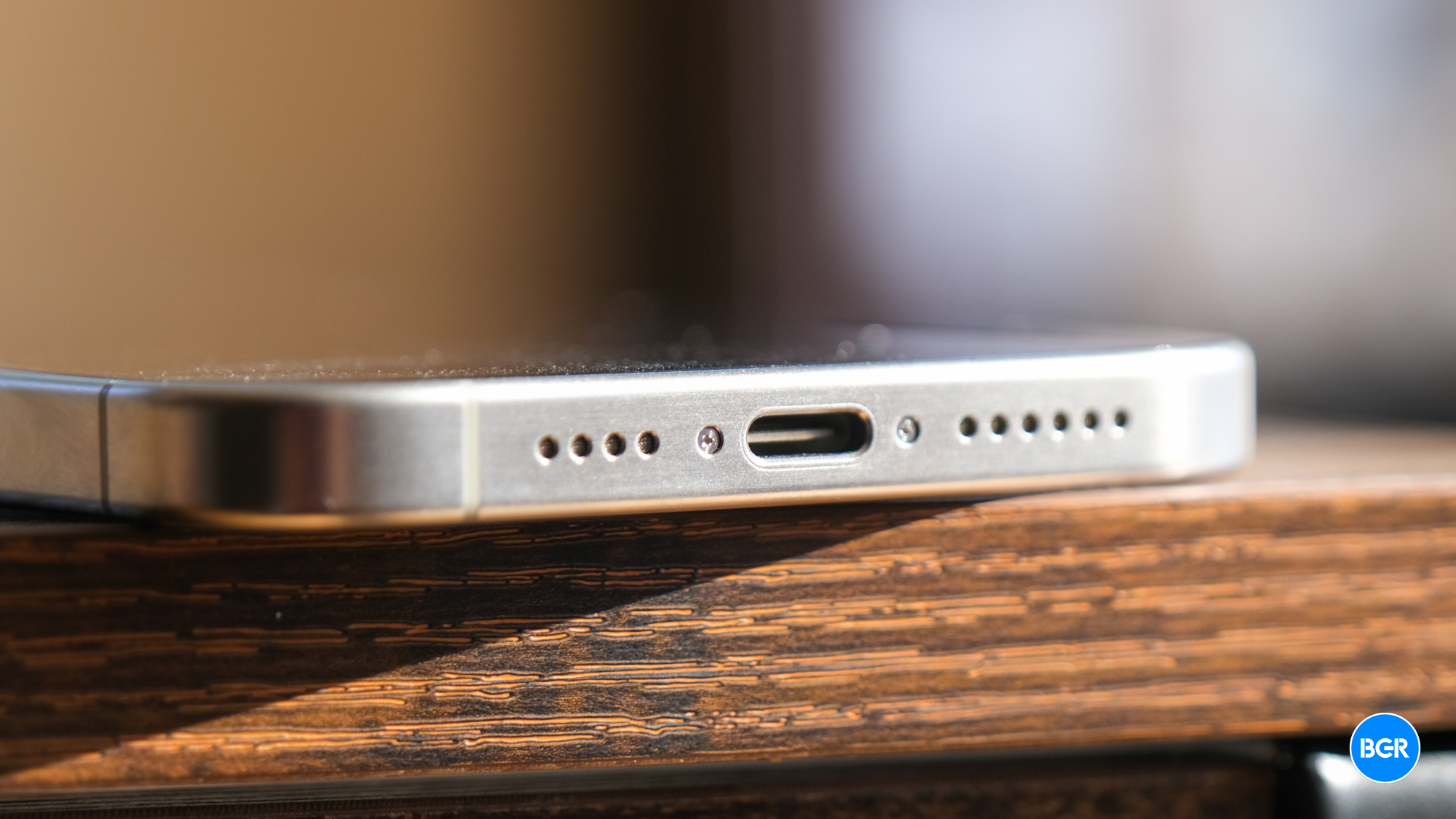 Thankfully, the iPhone 15 Pro is relatively easy to charge. You can now charge it through the USB-C port. However, you'll only get a charging speed of around 25W. Or, you can charge the device through MagSafe, which will get you a 15W charging speed. Lastly, you can charge it with a traditional Qi charging pad, which reaches 7.5W. You can even reverse charge with the iPhone 15 Pro, though it only outputs power at 4.5W when you do so.
iPhone 15 Pro Max camera
The iPhone is getting a number of camera improvements, too. The iPhone 15 Pro Max, like the standard iPhone 15 Pro, has a triple camera array, with one main camera, one ultrawide camera, and one telephoto camera. Unlike the standard iPhone 15, however, the 15 Pro Max has a better zoom camera — reaching 5x optical zoom instead of 3x. I'm a little frustrated that you won't get the better zoom on the standard iPhone 15 Pro, as it means you'll have to deal with buying a bigger phone if you want a better camera.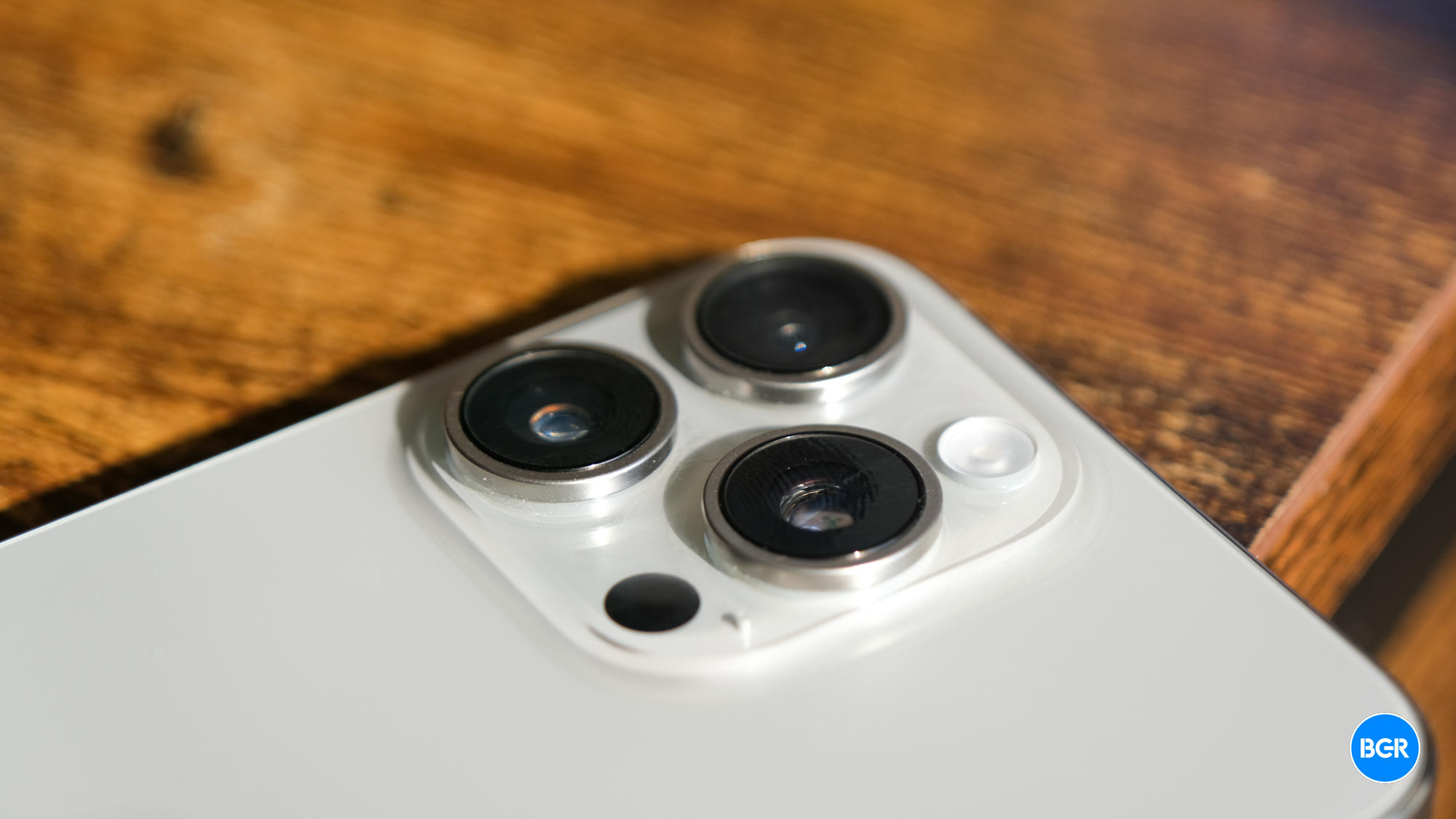 All iPhone 15 devices now output images from the main sensor at 24 megapixels instead of 12 megapixels, which should help make them better for things like large-format printing. It's unlikely to have a huge impact on how images look for now. However, it may indeed impact how they look on a virtual reality headset, for example — or on a super high-resolution TV.
Indeed, in day-to-day life, the phone is able to capture excellent photos — unsurprisingly. In well-lit environments, the phone can capture bright colors, and can generally handle challenging situations, like heavy backlighting, with ease. It takes solid low-light photos, too — though I do hope Apple keeps working on that.
Zoomed photos look better on this phone, too. I didn't have an iPhone 15 to test with just yet, but I found that images on the iPhone 15 Pro Max, at 5x zoom, looked more detailed and natural than those on the iPhone 14 Pro. That remains true at further levels of zoom, too, given there's less digital zoom introduced.
Overall, the iPhone still remains one of the best camera phones out there. I'm glad to see Apple added features like a 5x telephoto camera, but, I do hope that the feature comes to the standard iPhone 15 Pro next year.
Conclusions
Surprise — the iPhone 15 Pro Max is the best iPhone ever. It has an incredibly powerful chip, sleek new design elements, USB-C, and a better camera. If you want the best, it's absolutely worth considering the iPhone 15 Pro Max — and I would absolutely consider buying the iPhone 15 Pro Max over the standard iPhone 15 Pro unless you really don't like big phones and don't mind skipping out on the better zoom.
The competition
If you're considering buying an iPhone 15 Pro Max, you're likely deciding between it and the standard iPhone 15 Pro. Considering the better battery and better camera zoom, I would consider going for the more expensive phone. That said, you certainly won't be disappointed with the standard iPhone 15 Pro.
Should I buy the iPhone 15 Pro Max?
Yes. It's the best iPhone ever.