The Google Pixel 8 Pro adds a better camera and display, plus a range of new AI features. But is it worth the added cost?
Pros
Excellent camera
Cool AI features
Super nice display
Solid battery life
| Buy From | List Price | Sale Price | |
| --- | --- | --- | --- |
| | $999 | $999 | See It |
Google is finally a mature phone manufacturer. The first five iterations of the Pixel were great phones, to be sure — but apart from the software, they kind of lacked a real, distinct feel to them. That changed with the Google Pixel 6, which represented Google's first generation of its self-designed chips, along with a revamp of its design. Now, two years later, the Pixel 8 Pro feels like a phone from a mature phone maker that has carved out a few niches for itself — or areas where it beats pretty much everyone else.
This also happened to be the generation that Google decided to raise prices — from $899 for the Pixel 7 Pro, to $999 for the Pixel 8 Pro. That's on par with the iPhone 15 Pro, a phone that, while expensive, basically feels worth it.
Does the Google Pixel 8 Pro do enough to justify the price bump? Well, I'm not sure — but I will say one thing: I kind of love the Pixel 8 Pro.
Google Pixel 8 Pro specs
Dimensions
162.6 x 76.5 x 8.8 mm
IP rating
IP68
Display resolution
1344 x 2992 pixels
Display size
6.7 inches
Display type
LTPO OLED
Display refresh rate
120Hz
Display brightness
2400 nits (peak)
Chipset
Google Tensor G3
Memory
12GB
Storage
128GB, 256GB, 512GB
Rear cameras
Wide: 50MP, f/1.68
Ultrawide: 48MP, f/2.8, 125.5-degrees
Telephoto: 48MP, f/1.8, 5x optical zoom
Video
4K at 60fps
Front camera
10.5MP, f/2.2
Ports
USB-C
Battery size
5,050mAh
Charging
30W wired, 23W Wireless with Pixel Stand, 12W Qi Wireless
Connectivity
Bluetooth 5.3, Wi-Fi 7, 5G
Colors
Obsidian, Porcelain, Bay
Price
$999
Google Pixel 8 Pro design
Google is sticking with the same overall design language for the Pixel 8 and Pixel 8 Pro, but at this point, it seems as though it has iterated enough to make a phone that looks and feels good.
Like the Pixel 7 Pro, the Pixel 8 Pro has a big camera bar that stretches across the back of the phone, however this time, all three cameras are found in one cutout, which helps make the camera bar feel a little cohesive.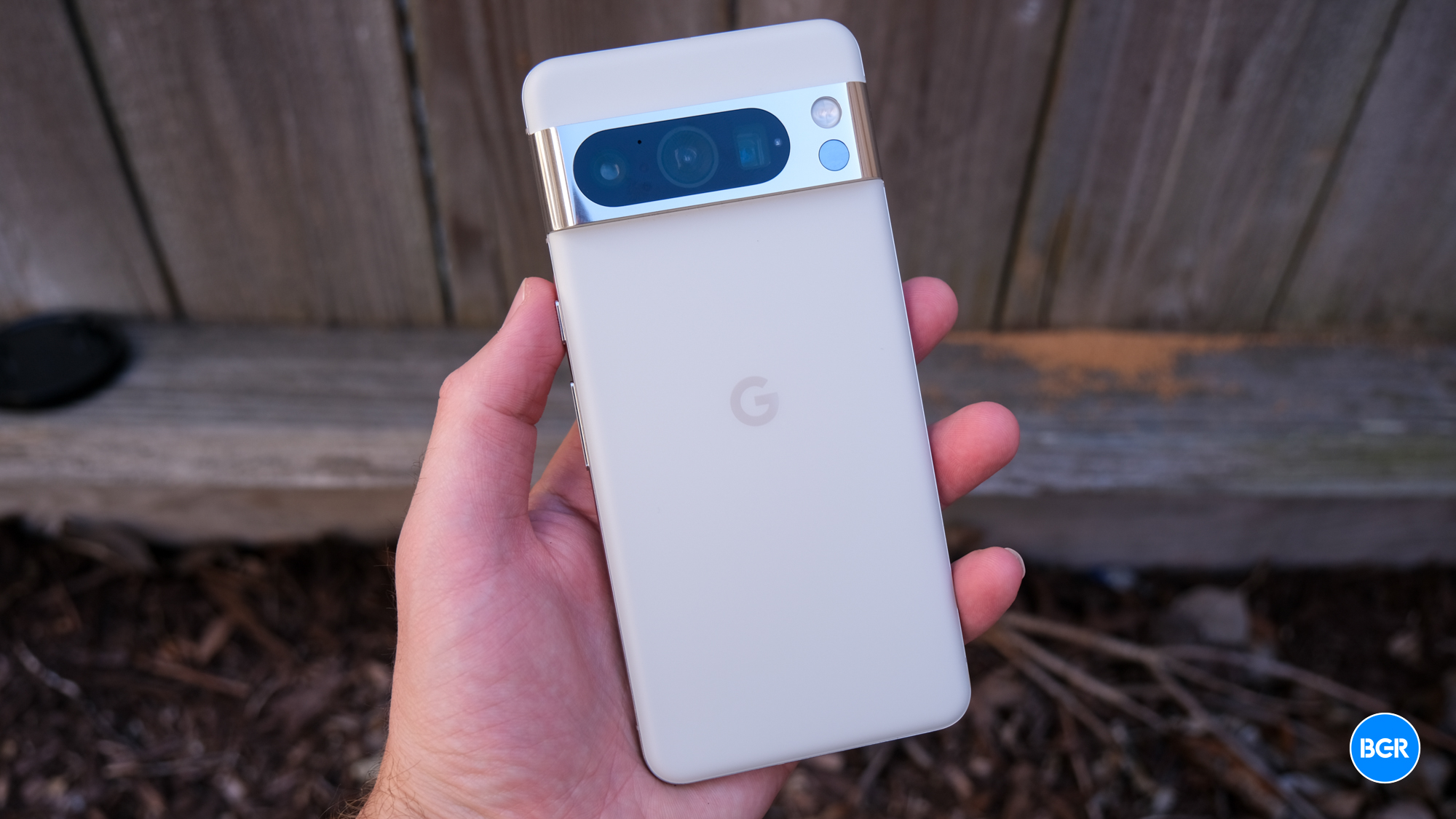 Alongside that camera cutout, you might see another little cutout that you would assume is a fourth camera, but actually, it's a temperature sensor. The Pixel 8 Pro has a new Thermometer app, which you can open up to access this sensor and measure the temperature of various objects. Google, for example, suggests using it to measure the temperature of the milk in your baby's bottle. Google is waiting on FDA clearance for using the sensor to measure body temperature, and while there's nothing stopping you from still using it for measuring your own temperature, it may not be accurate. I don't hate the temperature sensor, but I didn't really use it beyond for testing, and I expect most will be the same.
Moving around to the front, Google has made a subtle yet appreciated change — the display is now flat, instead of curved. The flat display looks and feels nicer, and I'm glad Google has moved in that direction.
Generally, I quite like the look and feel of the Pixel 8 Pro. Not everyone will feel the same, but I feel like Google has carved out a nice, unique look for the phone.
Google Pixel 8 Pro display
The display on the Pixel 7 Pro was already quite nice, but for the Pixel 8 Pro, it gets a little better. The device has a resolution of 1344 x 2992 pixels, and it's an LTPO OLED display, so it can range in resolution from 1Hz to 120Hz. That helps it save on power, and then range up in refresh rate when it needs to for a smoother experience.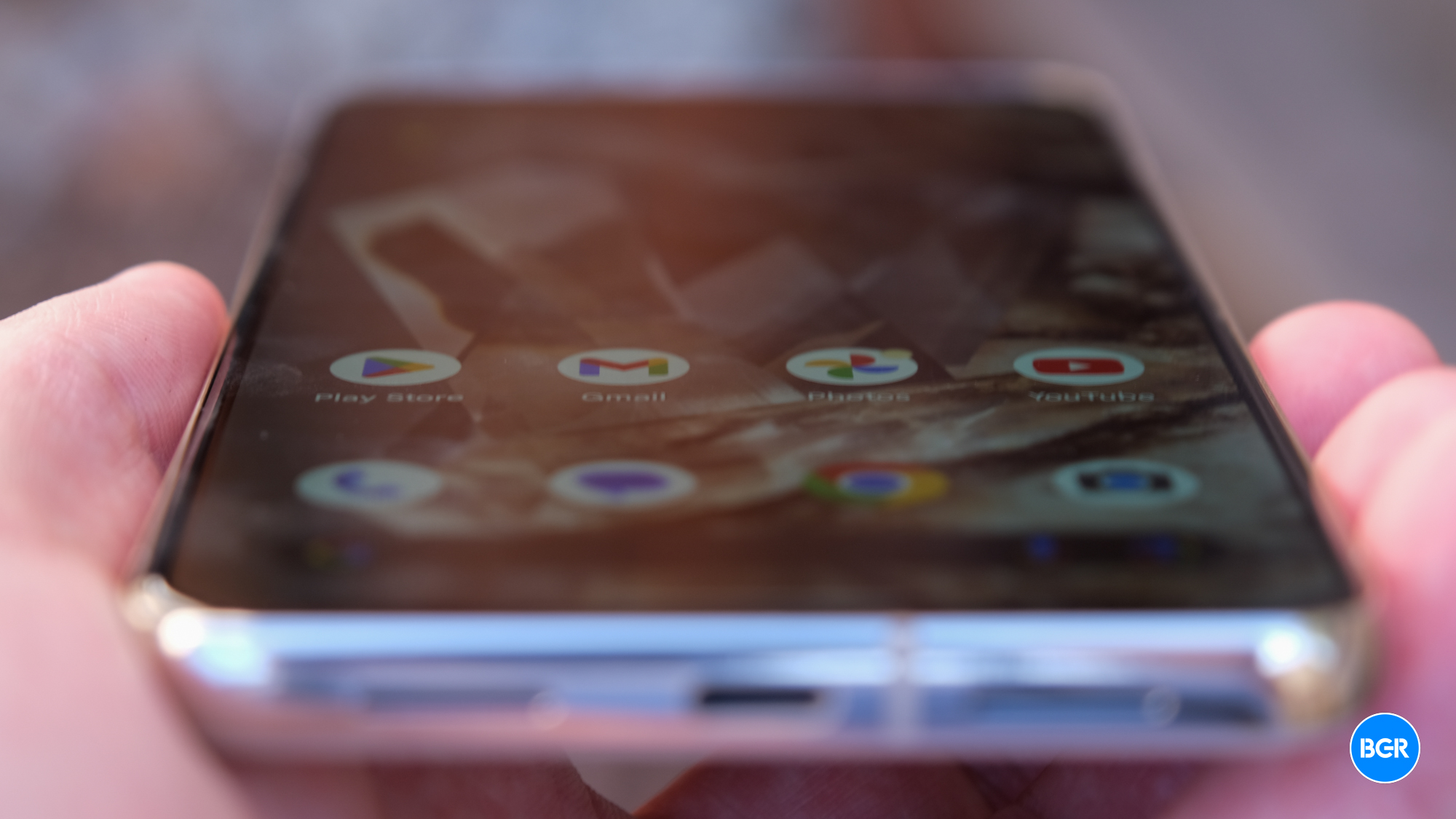 The Pixel 8 Pro's display gets brighter too. It ranges up to a hefty 2,400 nits, and indeed, it does get very bright. That can be helpful when in bright environments or outdoors.
Google markets its whole display package as the "Super Actua Display," but that's really just marketing speak. It's an LTPO OLED display with a relatively high resolution, and it's capable of high brightness. It looks great.
Google Pixel 8 Pro performance
Under the hood, the Google Pixel 8 Pro features Google's new Tensor G3 chip coupled with 12GB of RAM. Ultimately, the Tensor G3 doesn't necessarily represent a huge step up over the Tensor G2 when it comes to basic computing power, but it does deliver an improved Tensor Processing Unit, which Google claims enables the new AI features onboard the Pixel 8 Pro.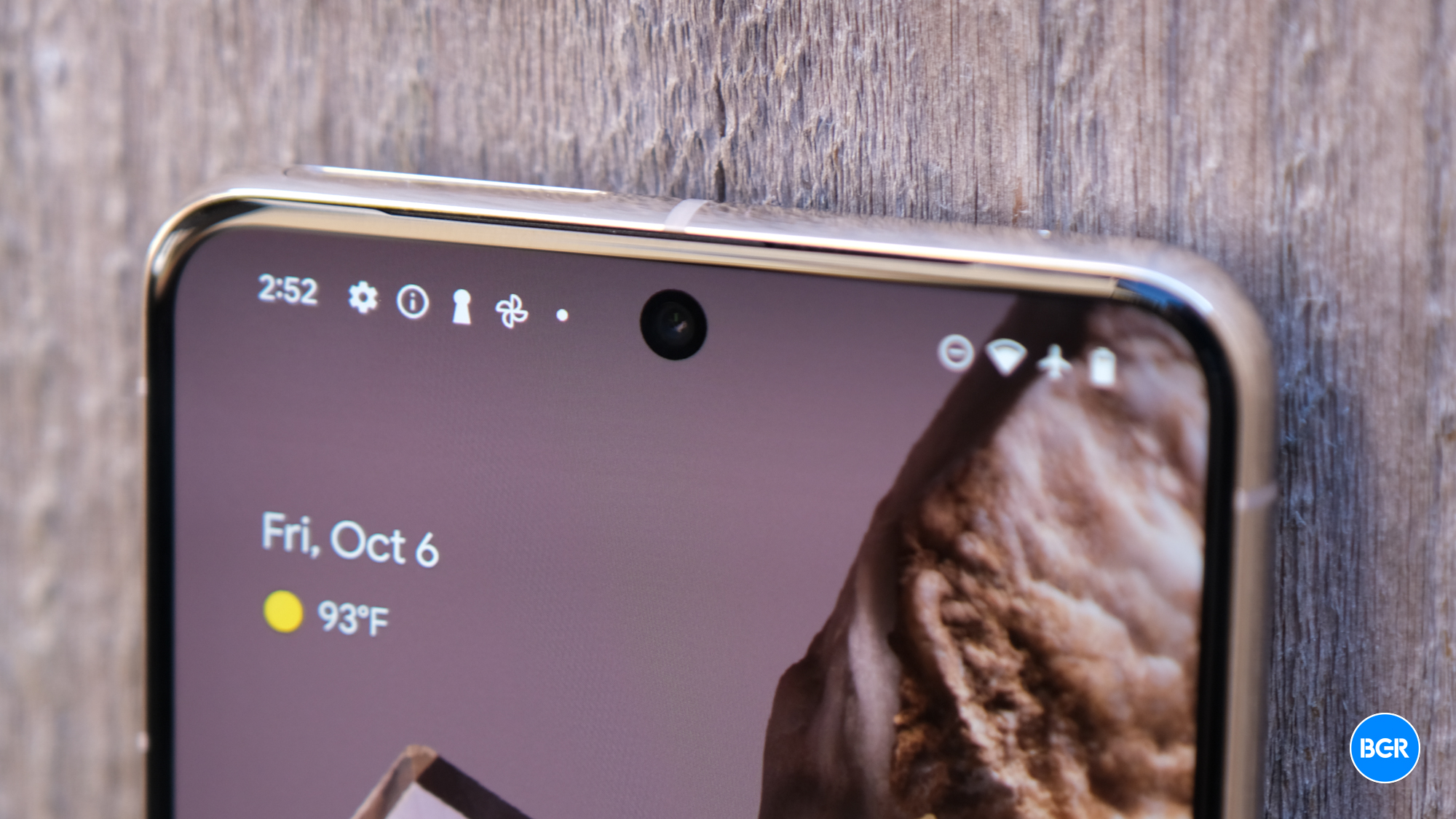 I definitely would have liked to see a basic performance boost on the Pixel 8 Pro. To be sure, the phone can handle basic and advanced tasks with ease most of the time, however, introduce a little heat to the package and you'll find that it throttles pretty majorly. A more efficient chip overall could avoid some of those issues.
Still, as mentioned, the Pixel 8 Pro will handle everything you can throw at it in 2023 with ease.
Google Pixel 8 Pro battery and charging
The Pixel 8 Pro is powered by a 5,050mAh battery, and generally, I found that the Pixel 8 Pro offers quite a good battery life — and a better one than the Pixel 7 Pro before it. Generally, I found that I ended a moderate-use day with around 50% remaining, which wasn't true of the Pixel 7 Pro.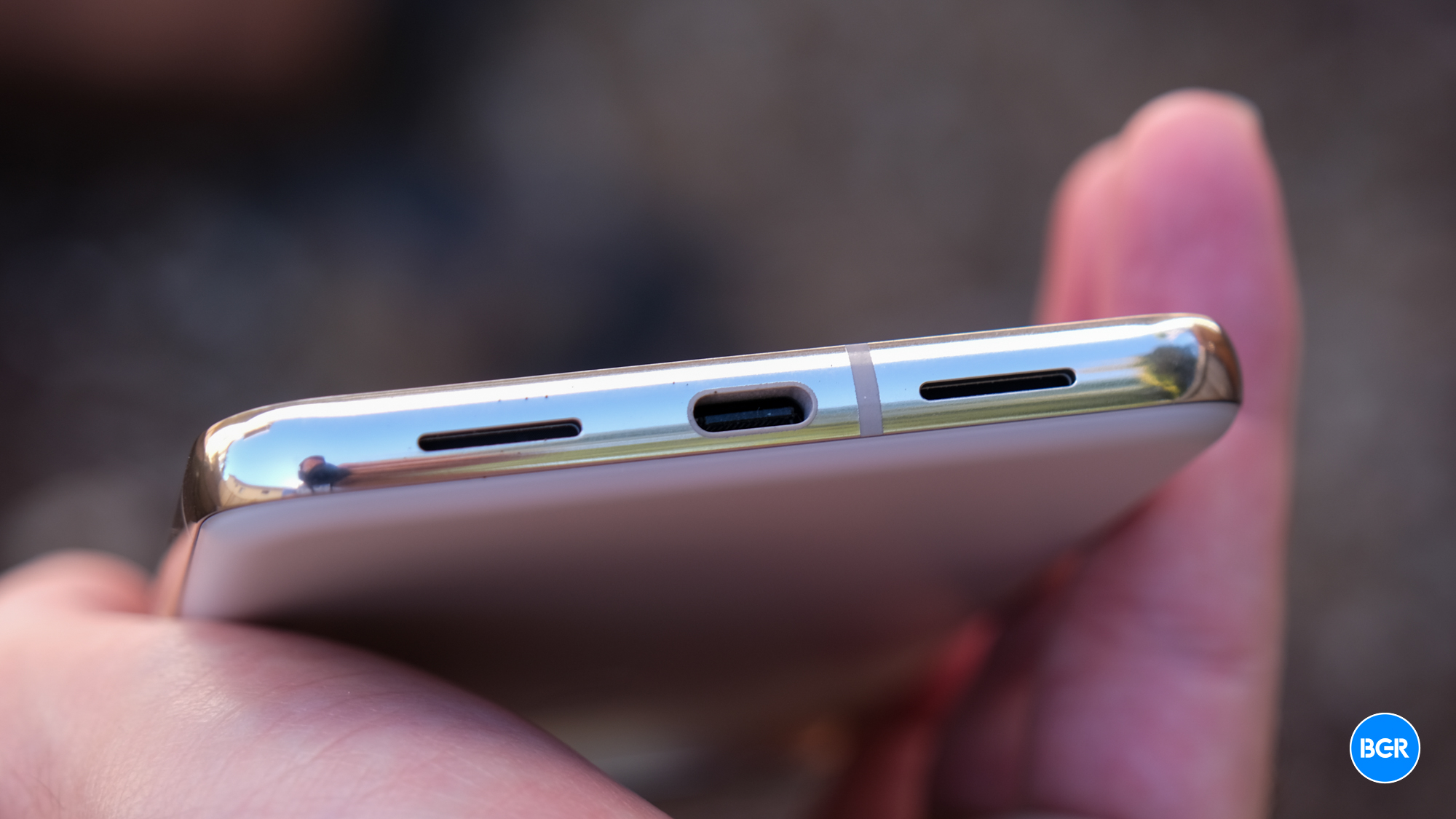 It charges relatively easily too, though not necessarily super quickly. The device supports wired charging at up to 30W, as long as you have a compatible charger like Google's own. It also supports Qi wireless charging at up to 12W and can charge wirelessly with the Google Pixel Stand at up to 23W, which is pretty impressive — and actually nears the wired charging speed.
I hope Google builds faster wired charging into the top-tier Pixel phone for next year, especially if it retains the high price.
Google Pixel 8 Pro camera
On the back of the phone, you'll find a triple camera array with one 50-megapixel main camera, one 48-megapixel ultrawide camera with a 125.5-degree field-of-view, and one 48-megapixel telephoto camera with 5x zoom.
As you would expect from a Pixel phone, the Pixel 8 Pro offers an excellent camera experience. In both good lighting and low lighting, the phone delivered crisp, vibrant images that offered good dynamic range.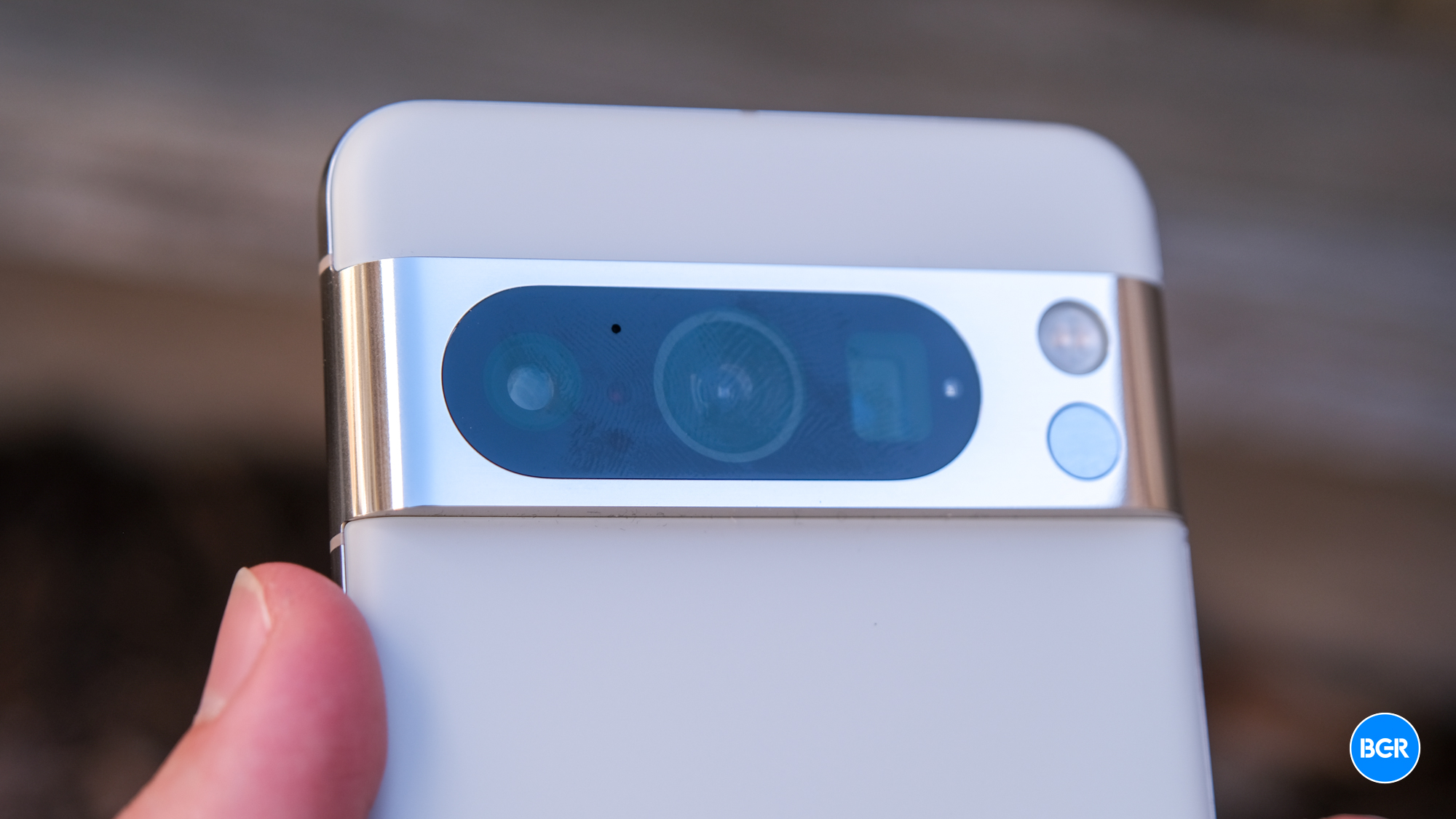 The big difference between the Pixel 8 Pro and the standard Pixel 8, of course, is the addition of the telephoto camera, which offers 5x optical zoom, and again, produces relatively high-quality images overall. Even higher-zoom images look good thanks to a coupling of the optical zoom with Google's Super Res Zoom tech.
Of course, the headline-making features related to the Pixel 8 Pro's camera have nothing to do with the picture quality — they have to do with AI. Google has released a series of new AI camera features on the Pixel 8 and Pixel 8 Pro, including the new Magic Editor feature.
Magic Editor is essentially an extension of the Magic Eraser feature from last year, however, instead of simply allowing the user to remove unwanted objects from a shot, they can now move them around and resize them. It actually works very well, and while you will run into the occasional AI weirdness (particularly around challenging scenarios like reflections), it's really quite astonishing that you can get tools like this on a smartphone — and it's something that sets Google apart from the competition entirely.
Another big feature is the new Best Take feature. This leverages the fact that you likely take many similar shots of a group, for example, then allowing you to select which shot was the best for each face. So, if you find a shot of you and your child that you like, but your kid is blinking, you can choose to use their face from one of the other images that you shot. It works quite well, however again, I did notice some AI weirdness at times if the shots were more radically different.
Overall, these are pretty interesting updates. They also introduce all kinds of questions about whether or not we should trust photos (we shouldn't) — but that's for another article.
Google Pixel 8 Pro software
On top of offering an excellent camera, the Pixel series has also long offered a well-designed approach to software. We're eight generations of Pixel in, and by now, the Pixel experience is pretty far from stock Android — instead prioritizing Google apps and services, with additional software tweaks that you won't find on other Android devices.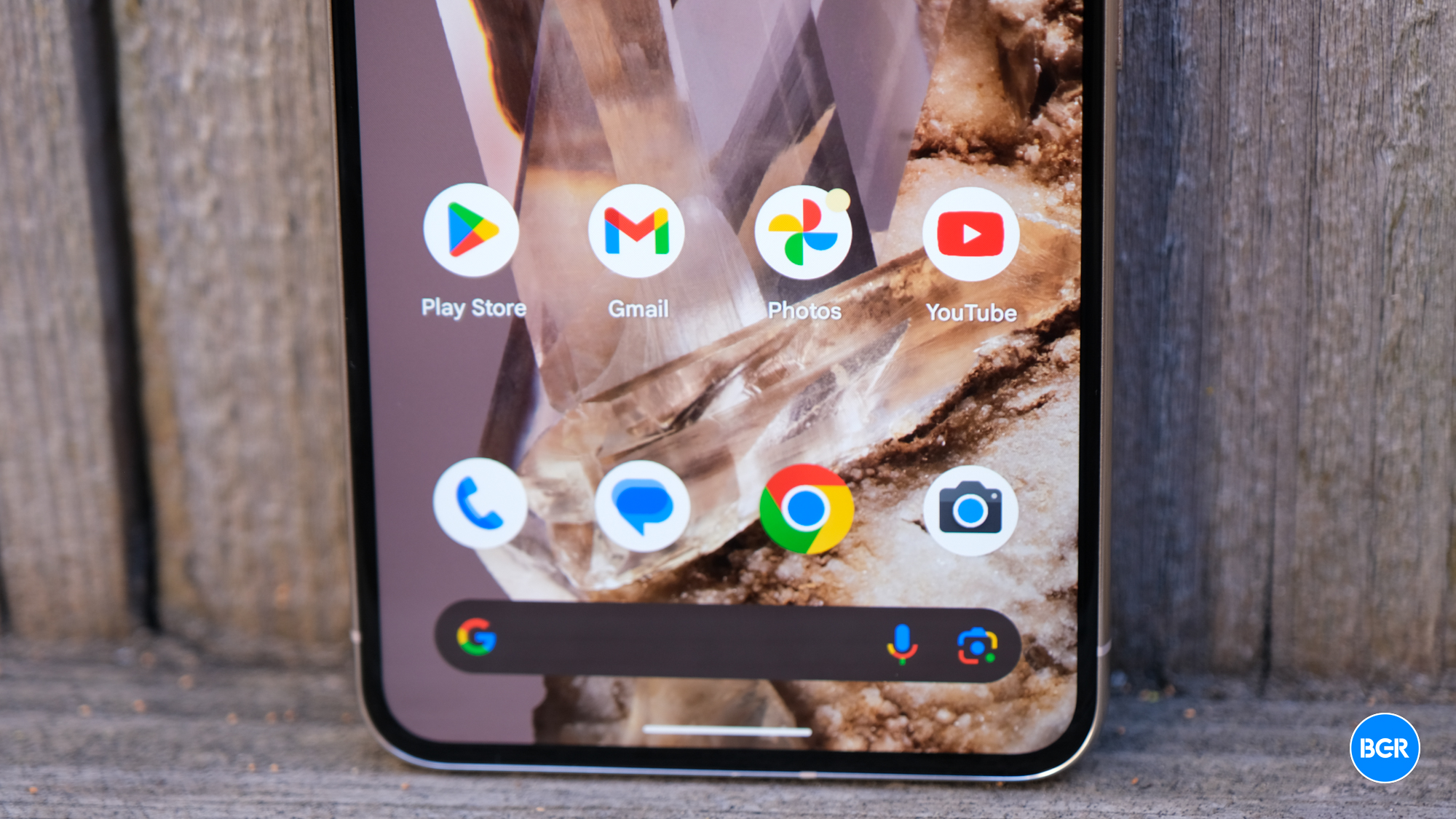 The Pixel Android skin is my favorite of any Android skins — even more so than the so-called "stock" Android that used to define Pixel. It's really best for those super plugged into Google's ecosystem, but if you care about a great software experience and want an Android phone, then the Pixel is the way to go.
Even better is the fact that Google has promised a hefty seven years of operating system updates for the Pixel 8 Pro, putting Google ahead of every other Android manufacturer, and on par with the likes of Apple. It's going to take seven years to see if Google can truly deliver on this promise, but making the promise in the first place is a big step forward.
Conclusions
To me, the Google Pixel 8 Pro represents the maturation of the Pixel series. Google still needs to do some work to make this a flagship that spec-nerds like me will care about — like a better processor. But in the meantime, it has built a phone that excels in pretty much every other area.
Is it worth the extra $100, or a total of $999? Well, yeah, I think the phone really does compete, in more ways than one. It's up to Google to decide if raising the price at this point makes sense for a phone line that still hasn't really sold all that many units — but regardless, the Pixel 8 Pro is one of the most compelling phone options out there right now.
The competition
You may be deciding between the Pixel 8 Pro and the standard Pixel 8 — and I actually think it's worth upgrading to the higher-end model. You'll get a more versatile camera, more RAM, and a better display.
It's really up to you to decide whether to buy the Pixel 8 Pro or another similarly-priced Android phone. Other Android devices in this price range will likely offer better performance, however, they won't have the same AI features or the same stripped-back software experience.
Should I buy the Google Pixel 8 Pro?
Yes. It's an excellent Android phone with some killer features.