Did you hear? McDonalds started offering a wearable fitness tracker in Happy Meals this week, and promptly pulled said tracker this morning when it started giving people rashes. But not before we could get our hands on one. Here's the review McDonalds would probably prefer that you didn't read.
DON'T MISS: T-Mobile just killed mobile data plans
I bought my STEP-IT activity tracker for the princely sum of $4, which included a grilled cheese sandwich and small fries. Unfortunately, this meant I was already 620 calories in the red for the day, thanks to buying the fitness tracker. But no matter! STEP-IT would redeem me and my soul from an obesity-addled hell.
The packaging for the STEP-IT is probably what Amazon would describe as "frustration free." Unlike the Apple Watch, which ships in an elegant white box, the STEP-IT is packaged in a plastic bag. I forgot to take a photo of the unbagging, but I have recreated the moment using this ziploc bag.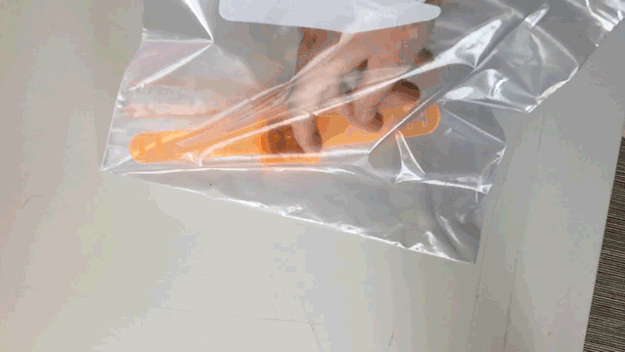 Once you have the device out, the plastic theme continues. My STEP-IT was in the fetching highlighter orange color; other options from the Sharpie color palette include bright blue, bright green, bright red, or bright yellow.
The main body of the STEP-IT is a plastic square, 42mm wide, suspiciously similar to the Apple Watch. The designers have managed to outdo Jony Ive on the buttons also, reducing the confusing "digital crown" down to one simple power button.
The display is similarly minimalist. Rather than having to fiddle with menus, you get a simple five-digit readout of how many steps you've taken today. The steps are counted using an internal accelerometer, I assume. You can hear it rattling every time you move your arm, a handy way to ensure no one has stolen the accelerometer from your device.
Accuracy is a little dubious, but that's fine! Remember, this device is for kids: the fact that this watch counts steps while it's sitting stationary on my desk is a feature. It's aspirational, giving you a sense of achievement even if your only achievement today is only eating one Happy Meal rather than the usual three.
Back to that step counter: the highest it goes up to is 99,999 steps. According to an online calculator, that's 3600 calories for me. Coincidentally, that's the same as 85 chicken nuggets, or as I call it, "afternoon tea."
In a moment of seriousness: I haven't developed any kind of rash from the STEP-IT, having been wearing it for two days straight (apart from the frequent times when it falls off). Then again, I haven't had a rash from the Fitbit, or the Apple Watch, or the Microsoft Band. The band of the STEP-IT is so chemcially dead that I find it difficult to believe it would react with anything, so I suspect the rash reports are just from children with generally sensitive skin.