T-Mobile sent notices to the media on Wednesday letting us know that a big announcement was coming on Thursday morning, and the buildup continued all day as T-Mobile executives teased a "big secret" that would be "huge." T-Mobile and its outspoken CEO John Legere have a tendency to make every upcoming announcement sound as though it's going to be a game-changer, though to the company's credit, several of its past "Un-carrier" initiatives have indeed been game-changers.
Thursday's news comes just one day after AT&T announced a shakeup that would see it do away with service overages on its new plans. Not having to worry about overages will be a weight off of many people's chests, though there is a downside: Instead of being changed for excess data, AT&T will now throttle subscribers to 2G speeds when they've hit their data limit in a billing period.
Can T-Mobile top AT&T's big news from Wednesday? It's time to find out.
DON'T MISS: iPhone 7: Our biggest question was just answered
T-Mobile on Thursday announced that all of its data plans moving forward will be unlimited plans. T-Mobile will no longer offer service plans with tiered data, instead T-Mobile will offer a "T-Mobile One" plan that offers unlimited talk, text and 4G LTE data.
In terms of pricing, the first line on a T-Mobile One plan will cost $70 per month, the second line is $50, and then additional lines are $20 each up to eight lines. Those prices apply to customers who use autopay — accounts without autopay will cost an additional $5 per line. For a family of four people, that works out to $40 per line for unlimited calling, messaging and data.
Tablets can also be added to T-Mobile One plans for $20 per device.
Now, for the bad news: Unlimited really does mean unlimited, but don't expect truly unlimited 4G LTE data at maximum speed. T-Mobile says that accounts that use more than 26GB of data in a billing period "may see their data traffic prioritized behind other users once they cross that threshold during their billing month." In other words, the heaviest users will be throttled. According to T-Mobile, this caveat will likely affect about 3% of its subscribers.
Other tidbits worth noting: like Binge On, this new unlimited plan downgrades streaming video to 480p. Subscribers have an option to pay $25 extra per month per line for unlimited high-definition video streaming. Tethering is also throttled to 2G speeds by default, though users have the option to pay $15 per month per line for 5GB of tethering at 4G LTE speeds.
Like all changes when it comes to updating service plans, T-Mobile's new plans will save some subscribers money while costing others money. It depends entirely on usage and a subscriber's current plan. Some T-Mobile customers will save money by sticking with their current plan instead of making the switch, while others stand to save by updating to the new T-Mobile One plan once it launches next month.
The new T-Mobile One plan will become available to new and existing T-Mobile subscribers beginning September 6th.
You'll find a video of CEO John Legere explaining the changes below, and more information can be found in T-Mobile's press release.
Of note, Sprint also announced new unlimited plans on Thursday for both the main Sprint brand and Boost Mobile. Sprint's "Freedom Unlimited" plan offers subscribers unlimited talk, text and data for up to 10 lines. The first line is $60, the second is $40 and lines three through 10 are $30 each. There are also some caveats, but the basic details are outlined in the following graphic (click to enlarge):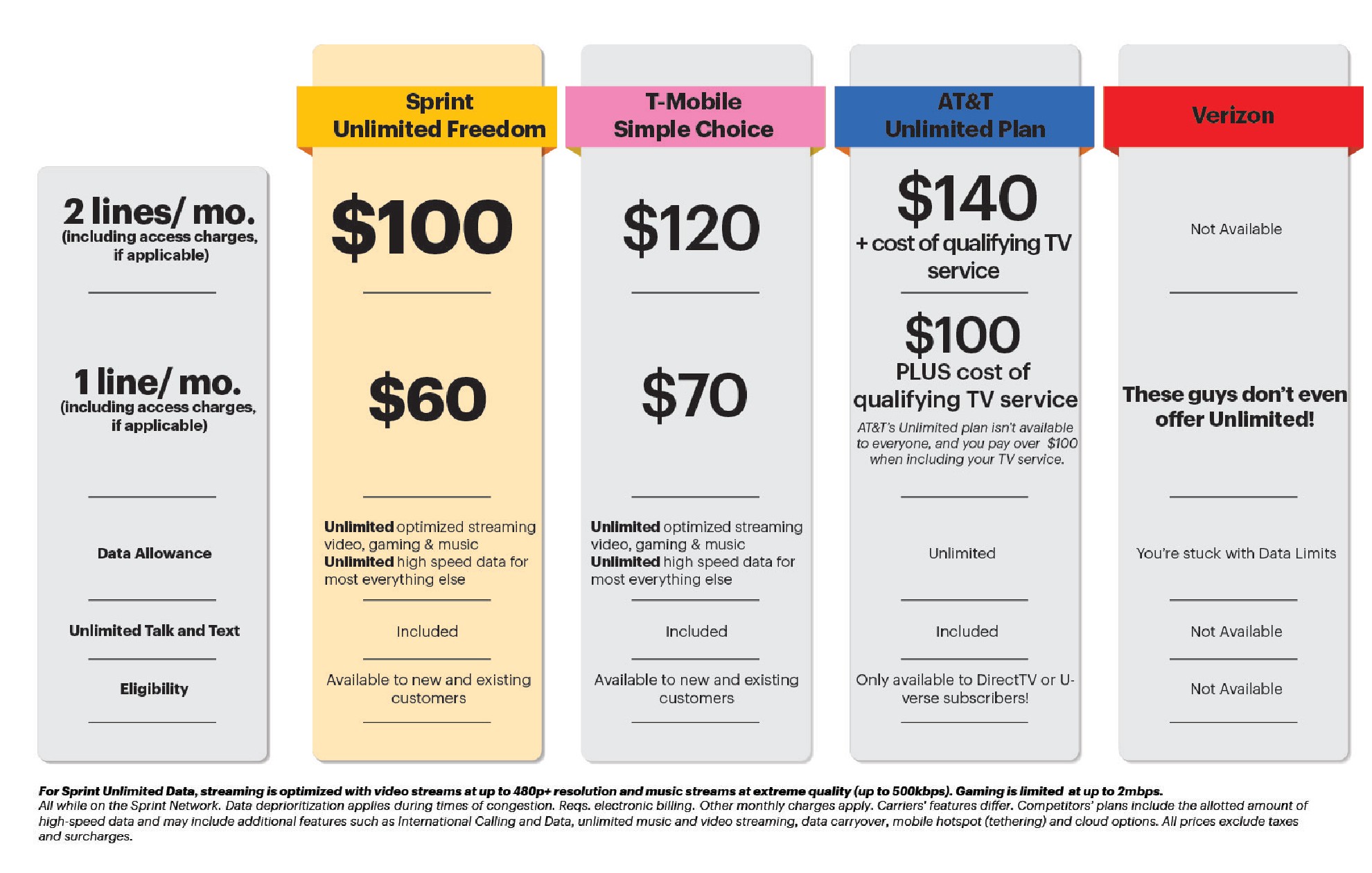 Updated to add new Sprint graphic and to correct the fee for T-Mobile's tethering add-on, which was mistakenly stated as $5 per month instead of $15.