I never thought that, after buying a standing desk, I would end up wanting to upgrade it. CORSAIR proved me wrong.
Today, CORSAIR announced the Platform:6, its new modular standing desk that looks like an absolute dream for anyone who wants all of the options when it comes to outfitting their desk for work, gaming, streaming, and more. The company says that the desk is launching in Q4, but has not yet revealed an exact release date or given us pricing. Still, this thing looks so insane that I'm going to be tempted no matter what the price is.
If you don't need to add all of the optional accessories, you can still run the Platform:6 as a more traditional standing desk. As with most, the company says that you can choose the surface material of the desk between a number of options that I'm sure contain wood and metal. Dual monitor arms are also included out of the box. The company says that the base desk features six feet of surface area.
Every Platform:6 is loaded with a plethora of standard features to improve your quality of life. Included dual monitor arms are ready for a dual-monitor setup out of the box, while an oversized CORSAIR RapidRoute wire management tray keeps cables concealed in a space large enough to accommodate power strips as well. Even more wire management and small item storage comes in the form of an in-desk storage cubby with USB Type-A and Type-C charging ports, resulting in an uncluttered space that accommodates the complexity of high-powered gaming or professional setups while still looking great.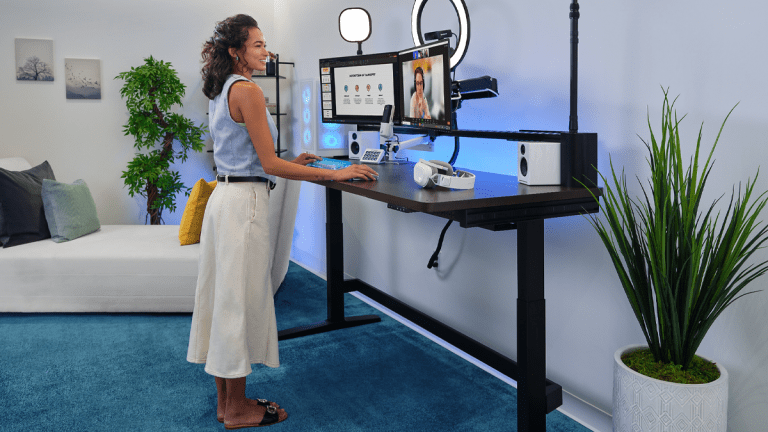 However, with its rail system, you can build upon that base experience. CORSAIR will have an online configurator that allows customers to custom-build their exact setup or, if they're happy with what the company has assembled for them, purchase a pre-built setup and grab some savings. The company says that the rail system enables compatibility with "hundreds of aftermarket attachments and accessories."
Expandability is the key concept that drove the design of the Platform:6, with an assortment of add-ons offering huge potential for any person to create their ideal desk. If the six-foot wide surface isn't enough space, side extensions can be installed to either side of the desk for an extra 30cm x 70cm, with optional hanging pegboards. The Elgato Multi Frame top-mounted pegboard exclusive to the Platform:6 offers even more mounting locations to organize your gear and accessories, with adapters for Elgato Multi-Mount and Flex Arm products to mount Key Lights, cameras, or microphones directly to the rail system.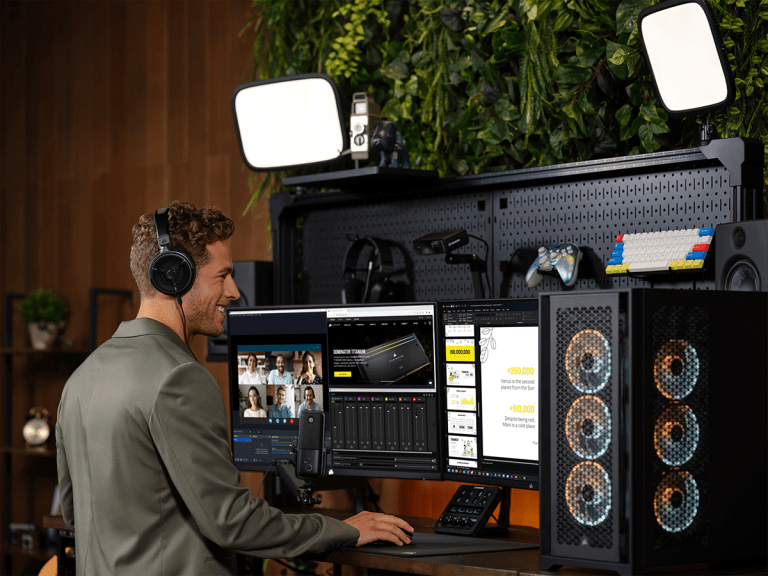 Platform:6 will be launching in the fourth quarter of this year, so the company is obviously trying to ensure it is available for those who want to buy it as a gift (even if the gift is for themselves) this holiday season. If you want to stay up to date when it is available to order, you can sign up for email alerts on the CORSAIR website.
I have a standing desk right now, but after seeing a preview of just how organized and clean your setup can be with this desk, I am going to be extremely tempted to buy this thing. Maybe it'll even get me to start gaming on a PC again. Who knows!