Finding a great office chair that you actually like can be difficult. People have been in offices and hated their own chairs so much that they stole a coworker's chair when they weren't around. We're not saying we've seen it happen before, but we're not not saying we've seen it happen before. Everyone has squirmed in their seat, trying to get comfortable at their desk while working on a paper or project for an extended period of time.
Getting an office chair that you like for your office is smart, even if it's in your home. If you want to go the route of an ergonomic chair, it will help make sure your posture stays straighter throughout the day and stress on your back and neck is minimized. If you're like a lot of workers, you're sitting and staring at a computer screen most of the workday. The relief you can get with the right chair helps distribute any pressure of sitting for a long time and can help alleviate pain. Take a look at our picks for the best office chairs and don't think about stealing someone else's, especially if it's from someone else in your own house.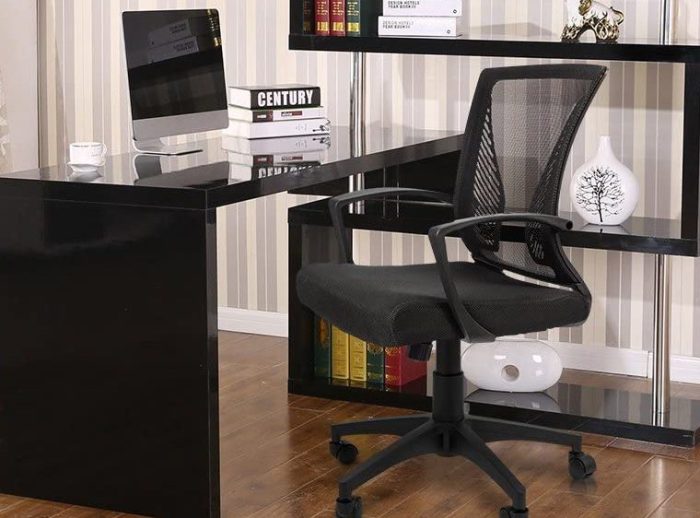 BGR may receive a commission
Best overall: X-Chair X3 ATR MGMT Chair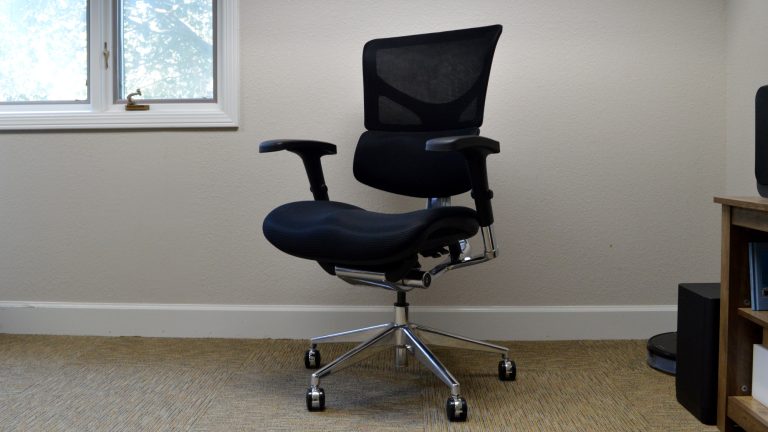 Pros: Ton of adjustment options, Elemax temperature and massage pads
Cons: Pricey
If you're looking for a chair that delivers in the comfort category, the X-Chair X3 ATR MGMT Chair is what you want. This is incredibly simple to put together, so you won't have to break out your entire toolbox. It has multiple adjustment options, allowing you to get in the right position for typing, streaming, and gaming. The armrests are comfortable, so you won't mind sitting in this chair for a long time. What also makes it comfortable is the Elemax temperature and massage pads, so you can stay relaxed and cool (or warm).
The Dynamic Variable Lumbar support helps promote good posture and cradles your lower back. It is made from a knit polymer mesh, so it's easy to clean. There are multiple models and sizes you can choose from and it comes in various colors. It is pricey, as it is just shy of $1,000. But it checks all of the boxes in terms of what you want in an office chair.
Best ergonomic office chair: NOUHAUS Ergo3D Ergonomic Office Chair
Pros: Customizable, great lumbar support
Cons: May creak over time
You want to be supported in your chair every time you sit in it. When you use the NOUHAUS Ergo3D Ergonomic Office Chair, you're sure to feel that way. It's the best ergonomic chair because of how well it shapes to your body. With its 3D adjustable armrest and lumbar system, you'll get a sense of comfort. Made with breathable ElastoMesh, it provides optimal airflow to avoid sweating. It can tilt back 135° and comes with multiple castors. The lumbar support hugs your back to mimic a cushion.
The seat lifts up and down for a custom fit. The five-point base with dual castors gives greater stability and strength, compared to four-point bases. It also comes with a set of blade wheels for hardwood floors. This is made for adults up to 275 pounds. Also, this is one of the best office chairs because it can recline like crazy. You can find the right amount of lean for yourself because of the tilt angle you have. As you may expect with any chair (especially one that allows you to tilt back), this may creak over time after extended use. It's also expensive in terms of finding a chair that fits in a budget.
Best office chairs for support: Gabrylly Ergonomic Mesh Office Chair
Pros: Suitable for a large array of heights, foldable armrests
Cons: Not good for anyone sitting cross-legged
Many of us are in our chairs for most of the workday. Trying to stay loose and not stiffen up can be hard, especially if you have neck issues. The Gabrylly Ergonomic Mesh Office Chair has high back, head, and neck supports. This is the best for support because of all the cradling it does. It provides four supporting points: head, back, hips, and hands. It also comes with proper lumbar support. You can adjust the seat height, headrest, backrest, and flip-up arms to meet different needs. This is suitable for people between the heights of 5'5″ and 6'2″.
The entire chair, including the arms, measures 25.6″W x 22″D x 45.3″-54.9″H. The loading capacity is 280 pounds. You'll also be able to recline up to 120° or sit up straight. Trying to fit under a desk, the armrests can be folded. Made from breathable mesh, this will resist abrasion and also provide you with solid airflow. It takes almost no time to install this and it comes in black or grey. Some people sit cross-legged on their chairs while they're working. But it isn't easy to do in this chair. So if you're that kind of sitter, consider a different option.
Best space-saving office chair: Hbada Office Task Desk Chair
Pros: Ergonomic backrest, mesh back is breathable
Cons: Not great for extended use
For the home office that is a bit narrow, check out the Hbada Office Task Desk Chair. This has a sleek design and takes little effort to adjust. You can flip the arms up and put the chair under a desk for more space-saving. It is suitable for a living room, study, family room, office, and more. This mid-back design matches different decorative styles. The ergonomic backrest fits the natural curve of the lower back. It will help take away any spinal pain.
You can raise the height from 17.7″ to 21.2″ while also tilting it 120°. It has a weight capacity of 250 pounds. There is a heavy-duty base with smooth and silenced rolling casters. Furthermore, the high-density mesh back is breathable. While you'll be good to use this during the day, you'll probably want to get up and walk around a bit to prevent from getting stiff. That's not just for your health but also because you'll want to get up and move around after a while in this chair. There's a great discount right now as well.
Best value: Furmax Office Mid Back Swivel Lumbar Support Desk Chair
Pros: Affordable, wing-type back support
Cons: A bit more narrow than the other options
The Furmax Office Mid Back Swivel Lumbar Support Desk Chair will give your wallet a break. This is an ergonomic chair with lumbar support that's comfortable. The mesh back supports and is breathable. It has an updated thick padded seat that provides extra comfort for daily use. The maximum weight capacity is 265 pounds. It boasts a five-star, heavy-duty base with 360° swivel wheels. They'll be running smoothly on floors. Also, the wing-type back support allows you to sit for a long time. This is offered in standard black as well as eight other colors. It is narrow but the price will not upset you. It's hard to find a better value, dollar for dollar.
Best leather chair: Amazon Basics Executive Office Desk Chair
Pros: 360-degree swiveling function, black leather upholstery
Cons: Creaks after a while
Leather gives your office a distinct look and feel and the Amazon Basics Executive Office Desk Chair delivers on that. This office chair is covered in black polyurethane bonded leather with a pewter metal finish. With a padded seat, back, and armrests, you'll feel comfortable during a long day at work. It is perfect for home and office use. The pneumatic seat height adjustment and tilt lock allow you to choose your customized settings. It swivels 360 degrees and supports up to 275 pounds. Also, it is BIFMA-certified. After long extended use, you may notice that it creaks. But that happens with most chairs and this will keep you comfortable while looking stylish.
Add a home printer with your office chair and check out our favorites!