Having a laptop offers the ability to relocate and continue to work. Working from a coffee shop, a different desk in the office, or going from the couch to the living room is easy to do with a laptop. But when you are going from place to place, you should keep your laptop protected. That's why you need a laptop case.
The best laptop cases are ones that will keep your computer safe and secure and aren't hard to bring with you. They are often able to be used all over the place and can be stored easily. The best laptop cases offer flexibility, some storage, and ease of use. If you aren't sure which one to go with, there are plenty of option you can look at right now.
---
Deals you can get now
Here are some more of the best laptop cases you can get right now.
Best for your smaller laptop: Arvok 11-12 inch Laptop Sleeve
BGR may receive a commission
Pros
Water-resistant
Affordable
Comes in many sizes and colors
Lightweight
Why we like it
If you're someone who prefers a traditional laptop to a Mac, then this offering from Arvok is a fantastic choice. This ultra-slim, lightweight, and convenient case is compatible with a number of name-brand laptops from 11″ to 12″, including Acer, Apple, ASUS, Dell, HP, Lenovo, Sony, Samsung, Toshiba, and more. It's only around .25″ thick, so its lightweight and easy to carry. But it is durable, so it should prevent any scuffs, shocks, bumps, and spills. There are three sections of padding to protect your laptop. This comes in 14 colors for you to choose from.
What to note about it
This also does come in other sizes, so you don't just have to rely on the smaller one. But since it is offered in 11″ to 12″, you can consider it for your smaller laptop or 2-in-1. There is no other storage options in this case though, so you won't be able to store pens, pencils, notebooks, etc.
Best laptop case for a MacBook: MOSISO Laptop Sleeve Bag
BGR may receive a commission
Pros
Works with any MacBook
Multiple sizes and 34 color options
Front pocket
Padded lining
Cons
Zipper could scratch laptop
Why we like it
On the other hand, if you're a Mac owner, you want to find a laptop case that fits your precious MacBook. Your best bet in that department is the MOSISO Laptop Sleeve Bag. The 13.3″ version fits the MacBook Pro 14-inch from 2022 and the M1 Pro and M1 Max MacBook Pro. It's also good for older MacBook Airs and MacBook Pros too. It also works for various HP, Lenovo, and ASUS laptops.
It is made from polyester material and it is slim and lightweight. There is an extra front pocket that allows you to store items. There is a polyester foam padding layer and a fleece lining that helps the bump and shock absorption. It's incredibly easy to carry.
What to note about it
You can choose many sizes, so if you have a bigger laptop than the 14″ option, you can find a sleeve bag to fit it. It also comes in 34 different colors. The zipper is said to potentially scratch a bag, so a hard shell case may be better to add to your laptop if you want to use this bag.
Best laptop case shoulder bag: Qishare Laptop Case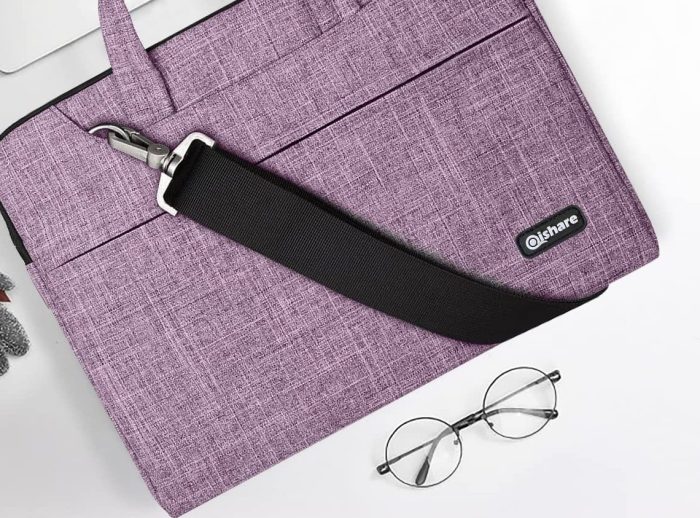 BGR may receive a commission
Pros
Durable
Water-resistant
Versatile
Good for travel
Cons
Small color selection
Stitching could be better
Why we like it
If you want something that's easy to carry and allows you to carry it multiple ways, the Qishare 15 15.6 16 inch Laptop Case is a good pick. It functions as both a traditional sleeve and an over-the-shoulder bag, making it simple to carry around. This is made from durable, water-resistant material with polyester foam padding and a plush exterior. It protects against bumps, scratches, dents, and dust.
You can utilize the shoulder strap to toss it on and head out. But you can also detach the shoulder strap and carry it with the handle. The rear strap also allows you to slide it over the handle of rolling luggage, making it convenient for business trips. The back pocket can hold your phone, portable charger, and other items.
What to note about it
Compared to the first two choices, this has a limited amount of color options, as there are six options with two of them being purple. The stitching also could be a little more cohesive.
Best laptop cases for style: Dachee Laptop Shoulder Messenger Bag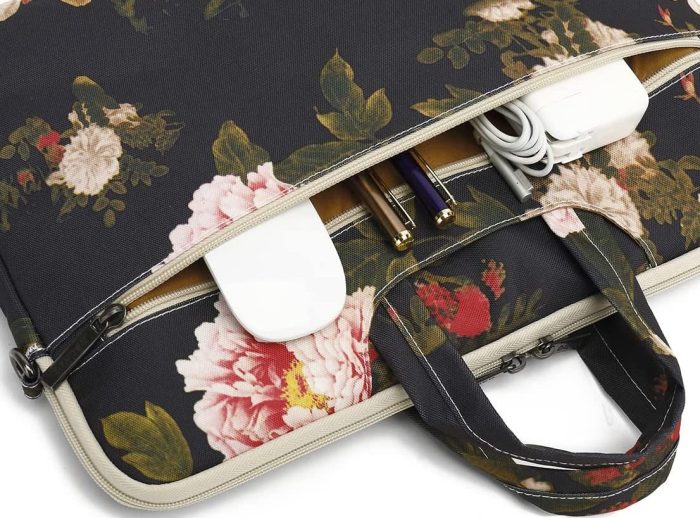 BGR may receive a commission
Pros
28 patterns to choose
Waterproof
Two side pockets
Detachable shoulder strap
Cons
Adding in accessories can make it snug
Not much padding
Why we like it
Why not show off your style with the Dachee Waterproof Laptop Shoulder Messenger Bag Case. Thee are 28 patterns to choose from, so there's something for everybody. The bag is waterproof and made from high quality canvas. There is a thick metal zipper as well as a metal buckle to keep the bag closed. There are two side pockets that deliver storage space for accessories.
You can choose which size bag you want in order to fit your laptop, as it comes in either 13″ or 15″ options. It also comes with a shoulder strap that you can wear or you can detach it and carry the bag from the handle.
What to note about it
Compared to the other options, this one has less padding. Also, the pockets can fill up quickly, so make sure you're not overstuffing the bag, or it won't be as easy to carry.
Best for protection: Voova Laptop Sleeve Case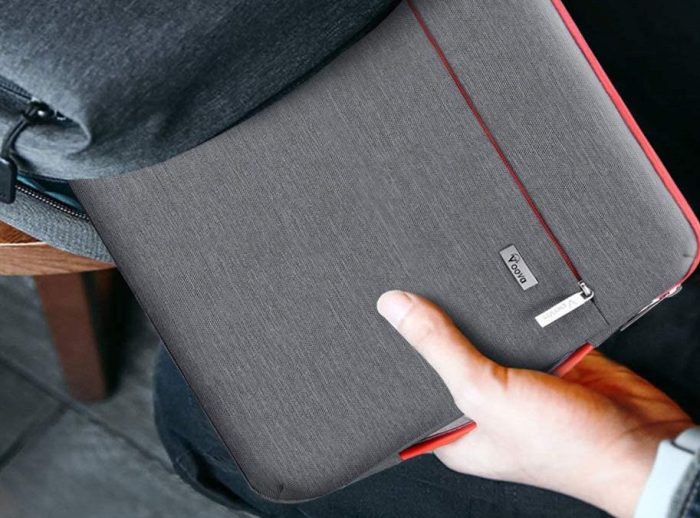 BGR may receive a commission
Pros
Highly compatible
360° protection
Leather handle
Internal pen / stylus holder
Why we like it
The Voova Laptop Sleeve Case is made to protect your laptop. It offers upgraded 360° protection, thanks to the thick foam, gusseted stitched corners, and super soft velvet lining. Your laptop will be protected against scratches, bumps, scrapes, shocks, and hits. It will effectively prevents any water or vapors from getting to your laptop. It features a PU leather handle that is durable.
The 15″-16″ version works with MacBook Pro, Microsoft Surface Book, and plenty Ultrabook laptops. There is an internal pen and stylus holder that you can put to good use. It also comes in seven different colors.
What to note about it
There isn't a shoulder strap, so you'll have to us the leather handle. It may be a bit small for some people to comfortably hold it.
Best laptop stand case: HYZUO Laptop Sleeve Case with Stand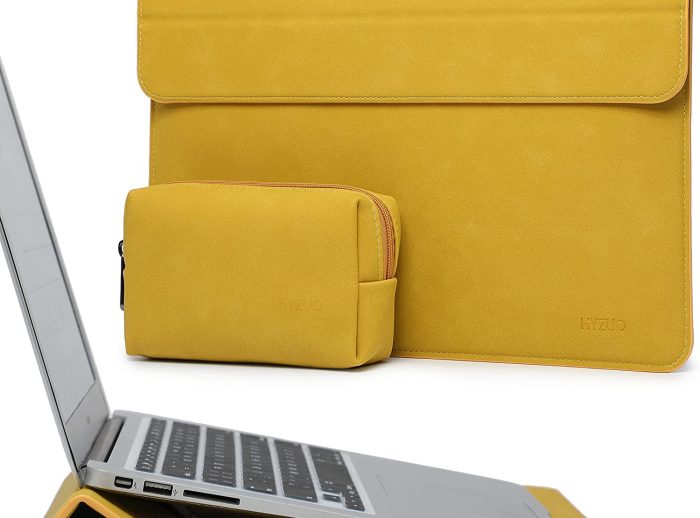 BGR may receive a commission
Pros
Three layers of protection
Accessories pouch
Case turns into a stand
Magnetic closure
Cons
Have to keep track of case and pouch
Why we like it
Rather than having to carry around any type of lift or stand for your laptop, the HYZUO Laptop Sleeve Case turns into a stand. It comes in three different sizes, so you'll be able to fit many different laptop, including Apple, HP, HUAWEI, Lenovo, and more. The trapezoidal opening design can be converted into a stand, helping to keep your laptop cool and making it easier to type.
There are three layers of protection, making this one of the best laptop cases in terms of durability. There are invisible magnets that help keep it closed.
What to note about it
It comes with an accessories pouch for your charger, mouse, stylus, and more. But you'll have to keep track of that along with your laptop.
Best puffy case: Vandel Puffy Laptop Sleeve
BGR may receive a commission
Pros
Easily fits in a bag
Protective but soft
Different sizes and colors
Why we like it
If you're interested in a laptop case that will compress to fit in your bag, this from Vandel is a good pick. The unique puffy design is soft and plush but will squeeze down to fit into any type of bag. It comes in either 13″-14″ or 15″-16″ options and there are nine colors and prints to choose from. There is a soft plush lining that protects your laptop while it's inside. This is compatible with Apple, HP, Dell, Lenovo, Asus, Microsoft, Razer, and more laptops.
What to note about it
While it is a nice design to look at, it doesn't provide the best protection for a laptop.
Best rolling laptop case: Targus Metro Rolling Laptop Case Bag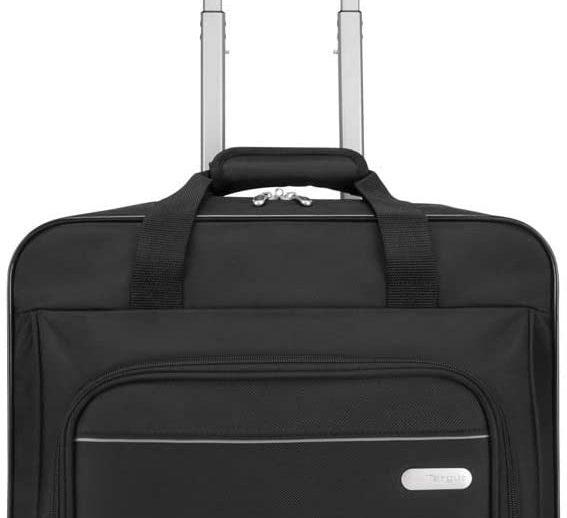 BGR may receive a commission
Pros
Telescoping handle
Padded laptop sleeve
Zippered workstation
Clothes compartment
Cons
Water can get into the bag when handle is up
Why we like it
For those that travel a lot for business, it can be hard to keep track of all the pieces of luggage needed. This bag from Targus helps you store your laptop safely and bring it with you with ease on longer trips. The telescoping handle makes it simple to roll and it has in-line skate wheels. The padded laptop sleeve protects your laptop as you're going from place to place. There is also a compartment for accessories or even overnight clothes.
There's a zippered workstation that can unfold and stores more pens, business cards, phones, portable chargers, and more. It is made from water-resistant materials. It either comes in black or gray.
What to note about it
If you're traveling and it's raining, you have to be careful because if the telescoping handle is up, there is an opening into the bag itself and water can get in.