The best laptops for college students should be able to perform basic productivity tasks quickly and have good battery life. We've laid out a bunch of great options for you here.
They should also be good enough for extracurriculars and light enough to carry around. You need to pick a laptop that performs adequately, is durable, and won't break the bank.
If you're a student and you're looking for one to help tackle your group projects, late-night study sessions, or to just stream your favorite shows when you aren't in class, we've got you covered.
Deals you can get right now:
We've curated this list of the best budget laptops for college students categorized according to different criteria. We'll also share a few tips that will be useful in picking a laptop for college, so make sure you scroll to the end.
Best laptop for students: Acer Swift 3 (AMD)
BGR may receive a commission
Pros
Superb battery life
Affordable
Powerful laptop
Cons
Speakers aren't stellar
The display isn't very bright.
Why we picked it
The Acer Swift 3 performs brilliantly for its affordable price point. Its Ryzen 7 4700U CPU delivers high processing power. The laptop also has a battery life of up to 11 hours, making it perfect for students that have to go from class to class each day. It has a great selection of ports as it features USB Type-C, HDMI, and USB Type-A ports.
Although it has a plastic finish, the laptop does not feel cheap. It also supports Windows Hello, which uses the fingerprint sensor or webcam. The Acer Swift 3 is easy to carry around as it weighs just 2.7 pounds. You can also get these in a bunch of bundles, making your life as a student easier. All these are why the Swift 3 is our pick for the overall best college laptop.
What to note about it
With a maximum brightness of 300 nits, the Acer Swift 3 (AMD) tends to look somewhat dim. The quiet keyboard is excellent for typing, but the backlighting raises some concerns. The speakers on the laptop also leave much to be desired. However, all these details can be overlooked, given that the Acer Swift 3 costs less than $700.
Best budget Windows laptop for college students: ASUS ZenBook 14 OLED
BGR may receive a commission
Pros
Crisp OLED display
Long battery life
A decent number of ports
Reasonably priced
Why we picked it
The ASUS ZenBook 14 is the updated version of ASUS's flagship Ultrabook series. It is a thin, lightweight, high-performance laptop with good battery life and Wi-Fi 6 support. Its vivid 2.8K OLED display delivers some of the best visuals. At 14 inches, the laptop features a decent amount of screen space.
ASUS claims the OLED ZenBook 14 has a maximum brightness of 550 nits. This version also covers the standard RGB color space completely. The ZenBook 14 has a Gen 2 3.2 USB Type-A port, a 3.5mm audio jack, a MicroSD slot, two Thunderbolt 4/USB Type-C ports, and an HDMI 2.0b port.
The 12-core Intel Core i5-1240p processor enables the laptop to operate at impressive speeds. The battery can last up to 18 hours on a single charge, which is incredible. The 3.06-pound laptop is also not too heavy to carry around campus, so you can slot it into your bag and head to class.
What to note about it
The NumberPad 2.0 feature means the touchpad doubles as a numeric keypad, which is not that useful. The numeric keypad can also toggle on unintentionally and doesn't work very smoothly. The fans are also a tad loud compared to other options. But if you hurry up now, you'll get one of the best prices we've ever seen on this.
Best budget MacBook for college students: Apple MacBook Air (M1, Late 2020)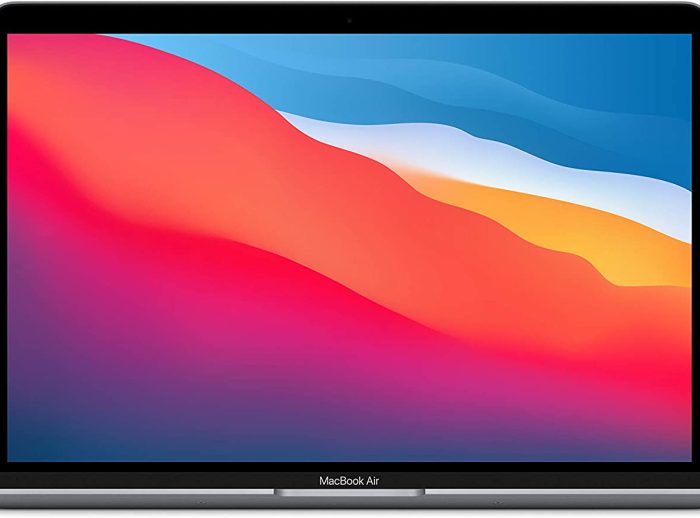 BGR may receive a commission
Pros
Stellar battery life
Excellent display
High-quality keyboard and touchpad
Impressive performance for its price point
iPhone and iPad app support
Cons
Limited ports
No touchscreen option
Thick bezels
Why we picked it
The MacBook Air is a high-performance laptop from Apple costing less than $1000. Its amazing battery life makes it well-suited for college students who might not have the time to charge in between classes. It is also quite lightweight and easy to carry around at 2.8 pounds.
This MacBook Air comes equipped with the Apple M1 chip, which makes it perform much better than its predecessors. It's not as strong as the new M2 chips, but those are much more expensive and if we're looking for the best budget option when it comes to an Apple laptop, this is it. The device also features unmatched integration with the iPhone and supports iOS and iPadOS apps.
The late 2020 MacBook Air has a stylish unibody metal construction with three color options. It features Magic Keyboard, which is great for typing for long hours and has a high-quality and responsive touchpad.
What to note about it
Although the Apple MacBook Air (M1, late 2020) features only 8GB of RAM, it is excellent for most students' computing needs. It is well-suited for writing, researching, and basic video and photo editing.
The improved webcam also makes it perfect for those in remote learning programs, thanks to signal processing in the M1.
Best small laptop for college students: Microsoft Surface Laptop Go 3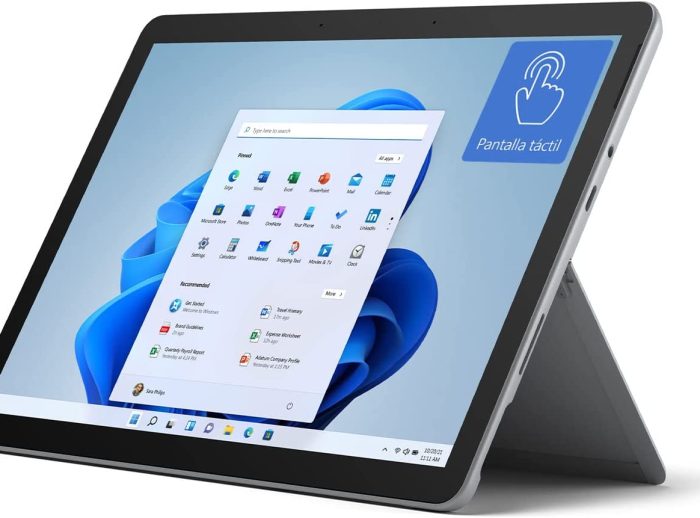 BGR may receive a commission
Pros
Updated CPU
Incredibly portable
Strong battery life
Affordable
High-res touchscreen
Cons
Webcam is servicable
Pen and keyboard not included
Why we picked it
The Microsoft Surface Laptop Go 3 is an improvement on the Surface Laptop Go and the Go 2. It runs Windows 11 and you can choose which processor you want: an Intel Pentium or Intel Core i3 processor.
The screen is 10.5″, which may be a little small, but you won't have to scroll as much. It is ideal to use during class to take notes on. The battery lasts for over 11 hours which is pretty impressive. The Microsoft Surface Laptop Go 3weighs under two pounds, even when you do have the keyboard attached.
The Surface Laptop Go 2 comes in Platinum and Black color choices. For under $500, you can get 8GB of RAM. Plus, there are a ton of ports that you can use to attach accessories.
What to note about it
The Microsoft Surface Laptop Go 3 is great for everyday productivity and for users who favor portability. If you're on a tight budget, this is a good option for you. But you will need to purchase the accessories yourself, as it doesn't come with a pen or a keyboard.
Best gaming laptop for college students: Asus ROG Zephyrus G15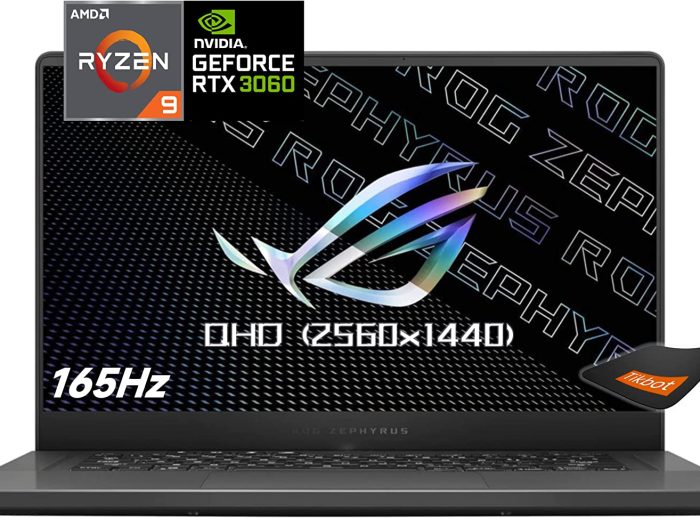 BGR may receive a commission
Pros
Longer battery life than most gaming laptops
Sharp display with a fast refresh rate
Great for gaming and productivity
Cons
Battery life not great for campus life
Can be used for some tasks around school
Why we picked it
The ASUS ROG Zephyrus G15 is a high-performance gaming laptop more reasonably priced than its counterparts. It also has dropped in price over the past few months as well, helping its cause. This laptop does more than just gaming; it is also great for everyday productivity.
Its high-resolution screen has a refresh rate of 165Hz, perfect for lag-free online gameplay. So whether you're logging a ton of hours gaming or just a few studying, this will help. The punchy keyboard has an excellent feel, dedicated one-touch media controls, and is backlit. The RGB lighting is aesthetically pleasing as well.
Its battery life lasts for over eight hours, which may not seem like enough, but it is double that of gaming laptops in the same class. The top and bottom-firing speakers on the Zephyrus G15 also deliver excellent sound.
What to note about it
The underside of the Zephyrus G15 gets very hot even when you're not playing games. This extends to the keyboard and touchpad too. Its GPU is also below par compared to its competitors, such as the Legion 7i.
Best laptop for creatives: MacBook Pro 13-inch (M2 Processor)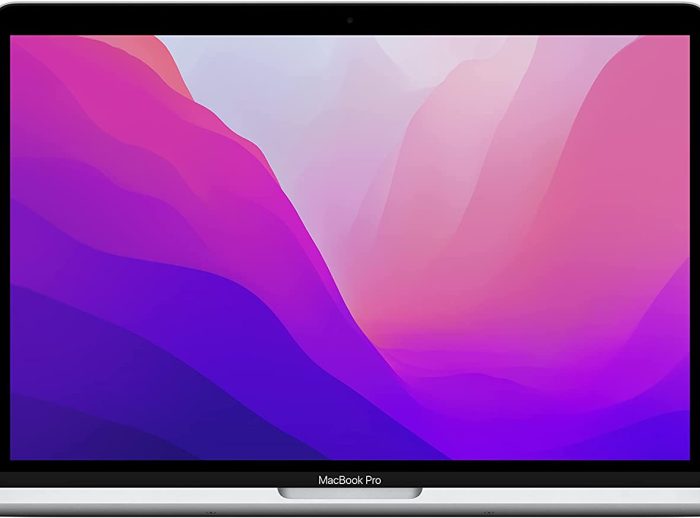 BGR may receive a commission
Pros
Impressive battery life
Sharp display
Great performance
Lightning-fast SSD
Magic Keyboard
Cons
Limited ports
Same design as the predecessor
Why we picked it
The MacBook Pro 2022 offers great performance and battery life thanks to Apple's M2 chip. It is the lightest and less expensive than the larger MacBook Pro models. Its sharp, 500-nit display makes it great for photo and video editing, which is why it's our pick for the best laptop for creatives.
Its 18-hour battery life is also highly impressive; the same goes for the webcam. Still, at 720p, the webcam floors the competition thanks to the image processing unit. The 13-inch MacBook Pro also retains the Touch Bar touchscreen strip that runs along the top of the keyboard. You can also keep an eye on this to see if the price will drop over the next few months as the latest MacBook Pro with the M2 Pro or M2 Max chips is set to be released.
What to note about it
The 13-inch MacBook Pro features two Thunderbolt 4/ USB Type-C ports and a headphone jack. One of these ports functions for charging, so this is a very limited selection of ports. Asides from this, it is excellent for students who are creatives and general computing tasks.
Best budget Chromebook for college students: Lenovo Chromebook Flex 5i (13″)
BGR may receive a commission
Pros
High-performance
Responsive keyboard
Sleek design
Cons
No HDMI port
The display is somewhat dim
Why we picked it
The Flex 5i's Intel Core processor gives it enough processing power to perform everyday tasks productively. It has an audio jack, a microSD card slot, and USB 3.2 Type-A and Type-C ports. The 720p webcam and mic quality are adequate for video calls.
The webcam has a physical privacy shutter. The Flex 5i's keyboard is backlit and has extremely satisfying clicky keys. Its battery life is just enough to get you through the day. The price is also optimal for anyone looking for a steady computer to head to campus with.
What to note about it
The Chromebook Flex 5i lacks an HDMI port, making it harder to utilize for streaming purposes on your TV hookup. You'll need a USB-C DisplayPort dongle to connect an external monitor. The brightness doesn't quite get to where you want it to be in certain situations. But for the price, you can't ask for everything.
Best premium Windows laptop for college students: Dell XPS 15 OLED
BGR may receive a commission
Pros
3.5D OLED display
Superb performance
Slim chassis
Spacious keyboard and touchpad
Cons
Expensive
Below-average battery life
Why we picked it
The Dell XPS 15 can do anything from gaming to 3D design and everyday schoolwork tasks. This premium windows laptop combines a 12th gen Intel Core i5-12500H processor, 16GB of RAM, a 512GB SSD, and Nvidia GeForce RTX 3050 Ti. These make the XPS 15 perfect for multitasking.
Its InfinityEdge bezel delivers one of the highest-resolution displays on the market. The XPS 15 has three USB Type-C ports, an SD card slot, a 3.5mm earphone jack, and USB-A and Ethernet adapters.
The speakers on this laptop pack a punch and sound great. The XPS 15 features Waves Maxx Audio Pro technology and Waves professional tuning. The companion app also has many EQ presets.
The XPS 15's keyboard is backlit and has comfortable key travel. The large trackpad is also very responsive. The palm rests on the laptop are covered with soft, textured carbon fiber for maximum comfort. There's so much to like about this computer, but it is pricey.
What to note about it
At just under $2000, the XPS 15 is nowhere near cheap. But that doesn't mean it's not worth the price. If you want all the features of a desktop computer in a laptop, then this PC is for you.
Best 2-in-1 laptop for college students: Dell 2022 Newest Inspiron 7506 2-in-1 Laptop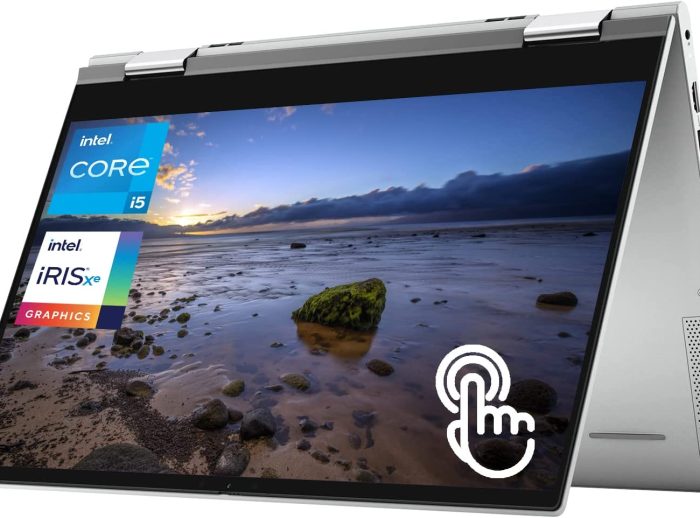 BGR may receive a commission
Pros
Solid processing unit
Good amount of storage
15.6″ screen
Fingerprint reader
Cons
Hinges are a bit flimsy
Doesn't come with a pen
Why we picked it
The Dell Inspiron 7506 packs a punch for a 2-in-1 laptop. This comes with 1TB of SSD storage and 32GB of high-bandwidth RAM.
The Intel Core i5 processor and Intel Iris Xe graphics deliver a solid performance for everyday tasks and all kinds of surfing, browsing, and streaming uses. With a 15.6″ FHD touchscreen display, you have plenty to work with and enjoy in either laptop or tablet modes.
There are multiple ports you can use and it has a backlit keyboard and a fingerprint reader. The webcam can be utilized for video calls for class. It's compatible with Android apps as well.
What to note about it
The Dell Inspiron 7506 doesn't come with a pen, so you'll have to purchase one yourself. But there's a lot to like with this.
Best light laptop for students: HP Pavilion Aero 13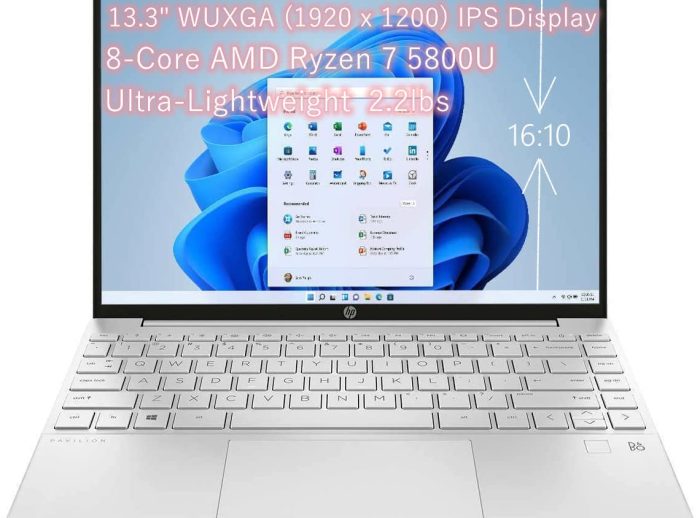 BGR may receive a commission
Pros
Sleek, lightweight chassis
Robust selection of ports
Speedy eight-core Ryzen 7 CPU
Competitively priced
Colorful display
Cons
No card slot
Small deck
No touchscreen
Why we picked it
The HP Pavillion Aero has an AMD Ryzen processor, which allows it to perform well above normal standards. At just 2.2 pounds, the HP Pavillion Aero is an extremely lightweight laptop to carry. It has a sleek magnesium-aluminum chassis and comes in Gold, Rose Gold, and Silver. The 13.3″, 1920 x 1200-pixel IPS display is very bright and shows colors wonderfully.
The Aero 13 has an excellent battery life of 12 hours. It has two USB 3.0 Type-A ports, a USB-C port, a headphone jack, and an HDMI monitor port.
What to note about it
The Pavillion Aero is missing a MicroSD slot and the keyboard deck is quite small. But for those who really like HP computers, this is a smart pick.
Best overall business laptop for college students: Lenovo ThinkPad X1 Carbon (Gen 9)
BGR may receive a commission
Pros
Extremely lightweight
Premium keyboard
Great battery life
Crisp display
Cons
Poor webcam
No SD card slot
Why we picked it
The Lenovo ThinkPad X1 Carbon (9th Gen) features several improvements from its predecessors. The 11th Gen Intel processors enable it to perform quickly and efficiently. The laptop has a battery life of 15 hours, which is one of the more impressive battery life displays we've come across. It also features a 14-inch FHD+ display with narrow bezels and an aspect ratio of 16:10. The Intel Iris Xe graphics render pictures with stunning color accuracy and clarity.
Wi-Fi 6 support allows for lightning-fast internet connections and eliminates lag. The ThinkPad's class-leading keyboard truly blows away the competition. The laptop uses powerful quad speakers and has a ton of ports for all kinds of uses. The ThinkPad X1 Carbon manages to house all these in a highly lightweight chassis.
What to note about it
The Lenovo ThinkPad X1 Carbon (9th Gen) does not feature an SD card reader. You may want to also choose the base model for this, or you'll be spending a lot more money than you may need to.
How to pick a laptop for college
Picking a laptop for college comes with many considerations. The most important thing is finding out your school's system requirements. Some universities require a specific OS for uniformity and software compatibility. This prevents isolated complaints from students. You can also ask if they have discounts from specific sellers, which can save you a few hundred dollars.
If your college has no strict laptop requirements, there are other things to note. We understand that most college students don't have an endless supply of cash to blow on a laptop. Hence, your budget is crucial. Knowing how much you plan to spend on a laptop allows you to work around your needs. Plus, there are always cheap laptops to take a look at.
The next consideration is the intended use. Are you going to be performing only basic productivity tasks, creating content, playing games, or engaging in other creative pursuits? Depending on your answer to this, you can find out what laptop specifications will work for you.
FAQ
What is a good price for a laptop for college?
You can get a good budget laptop for about $300 – $800. However, if you're not on a budget, there's nothing wrong with shelling out over a thousand dollars to purchase a laptop.
What is the most popular size laptop for college students?
14-inch laptops are the most common college laptops for students. They're usually quite portable and offer enough screen space for various tasks.
How much RAM do I need for college?
A laptop with 8GB of RAM should be adequate for college students. This amount of RAM is sufficient for most basic computing needs.
Are HP laptops good for college?
Yes, HP laptops are good for college. The brand has many budget laptops for college students.
What brand of laptop is best for students?
We can't definitively say which brand is the best college laptop as this depends primarily on need and budget. Based on the purposes you have in mind, you might need a Mac, gaming laptop, Chromebook, or Windows laptop.
How much should I spend on a laptop for college?
This largely depends on how much you can afford or are willing to spend. You can get Chromebooks for as low as $300, which are usually good enough for everyday tasks. However, if you have particular needs that a Chromebook can't meet, you can opt for Windows laptops, Macs, or Ultrabooks.
How many GB should a laptop have for college?
A college laptop should have a storage space of at least 256GB. Also, SSDs are preferred over hard drives as the latter can slow down your laptop.
What processor do I need for college?
Typically, an Intel Core i5 processor should be enough for whatever productivity tasks college students need to carry out.