An Apple Watch can be used in so many different aspects of your life. Ensuring your Apple Watch is fully charged and functional isn't always easy — especially considering your watch rarely leaves your wrist. That's why you need a good charger that will charge your device quickly and easily, just in the event that you do wait until the very last minute to do so. If you love the Apple Watch 7, you already know how important it is to keep it charged. The best Apple Watch chargers are a must-have for any user, no matter which series you have.
But like any piece of tech, there are a million different chargers out there that seemingly do the same thing. So you have to try and figure out which ones are the most effective? Luckily, we have an answer to that question. Let's look at some of the best Apple Watch chargers on the market today.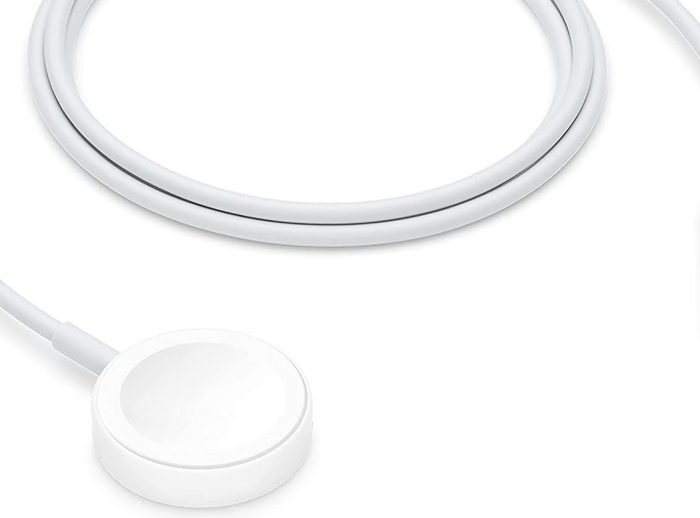 BGR may receive a commission
Best magnetic Apple Watch charger: Apple Watch Magnetic Fast Charger to USB-C Cable
Pros: Faster charging, length
Cons: Only fast for Apple Watch Series 7, need special charging block
Nothing compares to the Apple Watch Magnetic Fast Charger to USB-C Cable from Apple. It's the best magnetic charger because, when paired with an Apple Watch Series 7, this will charge it up to 33% faster than a normal charger. You can reach 80% in around 45 minutes if your watch was completely drained of battery before. The magnets on the back of your watch will connect to the magnets in the charging and stay connected. This is a completely sealed system free of exposed contacts.
There is no need to precisely align this, as it can be twisted and still work. It is compatible with all watch models, but it only charges the Series 7 rapidly. This plugs in easily to newer MacBooks but it is not compatible with a decent amount of blocks that you may be used to from Apple. So you will need to pay attention to that. But if you have the Series 7, this will get you more juice quickly.
Best Apple Watch chargers stand: elago Upgraded W3 Stand
Pros: Aesthetically pleasing, compatible with Nightstand Mode
Cons: Needs some help fitting just right
Another option is this elago Upgraded W3 Stand. Obviously, the vintage design is appealing, especially if you're someone who appreciates the retro 90s look. In addition to making your Apple Watch look like an old-school Apple desktop, it provides fast charging with an easy-to-use magnetic setup.
This stand is great at night when you still want to use certain functions on your Apple Watch like the alarm setting or messenger. You can sit up in bed and still access your phone without having to take it off the charger. It works with Apple Watch Series 1 through 7 and is compatible with Apple Watch Nightstand Mode. It even features a 30-day guarantee. You'll just have to make sure that when you put it on the stand, it is precisely on. Because if not, it may not charge, leaving you with a dead battery in the morning.
Best 3-In-1 Apple Watch charger stand: HATALKIN 3 in 1 Wireless Charging Station Compatible for Apple Products
Pros: Charges watch, phone, and headphones all at once,
Cons: Not compatible with iPhone 13 mini or iPhone 12 mini
Killing two — or in this case, three — birds with one stone is always convenient when it comes to your Apple technology. If you're looking to charge a few of your devices simultaneously, the HATALKIN 3 in 1 Wireless Charging Station Compatible for Apple Products is the perfect option. This is incredibly compatible with various devices. You can charge your Apple Watch Series 7 and any other series. It also is compatible with your iPhone 13 as well as the Samsung S20.
The station consumes a low amount of power and it offers speeds up to 1.7A for charging. The charging 4-coil design is great for wireless connection. The WPC Qi 1.2.4 wireless charging regulation is a smart design. You can set it in portrait or landscape mode and watch videos while it's charging your phone.
Best wireless charger: ChiHope Magnetic Portable Wireless Charger
Pros: Compatible with all series, cable-free charging
Cons: Have to provide another power source
If you're worried about charging your watch on the go, the ChiHope Magnetic Portable Wireless Charger is a way around that. You'll love the magnetic induction charging as it stays on your watch. This is a USB charger that is compatible with all 44mm, 42mm, 40mm, and 38mm Apple Watches from Series 6 and down. You'll be able to charge your watch without the need for a cable. You can carry this on a lanyard for safekeeping or just toss it in your bag.
This will fully charge your watch within two hours. There is built-in output short circuit protection, overvoltage protection, and overload protection. We love this wireless charger because it's safe for your charger and your watch. If you're plugging this into a wall outlet, your watch will rest on top of it with ease. Its price won't hurt your bank account either.
Most versatile: lifeegrn Update Version Smart iWatch Charger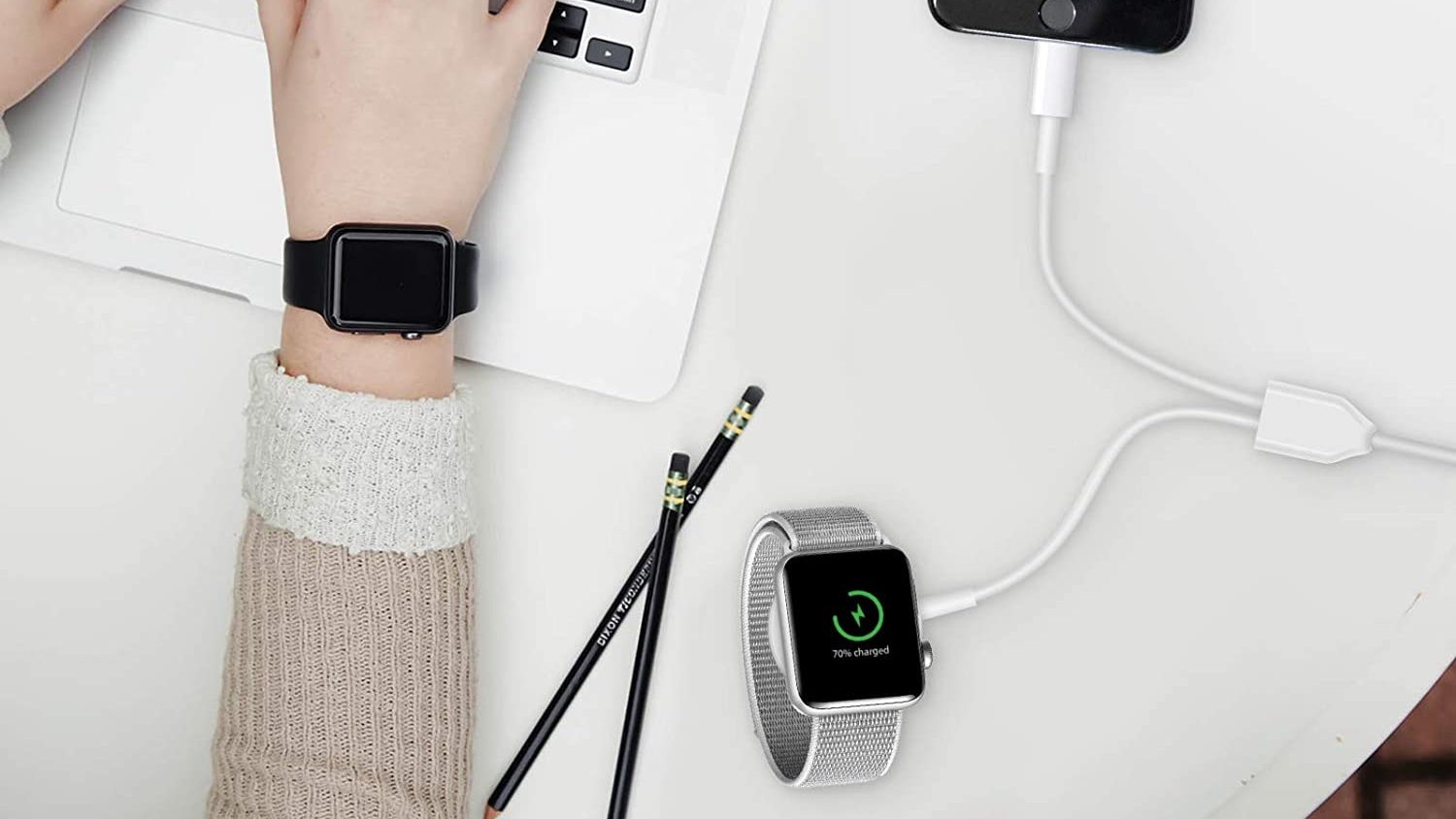 Pros: Charges iPhone and Apple Watch at the same time
Cons: Won't charge through metal or watch cases thicker than 4mm
For those who have both an iPhone and an Apple Watch, the lifeegrn Update Version Smart iWatch Charger is perfect. This will allow you to charge both your iPhone and Apple Watch at the same time. This works for all the latest iPhone versions and all Apple Watch series. It will even charge your iPad if you want. This has built-in over-current, over-voltage, and over-temperature protection.
The watch and phone cables are different in length. But that allows them to not interfere with one another. The cables are a bit short, so you will need to prop them close to an outlet. You can also choose the cord length that is best for you, as there are three choices. The magnets are strong, so they will latch onto your Apple products. The cables are lightweight and simple to move with you. But if you have a case that's thicker than 4mm, you'll have to remove it to charge the device.
More Apple coverage: Read all the news on the upcoming Apple Watch Series 8.