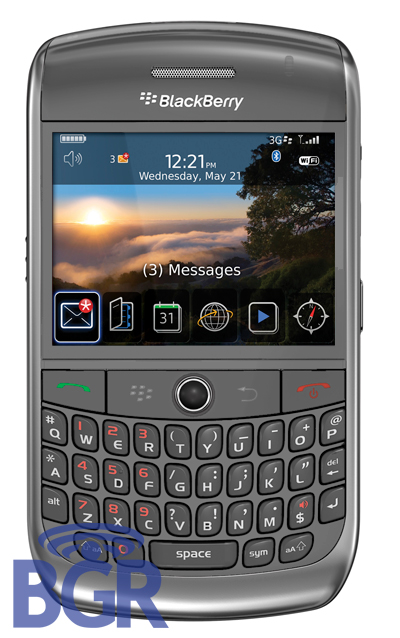 First there was "Pluto," then were was "Magnum," but now we're talkin' about something totally different — Gemini. What's Gemini you ask? From what we've been told, the working model number is 9300, so that's BlackBerry 9300. As you can imagine, the 9xxx line of BlackBerry devices is for 3G handsets and the Gemini won't break that tradition. We're told to think of this as the BlackBerry Curve "3G". While we don't have specifics on some of them, here's a breakdown on what we know, and what specs we've got a hold of:
The screen will be larger than the BlackBerry 8900, and that will also include a higher resolution
The CPU will also be beefed up. We're not sure if this means it will include something more powerful than the Bold's 624MHz processor or not, but we'd like to think so.
The device is said to be silver (think BlackBerry 8830)
The keyboard is a little more rounded than the BlackBerry 8900
The Send/End keys are rounded instead of being flat on the sides
Styling is not drastically different — it keeps with the 8900/Storm styling
It of course rocks quad-band GSM/GPRS/EDGE, and tri-band UMTS/HSDPA
Wi-Fi and GPS was not confirmed, but we'd say there's about a 99.99% chance
Camera specs were not confirmed as well, but you can bet you're looking at 3.2 megapixels or better
Now, what about release date? We have absolutely nothing solid in terms of that. But, want our personal opinion? Q4 '09/Q1 '10. We really can't see this one coming out anytime soon, it's so far down the pipeline, they just released the current Curve replacement, etc. But it should let you guys know that RIM is obviously looking to transition all their devices to 3G (our opinion, not their words) over the course of the next year or so. Plus one of our only complaints about the 8900 was a lack of 3G, so bring it on!
Super duper shout out to our ninjas on this one!