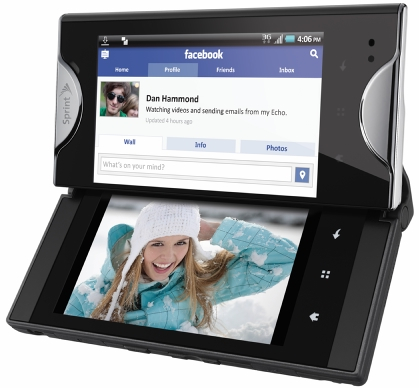 We had a chance to spend time with Sprint, Kyocera, and the Echo earlier in the day, and while there were mumblings about what to expect, we have to say we were completely shocked — literally speechless with all smiles. The Kyocera Echo is unlike any other device we have ever seen, and it's truly innovative. Let's first recap the specifications of the handset:
Dual 3.5-inch LCD WVGA (800 x 480 pixels) capacitive touchscreens (4.7 inches diagonally and 800 x 960 pixels when opened)
Android 2.2 — Froyo
1GHz Snapdragon QSD 8650
5 megapixel camera with flash
Bluetooth 2.1 + EDR
Wi-Fi
EVDO Rev. A
115.0 x 56.5 x 17.2mm
193 grams (6.8 oz.)
As for our thoughts on the phone… hit the jump and we'll give you all the details.
The device is a bit thick, and it's a bit square for our tastes. Additionally, the individual screens are a little small, but that's just us being nit-picky — as you have a 4.7″ surface area when the phone is fully opened. We were very impressed with the build quality after our limited time with the handset, and while the unique LiquidMetal hinge mechanism scared us at first, it actually seemed to be incredibly solid and well designed (Kyocera told us there were 6 patents alone on this hinge). Not only does the device open up to reveal another display, but you can flip the top display up a little bit to sit on an angle, just like a Nintendo DS.
Using the Echo blew our minds. Having two screens next to each other is something that we never expected to see on a mobile device just because we never gave it much thought, and could never really justify it in our heads. Seeing and using it in person actually made the concept make sense in a weird, super-nerdy way, however. The ability to run full apps simultaneous in Simul-task mode, changes the way you multitask. Having the web browser open on the top display while you're watching a video or browsing photos on the lower display is such a natural action for those of us that are on the move and multitask in our everyday lives (for better or worse). Being able to compose an email while having Google Maps open or even having two browser windows open at the same time can literally change the way you work. That's not all two displays are good for, though. In apps like email for instance, you can use one display to navigate and select a specific email message and the other display to read it, much like a tablet email app — it's really useful.
Additionally, Sprint told us that there will be a third-party API that developers can utilize to support both displays on the Echo — they demoed The Sims 3 from EA for us, and it was pretty cool. You could touch navigate the top part while action buttons and items were displayed below — if developers really start to support this device, we wouldn't be surprised to see games really take off on here.
The overall design identity of the phone doesn't mesh too well with us, though; that's obviously subjective. We found it to be a little uninspiring, even bland, and you wouldn't expect that on such an innovative and boundary-pushing device. Sprint said that the Kyocera Echo will come with not only an extra battery but an external battery charger in the box for free, and while this raised a red flag for us, Sprint was quick to assure us that even though the Echo is still not final, its battery life is on par with other smartphones currently in the market.
We thought we knew what to expect going into this thing, and we came out with mixed feelings. On one hand, it's a truly impressive handset and Sprint and Kyocera have completely pushed the boundary again this time in the smartphone world. It changes the way we think about a smartphone in a lot of areas, and even from our limited time with the phone, we can totally see it changing the direction of a mobile device's utility. On the other hand, Android isn't known as the easiest OS to use, and we're getting much more fragmented day by day, so the Kyocera Echo doesn't help. We're not completely sure who the Echo is aimed at and will be marketed towards, so we'll just have to see who ends up stepping up to the plate. One thing is for sure, though… we can't wait until we get one in our hands to review because we kind of miss it already. It should be available this Spring for $199.