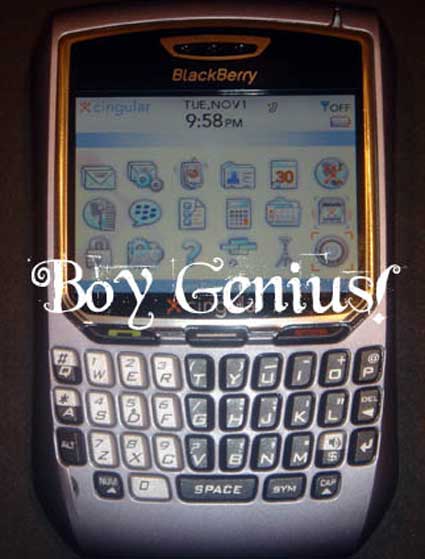 It's truly incredible how fast things in the tech space can change. Just two years ago RIM was on a high, and moments ago, when the company reported its Q1 earnings, it was apparent that what I've been saying for the last four years has come true: RIM, Research In Motion, the company that practically invented mobile email, that drastically changed the technology industry, a forward thinking company invented and run by two brilliant men, is finished. A lot of people realized that back when the iPhone came out — the game was changed forever.
I've known the company at an intimate level for more than seven years, since I was 18 years old and I leaked the BlackBerry Pearl 8100 for T-Mobile. This was RIM's first consumer device — it had a trackball, and it had a camera! People went insane when I had the Pearl before anyone else did and they hadn't even heard of it yet. It was small, it was light, and it had a keyboard called SureType.
An A-list celebrity wanted to work with RIM on what was surely a consumer marketing push for this consumer device, so I reached to the head of marketing for RIM to make an introduction. RIM told me the company wasn't interested in using the A-lister, and that it wasn't doing consumer marketing for its first consumer device ever. The one that had a camera.
From that point on, I knew this was a company set in its ways, and I saw that through every single product release, every software release, every refusal to accept that the industry was changing and every single BlackBerry handset that I broke the news on.
Every time I'd speak with a source at RIM, I'd find out just how dysfunctional this growing company was. I mean, it got so bad that a senior executive wrote an open letter to the company for BGR to publish, just because that person believed so much in RIM that he/she wanted the company to hear honest frustrations, and real suggestions on how it might begin fixing some problems. But it was too late at that point.
Here's a piece of what I wrote in March:
The RIM we know, is dead. The company has 12 to 15 months until it's either acquired, or broken into pieces and sold for parts. I'm not even sure why the company still plans to launch BlackBerry 10 smartphones at this point.
So, this is where it ends for RIM unfortunately. Its stock is tanking — down 17% in 20 minutes at the time I wrote this — the company has lost money for the first time in a quarter since fiscal 2004, and above all, its BlackBerry 10 operating system is now delayed from August to Q1 2013. Do you know what Q1 in RIM speak means? It means the ass-end of Q1, if not Q2.
Do you know what will be released in a few months? A brand new redesigned iPhone with 4G LTE and "magic," along with extremely strong competitors from the Android OEMs like Samsung, HTC and Motorola, and Windows Phone 8 devices from Microsoft's partners (and maybe even Microsoft).
If RIM had any chance of independent survival before, those hopes are all dashed now. RIM is going to be bought for parts. I feel like shit writing this, but it's the truth, and I've been saying it for years when no one wanted to listen, and no one wanted to take an 18 year old kid seriously.
Looking back, here are some of my favorite stories I've written on RIM:
BlackBerry 8800 – Indigo & Crimson – Features & Road Map
BlackBerry 8300 In Hand
BlackBerry 8320 In Hand
Pharrell's Gold BlackBerry 8800
BlackBerry 9000 whispers in our ear
BlackBerry 9000 specs revealed, our early Christmas present to you
Vodafone Roadmap: BlackBerry 8xxx
BlackBerry 9000 first impressions
BlackBerry 9000 hard specs, you excited?
BlackBerry Kickstart, the clamshell flip phone? We're unveiling it to you for the first time!
BlackBerry Bold is the BlackBerry 9000?
BlackBerry Thunder, the touchscreen BlackBerry we've all been waiting for
BlackBerry Thunder live shot, damn we're good!
BlackBerry Thunder: after the storm
BlackBerry Seawolf 9110 Joins the Pack, Javelin, Aurora and Thunder throw a party
BlackBerry Bold delayed on AT&T until at least mid-August!
BlackBerry Bold review: we've been rockin' it for a month
BlackBerry Bold vs. iPhone 3G: yeah, we definitely went there
The real reason the BlackBerry Storm doesn't have Wi-Fi or tri-band HSDPA
BlackBerry Bold: BGR edition, presented by Colorware
Hands on with RIM's BlackBerry Application Suite on the HTC Fuze
BlackBerry 9630 is the Niagara, Verizon World Edition?
BlackBerry Niagara 9630 hands on
BlackBerry 9630 Review: Part 1
BlackBerry 9630 is the BlackBerry Tour?
BlackBerry Tour hitting Verizon Wireless in July?
Verizon's upcoming BlackBerry releases: Tour, Pearl Flip, Atlas Storm 2 info
What happened to Research In Motion and where are they going?
TweetGenius grows up, rolls with the bees
BlackBerry 9700 specifications
Upcoming Verizon handsets: Motorola Sholes, BlackBerry Curve 2, BlackBerry Storm 2, more
BlackBerry 9700 Review: Part 1
BlackBerry Tour2 9650 Hands On
Details on RIM's new BlackBerry slider?
BlackBerry 9670 unveiled, CDMA clamshell device!
BlackBerry OS 6.0 screenshots, details!
BlackBerry Bold 9780 hands on!
Exclusive: BlackBerry PlayBook and smartphones to run Android apps?
RIM's 2011 BlackBerry lineup explained
RIM responds to reports of poor PlayBook sales, high return rate at major retailer
RIM is black-burying carriers with half-baked BlackBerrys
Open letter to BlackBerry bosses: Senior RIM exec tells all as company crumbles around him
Inside RIM: An exclusive look at the rise and fall of the company that made smartphones smart
BlackBerry 10 is a failure that won't be able to compete, company source says
Research In Motion pushing for sale to Samsung [updated]
Research without Motion: Old guys replaced by new old guy
RIM's 2012 roadmap: 3G PlayBook, Curves, and possible London delay
Research In Motion is dead
Even with BlackBerry 10, RIM is still dead