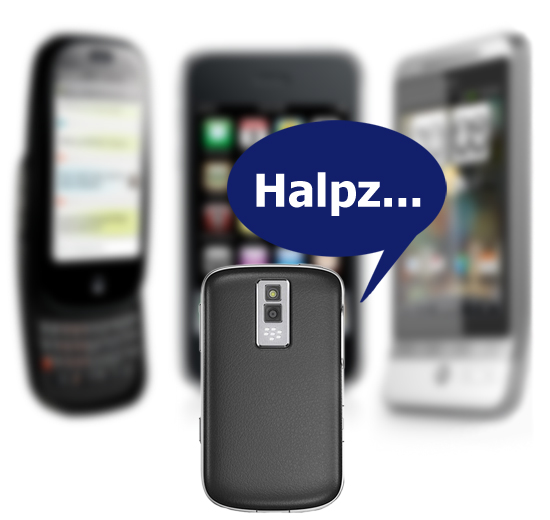 I want to start this off by saying I have nothing but love for RIM the company. Probably my favorite tech corporation in the world, they've created an incredibly unique product that practically replaces the need for drugs for most people. What's even more fascinating, however, is how RIM (to the pleasant surprise of a lot of us early users) has managed to take a corporate-focused product and service and blow down doors in the consumer world. From the BlackBerry 7100, the first consumer-oriented device, to the eye-catching BlackBerry Tour (it's business through and through, yet it will be an incredibly popular consumer phone on Verizon and Sprint), it's clear that RIM has done everything right to this day.
So, what's the problem you're asking? They have probably the best back-end infrastructure for mobile communication on the planet, awesome phones that can go head-to-head with high-end smartphones, consumer marketing, a huge consumer fanbase, and practically every businessman (or woman) has one on their hip. One word is where RIM fails so miserably it isn't even imaginable: software.
You have to look at the big picture here… for what RIM is working with (an incredibly miserable Java OS with so much security and encryption and smoke-blowing APIs) they've hit the jackpot. Their OS architecture is fantastic, their use of security is what makes them so trustworthy. But, as each handset release comes closer and closer, people start to see the bigger picture. And that's the fact that RIM's OS is more than antiquated, it's borderline laughable. But it works, you're thinking, so what's wrong? I've been saying this for years, but it wasn't designed to do anything the BlackBerry does now. Imagine scotch taping car parts to a 200hp engine and see how far that gets you. Obviously, it's just a viciously rough metaphor, but we believe a correct one.
There's so many limitations to RIM's OS, and even RIM's data network that it offsets all the wonderful things they've managed to accomplish. Remember when people were so excited over leaked shots of OS 4.6 and I said somewhere it was just a theme? Well, was I wrong? Oh, look! OS 5.0! What changed? 99% nothing. Some functionality is added here and there, but the mobile phone landscape has changed so drastically in the last two years, that RIM, admittedly known to planning "three years out" looks to be unable to see the proper direction to head.
You can throw $1,000,000,000 at developers but you won't get any if your OS, tools, and documentation are so bad, and that's really in the end a lot of what I'm getting at. I was laying in bed at around 3AM early one morning recently, looking through the iPhone App Store and I came across EA's Tiger Woods Golf. $6.99, why not? Wait, it's 150MB? Wow, it must be good. I clicked purchase and literally 4 minutes later, Tiger Woods was installed and up on my screen. Granted I was on a high-speed Wi-Fi connection, but it made me realize more than ever that RIM has the most uphill battle of their lifetimes. When a BlackBerry application over 500k is considered "large", something's wrong. When TweetGenius is one of the first BlackBerry applications to do fun, unique things like transparent overlays, consistent shortcuts, and a straight forward UI, something is wrong.
The reason why this is so frustrating to me and I'm guessing many is because RIM literally almost has it all. They've got it! They are 90% there but that last 10% has become the most important. If you take Apple for example, and see their shortcomings, and then what they've done to fix them, it's remarkable. It's a completely different DNA than RIM's but it's working. In two years Apple has practically matched Research In Motion in almost every consumer area while having the most advanced mobile operating system with the most advanced mobile SDK on the planet. If Apple can do this in just two years and RIM has stood still, no one thinks that's a problem?
The reason RIM works is because it's the entire package, if you will. Hardware, software, infrastructure, corporate integration, security, etc. People want simplicity, ease of use, but more than ever they want more than they need. Stupider people are smarter and expect more, smarter people are stupider and expect more. RIM delivers the same tired package in new hardware and people are starting to catch on. App World? Seriously? From every single developer I've spoke to, it's a non-starter. It basically doesn't exist to them in terms of a sales channel — it's practically like 1% if that.
What consumers don't do is look forward. They look at what's put in front of them. It's the exact opposite for the manufacturer and thus why it's so difficult. Look back two or three years and the Bold and Storm might seem incredibly innovative, consumer-focused, and sure to be hot sellers. And they were and are, but look ahead three years and tell me point blank you have confidence that RIM knows how to steer this ship. I don't, and that's being incredibly honest. It's not me being negative, it's objectively looking at the landscape and evaluating things. I want RIM to succeed, I want RIM to make kick ass products. I'm just frustrated that RIM is going through hardware like it's nobody's business yet fails to deliver on the things that everyone wants. Screw business people, screw consumers, everyone wants a WebKit-based browser. It's inexcusable RIM doesn't get it. It's inexcusable that people put up with a 2003 operating system with so many limitations and restrictions it would make Ahmadinejad jealous. I don't think RIM is going anywhere, they as a company are incredibly successful, but once they start to lose the consumer market which they worked so hard to get, it's a downward shift.
Here's a list of RIM's models followed by Apple's in the last 3 years:
RIM: 8110, 8120, 8130, 8800, 8820, 8830, 8300, 8310, 8320, 8330, 8220, 8230, 8900, 9000, 9500, 9530, 9630.
Apple: iPhone, iPhone 3G, iPhone 3GS.
There's a good and bad part with knowing things in advance. For instance, people might hold off on purchasing a new BlackBerry if they know a newer and better one is being released in a couple months, and this hurts a company's current product cycle. On the other hand, if someone on Verizon sees a Tour being released two months from now, they might rethink jumping ship or switching to a different device on Verizon. And the cycle continues. Looking at RIM's upcoming products for the next 6-12 months is simply a rehash of current limitations and shortcoming in smaller and sexier packages. The BlackBerry 9020? It's a Bold in a smaller, sexier package. Nothing else is different. The BlackBerry Storm 2? It's the same device with maybe improved screen tech. The BlackBerry Magnum? As hot as a hybrid touch screen/QWERTY device would be, it's still a BlackBerry that can't pull up a webpage to save its life or play a real game or have any sort of desktop-class application running.
These things won't change, the core OS hasn't changed, and RIM has had no reason to change it. Why mess with success, right? Well, if you happen to be Research In Motion, you might have to start changing things up or newer and better operating systems like the iPhone, webOS, and Android are going to eat their lunch and their applications, too.
I'm fortunate enough to be able to have every phone I want on every carrier and that gives a person an incredible amount of clarity when picking the superior products. I use an iPhone 3GS and a BlackBerry Bold everyday, both on AT&T. But to tell you the truth, in the past when people ask me what device would I choose if I had to only pick one, it would hurt my brain. There was just no way to choose. But unfortunately or fortunately, that decision has become clearer and clearer. I don't think I'll ever give up my BlackBerry, I'm pretty sure you'll always find one on my hip in an OEM RIM leather holster, (yes, holsters are cool as shit) but when me of all people starts truly questioning how a company as successful and brilliant as RIM is going to keep up with the next 2-3 years, you've got a big, big issue.
I'll close by saying that the market is still wide open and this doesn't mean RIM is or ever will go anywhere. It's just something to keep an eye on and see how the best to ever do it will react to competitors' advances, innovations, and of course, their software.