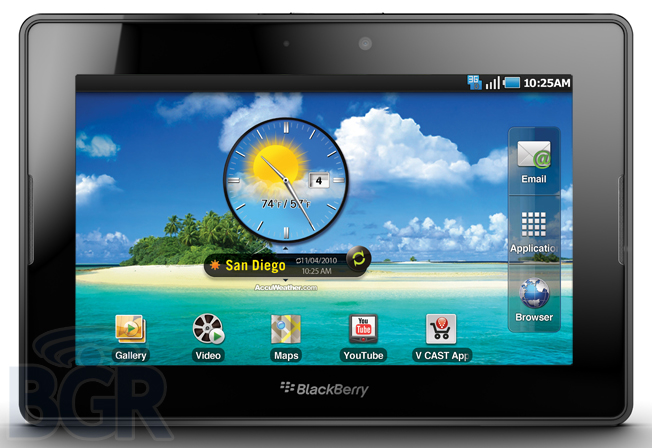 As crazy as that sounds, we have been told by multiple trusted sources that RIM is seriously considering a feature that will allow BlackBerry devices to run Android apps. Here is what we know… Research In Motion has been trying to figure out the path it wants to take as far as how the existing Java environment will work on its upcoming QNX tablet and smartphones. The company has publicly stated that it is looking at getting a Java virtual machine running on the PlayBook — not so much for app development going forward, but for legacy support, custom apps corporations have deployed and don't want to recreate, etc — but RIM hasn't yet decided what kind of Java VM it will use. Hit the break for the rest!
Here is the big news: we have been told RIM is very much considering the Dalvik virtual machine, and we ultimately expect the company to chose Dalvik. If that sounds familiar to you, it's because it's the same VM that the Android OS uses, and it would allow RIM's PlayBook and other QNX devices to run just about any application built for the Android platform.
There are various approaches to this situation — one where RIM uses the open source Dalvik VM and does not involve Google, and another (incredible) scenario where RIM and Google might reach an agreement (basically "certify" the device/platform) that would provide official support to Android apps on RIM's QNX-based OS, and would feature the Android Market, Google's Gmail, Maps, and other apps.
With the bold moves RIM has taken lately — QNX, the acquisition of the great UI team at The Astonishing Tribe, and possibly the ability to run any and all Android apps — if the company can hang on just a little longer, it could be poised to attack the market again in a huge way.