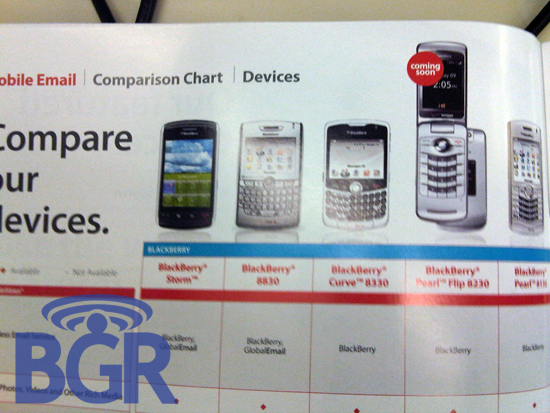 So check it. We just got a tip from a new ninja but this information looks really credible so we're running it… Here's the random bits of info we received:
All Verizon BlackBerry handsets launched after the BlackBerry Tour will have Wi-Fi
The Storm 2's screen does not press in like SurePress, rather it operates more like traditional capacitive touch screen panels. We're not sure if the rumored TruePress is just localized haptic feedback or what, but we can't imagine RIM abandoning their entire

fucking

selling point on the Storm.
We have no idea what to think of this part, but, our tipster said the BlackBerry Tour would be accompanied by a BlackBerry Atlas with the Atlas having Wi-Fi, not the Tour. Again, don't flip out, but it's just what was told to us by this particular tipster.
BlackBerry Pearl Flip 8230 release is "imminent". We'd say May release, June latest.
8230 specs… EV-DO Rev. 0, 2.0 MP Camera, 3.5 ounces, Flash 128 MB, RAM 64 MB, SD Card – Expandable to 16GB, Usage/Standby – 220 min. / 216 hrs.
There you have it, guys!