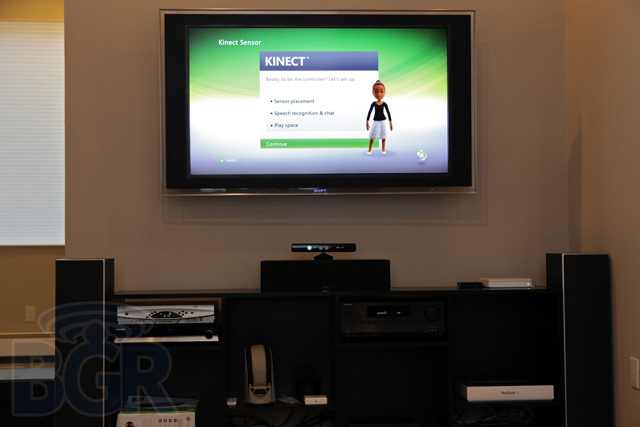 We have played with Microsoft's Kinect before, but now that we have it hooked up in our own living room, we dove a little deeper. Kinect launched today as we all know, and it's destined to become one of the hottest buys this holiday season. The hype, to put it mildly, was absolutely off the charts leading up to today, so exceptions are sky high. Will Kinect rise to the challenge and deliver the revolutionary gaming experience we all expect, or is Microsoft going to have a millions of disgruntled gamers on their hands this holiday season? Read on, and see what we think after a day of action with Kinect.



















The set up process wasn't as involved or as intricate as we thought, and literally within 7 minutes from ripping open the cardboard-packed black glossy Kinect unit we were up and interacting with the gaming system. The Kinect is perched atop a motorized stand that automatically adjusts to your position as you move closer or further away from the unit. In addition to the main video camera in the middle of the device, there are sensors on either side (IR and depth) and four separate microphones to help with voice recognition and background noise elimination.
We tested three games over the course of the day, and all three were fun to play. The star of the show, without question, was Dance Central. It's probably the best Kinect game out on the market on launch day. Think of it as Rock Band for dancing. It's basically pretty simple, yet it's a tremendous amount of fun — even if you just plain suck at dancing… not that we suck at dancing or anything.
Both the technology behind the physical attachment and the software that's processing everything seem to be truly next-level — until you really start playing with it.
Interacting with Kinect for Xbox 360 was a great experience. However, as we move further and further from an actual controller, things start to get a little messy. With the Nintendo Wii, there might have been some issues with the Motion Bar not seeing the controllers properly, or possibly not detecting them perfectly; but with the Kinect, that physical controller layer has been removed completely. While the concept is novel, it also means that the Kinect system is going to misinterpret movements in a lot of cases. Because labs are forced to make controls very general rather than precise, they effectively have to dumb down most games in order to use this new motion-controlled interface. If players are throwing a ball, for example, they can't really control what direction it's throw in or even how hard since there isn't an accurate means of judging velocity. Kinect just knows that the player made a throwing gesture.
Kinect is a big step for Microsoft, and a huge new product for the Xbox division and company as a whole. We're pretty confident Microsoft will continue to improve and refine the Kinect product. The potential for greatness is definitely there, and once Microsoft makes some key improvements, Kinect will probably be the most exciting product in the gaming category. Right now it's definitely not a replacement for a physical controller, but we sure as heck had a lot of fun playing.