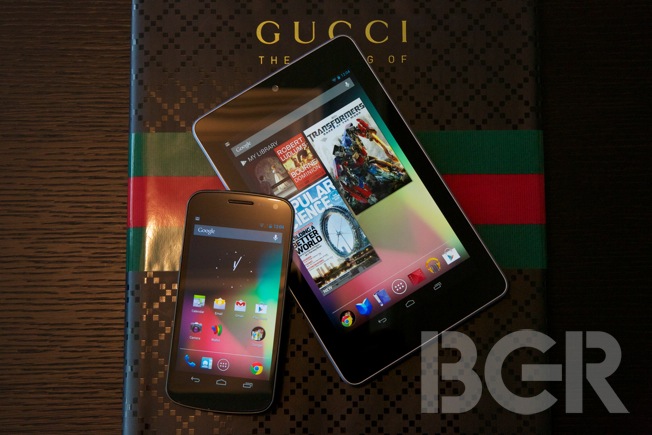 Google's entrance into the sub-$200 tablet space wasn't exactly unexpected, but I think we can all say that the Nexus 7 is pleasantly surprising. At $199, it features a 7-inch 1280 x 800-pixel display, a quad-core processor, 1GB of RAM, Bluetooth, Wi-Fi and a variety of sensors. It's also built very well at first hold. One immediate problem, however, is that the bezel around the sides is so tiny when held in portrait orientation that I keep accidentally hitting the display with my thumb. I'm not sure if you're supposed to use the Nexus 7in landscape all of the time, because the bezel on the top and bottom are much, much thicker. But! I do like the device overall, and it feels good to hold and use.







The soft-touch rubberized finish on the back is a nice texture, the screen looks good, and it's lighter than I think most people will expect. Android 4.1 Jelly Bean also brings a more cohesive feel to the party, and it's hard to think that the Motorola XOOM was launched just a year ago with how much progress Google has made since then. This isn't a review, but I can already give you a spoiler — this is by far the best tablet under $250 I've ever used. I wouldn't consider anything else at this point.
Google also sent us a Samsung Galaxy Nexus with Jelly Bean (Android 7.5.1.09.US.EA.2012) installed and honestly… I'm liking it. In fact, I like the Galaxy Nexus a lot more now that I've used the Samsung Galaxy S III, a phone that can't compare to the quality of the Nexus in terms of build.
Where software is concerned, Jelly Bean really does feel faster and finally starts to show that Google is taking user interface, user interaction, and fluidity seriously.
Google Now works incredibly well and is very accurate, although it currently lacks the ability to perform a new action based upon an old request. For instance, if you ask the weather for New York and it provides the weather for New York, and you then ask, "what about in Dallas?" it will simply perform a Google search for "what about in Dallas." It's infinitely better than Samsung's poor excuse for a Canal Street edition of Siri, though. Well, whatever the Korean equivalent of Canal Street would be.
This is a great next step for Android, and while Jelly Bean wasn't a huge upgrade in terms of new functionality and innovation, it's a big upgrade for Android devices, especially ones not watered down with manufacturers' custom skins and UIs.