Samsung is the world's leading Android manufacturer. The company's latest smartphone, the Galaxy S III, had an enormous around of hype surrounding it before the phone was even announced. A series of exclusive BGR reports painted a partial picture of the device, but Samsung went to such great lengths to keep the phone a secret that no one outside the company and its partners really knew what Samsung had in store. Now, the Galaxy S III is finally ready to hit store shelves in the Unites States — it will launch on all four major U.S. carriers beginning this month — but can Samsung's latest Android phone live up to the hype? Hit the jump for my review of the Samsung Galaxy S III.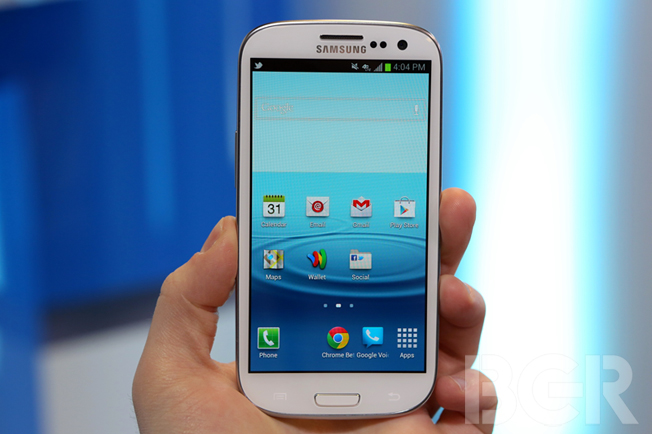 The Galaxy S III is packed with some of the latest cutting-edge specifications, things like Android 4.0 Ice Cream Sandwich, 4G LTE in the U.S., a fast dual-core 1.5GHz Snapdragon processor, 2GB of RAM, an 8-megapixel camera with 1080p HD video recording, and large beautiful 720p resolution display. Oh, that display though… It's a Super AMOLED PenTile display, and you know what that means? Regardless of the resolution, the screen will always look just a little bit worse than a non PenTile display like Samsung's Super AMOLED Plus panels, and it's noticeable.
The screen also seems less bright and less vivid than alternatives, and the dimming on it is just plain bad — the phone doesn't dim smoothly, instead stuttering a bit as it jumps from one level of brightness to the next. For the average smartphone user, the screen on the Galaxy S III will be more than good enough. Samsung's AMOLED panels are all very impressive, but I really would have liked to see a Super AMOLED Plus display on the company's flagship phone for 2012.
Looking at the front of the phone, Samsung almost mashed up the Galaxy Nexus with the Galaxy S II, which isn't a bad thing at all. It's a more rounded design, though practically the same shape as the Galaxy Nexus. The face includes an oblong home button and two touch sensitive Android keys, back and menu.
The entire phone is encased in plastic, but not just any plastic… Glossy, thin, flimsy, fingerprint-loving Samsung plastic!
While the phone does seem solid and very well-built, I can't help but think that if Samsung for once actually used a different material besides flimsy plastic, its smartphones would feel so much more high-end. It's almost funny: the company that's accused of copying Apple to a T takes a polar opposite approach when it comes to build materials.
On top of the phone, there's a 3.5-millimeter headset jack and a second microphone for noise cancellation. A volume rocker sits on the left side, and power / on / off button on the right side. Around back is an LED flash, an 8-megapixel camera and a speaker. Underneath the battery cover is a battery with integrated NFC, a microSIM slot and a microSD slot for expandable storage.
Even after using the faster Global quad-core version of the Galaxy S III for around a week, I still found the U.S. versions for AT&T and Sprint to be as quick when performing almost any task. Battery life also seems to be exceptional, and is one of the best battery performers of any Android smartphone I've used.
The new Galaxy S III features a bunch of software additions, starting with S Voice. S Voice isn't just Samsung's take on Siri, Apple's popular voice assistant service, S Voice is a cheap and borderline useless knockoff. It rarely works and when it does, it supports far fewer queries than Siri. I received network errors and unexpected crashes countless times during my tests with S Voice, and there's just no charm when using it.
There are, however, a few software features that I really like on Samsung's new Galaxy smartphone. S Beam is a great feature that lets you share photos, contact information, webpages and other information with another Galaxy S III user with an NFC connection, and there's also a photo capture mode when taking pictures to automatically tag your friends using face detection which works reasonably well.
Users get much more control and flexibility in terms of image and video capture compared to an iPhone, with burst modes, smile detection, panorama, a really innovative way to automatically share your photos with all of your friend's phones instantly called share shot, integrated photo filters and more. The camera performs well and though it includes the same sensor as the iPhone 4S, I've found that the iPhone takes better photos in terms of clarity.
Samsung's TouchWiz UI has evolved a tad, but it's mostly the same interface you've used, if you've ever used a Galaxy S II or similar smartphone.
Honestly, you can't have a game-changer every time around. I didn't like Samsung's first run of Galaxy S smartphones, but I absolutely loved the Galaxy S II (especially the AT&T version). They say greatness skips a generation, and I believe that's true with the Galaxy S III. It feels like an afterthought to try and stay competitive with Apple and other leading Android vendors.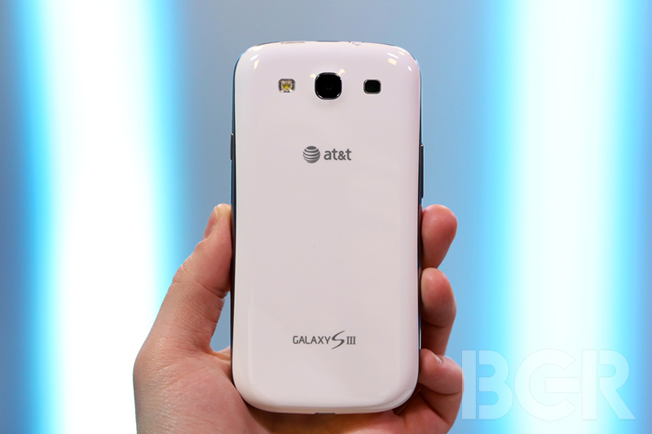 Does the world really need another Android smartphone that stuffs one-upped specifications into a borderline mediocre package? Probably not. That's not to say the Galaxy S III is a failure, it's just not good enough to hang with HTC's One X. Not in the hardware department, and not in the software department.
Samsung is absolutely on the right track with the Galaxy S III however, and I like where the company is going. We're nearing a point in time when being just another Android phone vendor won't be enough, and Samsung is look for ways to separate itself from the pack. The Galaxy S III is just the tip of the iceberg, and I think we'll see much more from Samsung in terms of unique software features in the near future.