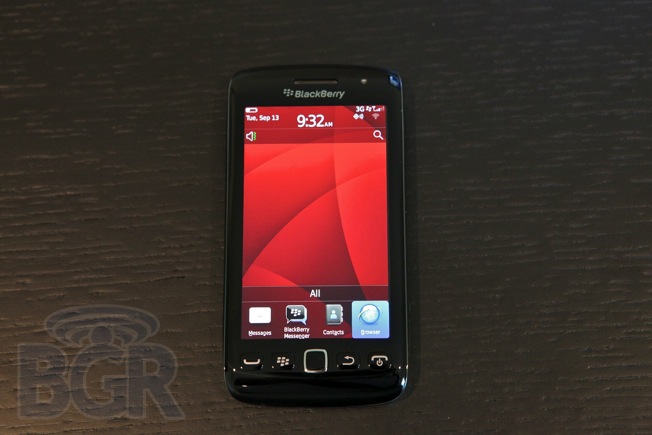 RIM didn't envision creating a touch device. Yet here we are in 2011 with the company abandoning it's prior failed attempts at making a touch-only smartphone, and instead copying the competition instead of innovating. The BlackBerry Torch 9850 is a no-frills touch phone. There's no SurePress display, thankfully — just a regular capacitive screen. The device features a 1.2GHz CPU, a 5-megapixel camera, 4GB of built-in storage, and more. Does it stand a chance at competing with the iPhone and Android devices, though? Read on for my review.








Hardware / Design
The BlackBerry Torch 9850 features specs that mirror the fantastic BlackBerry Bold 9900 pretty closely — a 1.2GHz processor, 3.7-inch touch display, sporting a 800 x 480-pixel resolution, a 5-megapixel camera with auto-focus, 768MB of RAM and 4GB of built-in storage. It's also pretty slim at 11.5-millimeters thin.
The design of the Torch 9850 could have been incredible, but RIM counters most of its sleek styling with noise and distractions. For instance, the front of the device is this one big beautiful black slab that runs from the top of the smartphone all the way to the bottom. It's like this sheet of touch sensitivity has been perfectly stretched over this awesomely-designed facade with symmetrical curves on both the top and bottom… but it gets interrupted by these hideous hardware buttons that look completely out of place. To compound matters, the buttons don't perform very well at all. It was a last minute hardware change as the phone originally sported integrated BlackBerry keys much like all of RIM's recent releases, and that would have been great if RIM was able to stick with that slick design.
The side and back of the device get worse and worse design and styling-wise. On the sides, RIM chose to use such a massive, gaudy, plastic chrome-look bezel, that the only physical buttons it could fit are these tiny, almost paper thin buttons that offer little tactile feedback. To make matters worse, RIM crammed not one or two, but three of these onto the right side of the phone — volume up, mute and volume down. Below those you'll find a dual-stage dedicated camera button for the auto-focus camera. On the left side of the phone there's a lone microUSB port.
Switching over to the back of the device, the industrial design that was too good to be true is again spoiled by poor color choices, worse material choices, and hardware placement. The battery cover cut out is reminiscent of previous BlackBerry Storm battery doors (anything having to do with the BlackBerry Storm should be wiped clean, and RIM shouldn't sell that phone anymore) and it interrupts the styling of what could have been a really smooth phone for the touch world. There are no charging contacts on the Torch 9850 so those awesome charging cradles won't work, though RIM sells one you plug the phone into when it's in landscape.
As far as touch goes on RIM's first all-touch device (remember, I refuse to acknowledge the BlackBerry Storm since it has a SurelyPressed the wrong button screen), it's pretty horrible. Let's start with the physical screen itself.
First off, there's no oleophobic coating on here, so grease and fingerprints get picked up very easily and it's pretty difficult to wipe off. But worse than that is the material RIM used for the display; it feels completely different than the screen on the BlackBerry 9900. This screen feels like cheap plastic and it doesn't allow your fingers to glide over its surface smoothly… at least not like other touch devices such as the iPhone 4 or Motorola DROID BIONIC, both of which use Gorilla Glass (Apple is rumored to). It's another example of how RIM's poor R&D management and foresight have affected not just the types of products it makes, but their quality as well.
I do like the integrated lock / unlock button on top of the device, though.
Software
Oh boy. The good thing about this section is that the OS isn't vastly different from previous BlackBerry operating systems. In fact, not much has changed at all in terms of significant user-facing elements. That means it's a frustrating experience all around. The Torch 9850 sports an outdated OS, the worst App ecosystem and selection, mind-numbing quirks and issues, all on a platform that was not ever made to be used on a touch screen.
Nothing makes sense at all. Why is there a mouse cursor on an all-touch device in the web browser? It's the equivalent of shipping a stylus. Why can't I successfully use an Exchange account without having a BlackBerry Enterprise Server? Why can't I sync my Google account in addition to my Exchange account once I use a BlackBerry Enterprise Server? Here's another example of something that irritates me: on smart smartphone platforms, when you're erasing text, the speed at which your text will delete will start off slow and then speed up faster and faster since the system knows you're erasing more than a few characters. This doesn't happen on the BlackBerry Torch 9850, and it's just one of a hundred little things that combine to form a user experience that really isn't competitive at all.
Keyboard
This is an all-touch device, and as such, so a touch keyboard is your only method of inputting text. It better be damn good, right? Well, the keyboard on the BlackBerry Torch 9850 is probably the worst touch keyboard I think I have ever used. I actually think the keyboard on the Storm was better than this.
In portrait mode, forget about it. It's useless. Combined with RIM's horrible auto text correction and suggestions, in addition to the look and feel off the keyboard, it's just not a winner. "Haha" becomes "Bags", "thats" doesn't replace with "that's", and so on. And as far as the design, it makes no sense. On such a cramped layout, why would you waste space adding two shift keys — one on either side of the keyboard — just to do it? Why is there a dedicated comma key and period key? The worst is part is that the keyboard only has two layout configurations that I have found; one for the standard layout, and one for the web browser. As an example, typing in the "to:" field of an email is apparently the same as typing a message to a BlackBerry Messenger contact — the keyboard key placement doesn't change as it would on other platforms to make commonly used keys more readily available in each scenario.
Phone / Battery
I like the phone app on the Torch 9850 a lot, especially when lightly customized. Having it open right to the dial-pad is fantastic, and I love the layout of the dial-pad, too. It's huge and almost monolithic. There are only three soft tabs here: the dial-pad, call log and contacts. I'm not going to dive deep into the phone app as it will upset me and ruin one of the only things I like about the BlackBerry 9850.
Battery life on the 9850 seemed quite good, though I didn't talk much on the phone. Instead, I used it for emailing, BlackBerry Messenger, some web browsing and calendar functions. The phone easily could power through a day of this type of usage, and like most BlackBerry smartphones, the standby time is absolutely ridiculous.
Conclusion
Look, the tech-minded among us get caught up with raw specifications all the time, but the fact is, the experience is what sells to the general consumer and to most people. RIM doesn't only miss the mark on both counts with the BlackBerry Torch 9850, the company demonstrates once again that it has no idea where the mark is or where it will be in the future.
It's well chronicled how and why RIM has failed to stay competitive in the smartphone market, but what's so shocking is that the BlackBerry Torch 9850 is basically little more than a Storm 9550 without the SurePress screen, which is nothing more than a lame, misguided attempt at trying to compete with Apple.
The reason I'm being so harsh, and the reason my views on the BlackBerry 9850 are so different than the BlackBerry Bold 9900 (which I loved), is because these are two different arenas. The Bold 9900 is what a BlackBerry is about. The Torch 9850 is a device RIM did not ever envision making, and it is manufactured to compete directly with the number one and number two touch smartphone platforms in the world. It doesn't compete. It feels like a feature phone compared to the BIONIC and iPhone.
If for some reason I was forced to either use RIM's BlackBerry Torch 9850 or the first-generation iPhone as my daily phone, there's no question what I would choose: the iPhone. Don't forget that Apple's first smartphone received iOS 2.0, one that brought the App Store, Microsoft Exchange support, and many more features that RIM still can't compete with from several years ago.
If you're a BlackBerry fan with Verizon who just has to have an all touch device, the $200 BlackBerry Torch 9850 is obviously your only choice but it's a pretty terrible one. Do yourself a favor: duct tape your busted old Curve back together and hold out for the BlackBerry Colt.