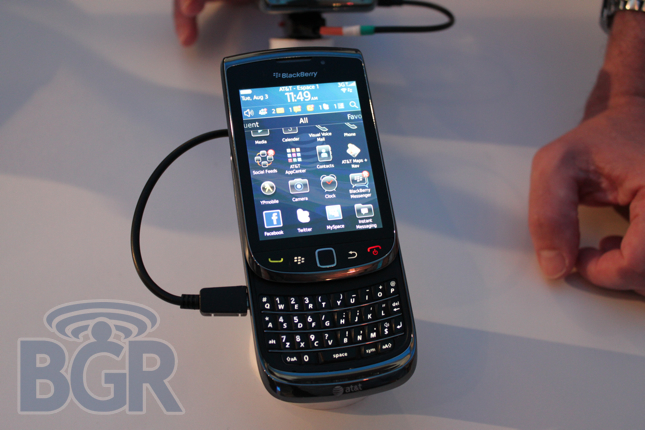 We wrapped up the RIM and AT&T event with some hands on time with the just-announced though hardly-a-secret BlackBerry Torch 9800. Here are some first impressions:
The hardware (casing, build quality, feel) is typical RIM — it's great. Very solid, actually a bit heavy, but a very good feel. The sliding mechanism is top notch.
The software is typical RIM — uninspired, old, clunky sometimes, and cluttered. Even with the new UI elements in OS 6, we experienced choppiness in the web browser, hangs navigating between screens, and a general feeling of well… claustrophobia on occasion. The simplified BlackBerry now sort of feels like too much has been added without thinking of the ramifications.
The keyboard is perfect — just like a Bold 9700, and it seems to not be dug in the slider mechanism, unlike the Palm Pre.
The internals of the BlackBerry Torch 9800 are disappointing. From the 624MHz CPU to only 512MB of RAM, to (sorry, confused RAM with built-in storage) the 1300mAh battery, it has us a little worried as it feels like the hardware is pushed to the max. On a brand new phone. That's not even out yet.
The screen is laughable. For a company that is always "planning three years out" they surely didn't get the memo that a 480×360, poor, poor LCD wasn't going to cut it in 2010. That's the focal point of the entire device, and it makes you feel outdated out of the gate.
All in all, we came away with mixed emotions. On one hand, OS 6 is a much better UI leap from OS 5 than OS 5 was to OS 4, but it still feels a bit not thought out. On the other hand, the device seems like it will continue to excel at specific functions, mainly email, any sort of text-based messaging, etc. My personal thought so far is: this is a stop gap device for current BlackBerry users… and that's an issue. iPhone 4 or recent Android owners won't be lusting after the 9800, and that's never a good thing. We have some images in our gallery for you BlackBerry fanatics to drool over!
Click on over to our BlackBerry Torch 9800 hands on gallery!