The year's busiest holiday shopping season is already upon us, with tremendous deals to be had at every turn. Whether you're angling for a new Apple Watch, a new iPhone 7 or even a new HDTV, there are no shortage of incredible Black Friday sales consumers can take advantage of at retail locations like Target and Best Buy.
Of course, one frustrating downside to Black Friday sales is that they often attract massive crowds, forcing shoppers to endure what can sometimes be excruciatingly long and frustrating lines. At some stores with particularly good deals, it's not uncommon to see people begin to queue up hours in advance, all to ensure that they can get their hands on whatever newfangled device they have their eye on before anyone else.
DON'T MISS: T-Mobile has some of the best Black Friday deals we've seen
In an effort to save consumers some trouble from trekking out to a store only to be swallowed up by an unforgiving swarm of holiday shoppers, Google recently added a new software enhancement to its Maps software that lets users see how busy a particular store is in real-time.
Just in time for the Black Friday swarms, we're adding a real-time look at how crowded a place is right now, to help you decide where and when to go. Whether you're rushing to pick up a last minute gift or seeking a lively bar for some festive spirit, check Popular Times for a sneak preview of what to expect when you arrive.
As evidenced via the photo below, there's now a 'Live' button that appears above the standard "Popular times" section of a given listing.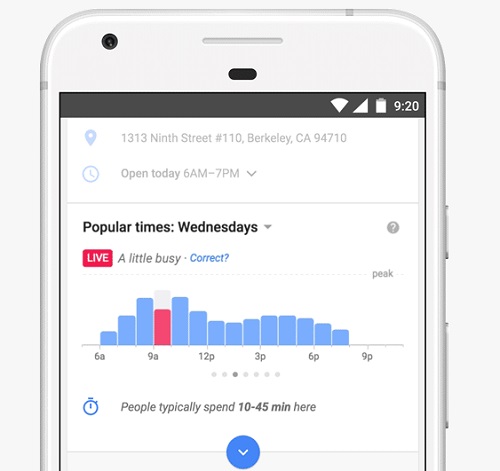 "The feature uses anonymised location data from other Google users, as well as searches, to analyse how busy it is at that moment," The Guardian adds. "While predicted busy times from historic data is generally useful, at sales times or when transport conditions are less than ideal, the flow of people might increase at normally quiet times."
If you're brave enough to step out into the real world come Friday, you might want to rely on your ole' buddy Google before deciding where to head off to.