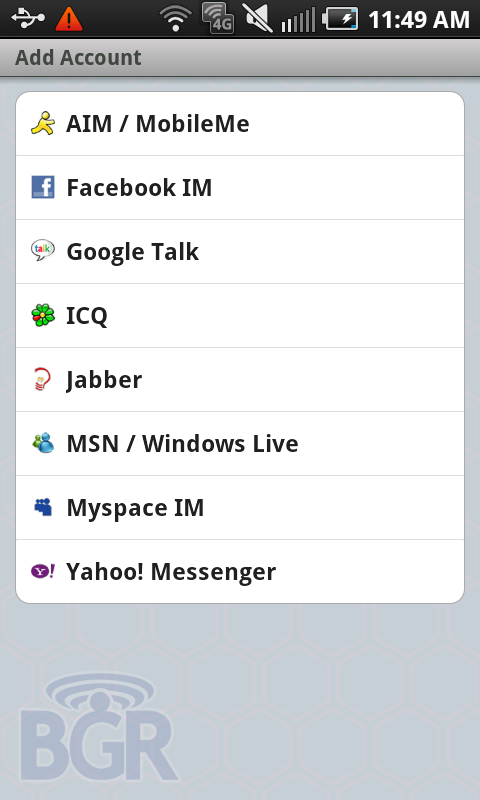 It seems like every single Android user that's moved from their iPhone or BlackBerry handset is saying the same thing: Google Talk is great, but our other Instant Messaging options are terrible. There's also a good chance they're actually asking for Beejive IM by name, and today, that will finally change. Set to debut in the Android Market later this afternoon, Beejive IM for Android will come out swinging at $9.99. I've been using it in beta form and now final form for weeks, and here are my impressions.
First off, if you've ever used Beejive for a different platform, you're going to immediately feel at home. The account sign-in screen is pretty straight forward, and once your login details are entered, you are off and running. Or IMing. What's great about this app is that it's not only incredibly reliable (something Beejive has perfected ever since it started as a BlackBerry developer), but it's intuitive, and it even matches the iPhone version pretty closely feature by feature. Sending and receiving photos, videos, audio notes, and other documents is all supported, and Beejive can also make use of Android's push capability on Android 2.2 + handsets.
Something unique about the Android version, however, is a nifty little pull down conversation drawer. Just like Android's system-wide notification drawer, the conversation drawer gives you the ability to quickly and effortless switch between your open conversations. All in all, what we have used is hands down the best Android IM app created, better than even AOL's official AIM app. If you have been waiting for real instant messaging every since the T-Mobile G1 came out, you don't have to wait too much longer.
Disclosure: Beejive helped develop and launch TweetGenius, a Twitter application for BlackBerry smartphones, with BGR.