LG has a sense of style around them. The Chocolate, the Prada phone, and the Shine immediately come to mind when we think of them. The new LG Trax takes styling cues from all over the manufacturers diverse line up. It's glossy, it has a metal kind of vibe to it, and it looks real sharp. While not the most high-end phone AT&T offers, we think it's a great entry-level phone for those of you that want to take advantage of the Video Share service, or just some straight 3G action. Sadly, we did not get a chance to try out the Video Share service yet, and while it's mostly a novelty for now, we can see this really taking off when AT&T extends it across their whole product lineup and releases a full 2-way video chat client. How does the LG Trax perform, though? Is it stable? Ah, the answers my friends, are…after the jump. And no, this isn't an episode of American Idol…
Phone:
Phone quality and regular GSM/EDGE reception actually fared pretty well. Calls were crisp and clear. We really would have liked the 3G reception to be a bit better, though. I guess we've been spoiled by the Samsung Blackjack…
SMS/MMS:
Texting wasn't a problem. Messages came through quickly, and while T9 might have been created by the devil, we had no problem bangin' out short texts to friends thanks to LG's quick entry method to the dictionary. Over 3G, Picture Messages sent almost instantly.
Instant Messaging:
We can't call it…it is just IM at the end of the day. Nothing groundbreaking, nothing amazing, yet it worked rather well. Is this an SMS-based app or data? One problem, at least that we saw from our brief tests, were that even though multiple IM networks are offered (AIM/Live Messenger/Yahoo), you can only log in to one at a time. It did give us loud alerts which ensured excitement every time we got an IM.
Keypad:
The keypad was usable. Keys were decently spaced, offered good tactile feedback, yet we found the center button of the directional pad to be very annoying. Why? It's linked directly to AT&T's MEdia Net page. We got the fake out numerous times thinking it would bring up the menu. As you can see in the above photo, there are for application keys around the center select button. Pressing the top key takes you right to compose a text or picture message, pressing down brings you to your contacts, pressing left opens "My Stuff" which contain your games, apps, ringtones, pictures, etc., and finally when pressing the right key, it takes you to the Instant Messaging application.
Camera:
The camera ain't much to write home about. A now standard 1.3 megapixel camera lens graces the exterior of the LG Trax. Pictures were average but shutter speed was pretty zippy. We're not mad at it.
Cellular Video: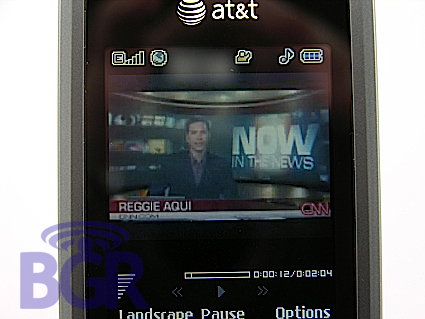 While the Trax had a bit of trouble holding onto a 3G signal, AT&T's Cellular Video service still worked extremely well even over EDGE. Video buffered and played real fast, and quality was good. In addition to viewing video normally, there's also an option for "landscape" mode, yet it looks a little awkward when you're walking around watching video on your cell phone while holding it sideways.
Screen:
It looks like the actual screen is pretty clear, definitely glossy, most like clear but, LG's UI really messes it up for us…Time to enter 2007, guys. We'd rather use Motorola's old Synergy OS
Speaker:
Speaker volume on the LG Trax had us pleasantly surprised. While on a call both parties could hear each other clearly using speakerphone. Music playback sounded great, with decent high, mid, and low reproduction. Pretty loud, unlike a certain other cellphone we know off…
Exterior:
The Trax exterior looks sharp and isn't by any means confusing. There's a volume up/down key on the left side, and beneath it there's a dedicated camera button which will launch the camera application, and take the quick flick. Finally it's followed by the headset/charging jack. On the right side, all we have is a microSD slot.
Conclusion:
The LG Trax definitely packs a punch in the feature department. Camera, Video Share, 3G with HSDPA, quad-band EDGE, a loud speaker, and a decent messaging client make it pretty appealing to the entry-level 3G buyer. Making calls sounded great and having 3G on a decently-sized phone is nice. We just wish that LG would upgrade their OS because it really is starting to age. Also, web browsing wasn't the greatest experience either. It wouldn't be our first pick when we walked into an AT&T store, but then again, a lot of people have been asking us about the Trax, so go figure.
Thanks, AT&T!
How do we rate the Trax, though? We're giving it 3.5 BGs!