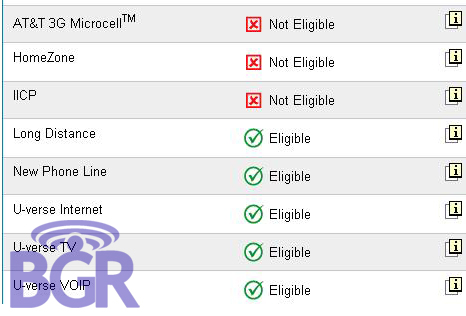 Trials supposedly were underway months ago, but it looks like the launch could be literally around the corner. One of our faithful AT&T ninjas sent us in a screenshot that shows an AT&T 3G Microcell femtocell option in addition to AT&T's broadband and TV service, U-Verse. We don't have a date on this yet — we'll continue to dig — but appearing publicly on employee's screens is always a good sign!
Thanks, Kal!
UPDATE: Another AT&T 3G Microcell shot, this time showing the unit in the POS system (Point Of Sale). It can't be that far away, guys. Thanks to one of our anonymous peeps on this shot!
UPDATE 2: Well, it wasn't that far away at all. At least in terms of showing up on AT&T's site… We added the info after the break.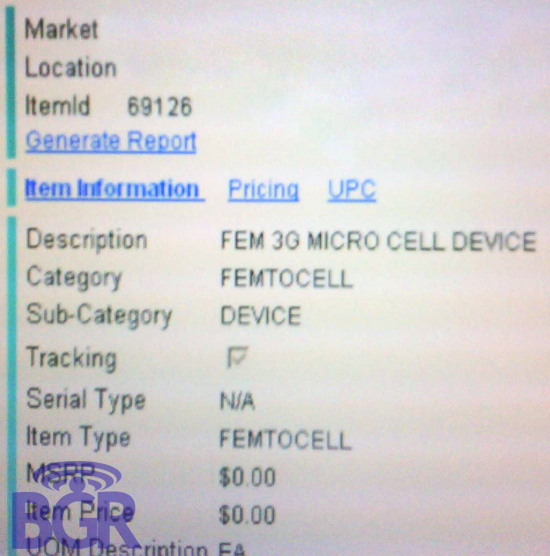 What is an AT&T 3G MicroCell™?
AT&T 3G MicroCell acts like a mini cellular tower in your home or small business environment. It connects to AT&T's network via your existing broadband internet service (such as DSL or cable) and is designed to support up to 10 3G capable wireless phones in a home or small business setting. With AT&T 3G MicroCell, you receive improved cellular signal performance for both voice calls and cellular data applications, like picture messaging and surfing the web for up to 4 simultaneous users.
Device Features:
* Enhanced coverage indoors – supports both voice and data up to 5000 square feet.
* Available unlimited minute plans – Individual or Family Plan.
* 3G handset compatible – works with any AT&T 3G Phone.
* Up to 4 simultaneous voice or data users supported.
* Device is secure – cannot be accessed by unauthorized users, easy and secure online management of device settings
* Seamless call hand-over – start calls on your 3G MicroCell and continue uninterrupted even if you leave the building.
Device Requirements:
* 3G wireless phone/device
* Broadband service over DSL or cable
* Computer with internet access for online registration
Additional Information:
* Installing your device near a window is strongly recommended to ensure access to Global Positioning System (GPS). A GPS link is needed to verify the device location during the initial startup.
* The 3G MicroCell device is portable. The device may be moved, provided the new location is within the AT&T authorized service area and properly registered online.