When Pixar's Elemental first hit theaters back in mid-June, my Twitter feed felt like it was overrun with fawning praise from theatergoers who'd ventured out to see the animation studio's 27th feature film, set in the fictional world of Element City. That's where the four elements of fire, water, land, and air live together and where an independent-minded young woman named Ember (fire) embarks on a friendship with Wade (water) that "challenges her beliefs about the world they live in," according to Elemental's official synopsis.
The early praise from audiences, however, stood in marked contrast to Elemental's opening weekend performance — the second-lowest domestic box office in the studio's entire history, leading to an early surmise that the new film looked set to be a flop. I certainly fell into that category.
The tepid opening weekend even caused me to wonder once again whether Pixar's best days are behind it (they're not, and I was also wrong about Elemental).
Sure, the new movie — which also happens to be the first rom-com from Pixar — only managed to grab $29.5 million domestically during its opening weekend (despite it costing more than $200 million to produce), a far cry from the glory days of 2018's Incredibles 2. The latter is Pixar's top-grossing film overall, which pulled in $182.3 million during its opening weekend. The only Pixar movie in the studio's history that had a lower domestic box office than Elemental during its opening weekend?
That would be none other than the original Toy Story, which scored $29.1 million and is also probably an unfair comparison for Elemental (since Toy Story was the very first film to originate from Pixar, back in 1995, and had a unique hill to climb).
However, old and flawed assumptions must be corrected, because look at where Elemental stands now:
After more than a month since its release, Elemental is approaching the $150 million mark as of this writing. In other words, it's gone on to earn more than 5x its opening-weekend haul. Moreover, it's expected to reach $400 million internationally sometime this week. And according to a CNN report, Disney's final projection for this latest from Pixar is now somewhere around $430 million.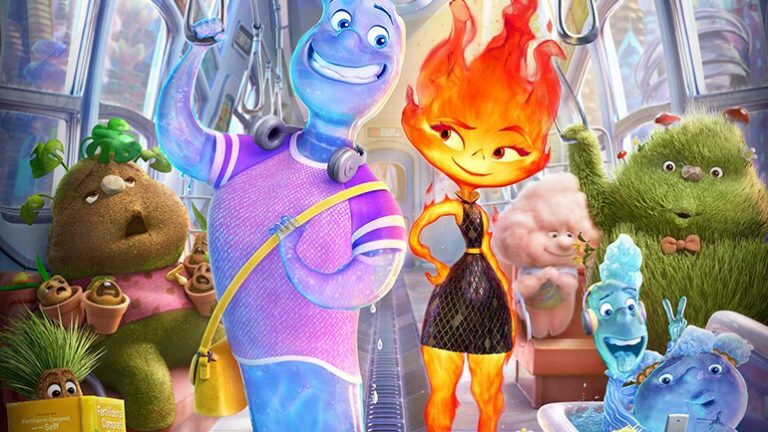 Granted, that's still quite shy of the $1 billion payday that Incredibles 2, Finding Dory, and Toy Story 3 and 4 all managed to score. But Elemental's steady climb nevertheless proves at least two things:
1) Anyone who called it a flop upon release was wrong.
2) Also, Pixar/Disney audiences can still be wooed back to theatres, contrary to some concerns that too many Pixar releases that went straight to Disney+ had possibly "trained" audiences to stay home going forward.
The slow and steady climb Elemental has enjoyed at the box office, by the way, also tracks with solid word of mouth. As of this writing, Elemental has a pretty stellar 93% audience score on Rotten Tomatoes.
"#ELEMENTAL is adorable, and basically the My Big Fat Greek Wedding of Pixar movies," one Twitter user raved. "I do hope a lot of fathers and daughters watched it together today." Added another:
"You guys NEED to see Elemental. It is easily one of Pixar's best movies. I laughed and cried. It was so so good. The girls loved it too."
As for what's next from Pixar, it has two movies already teed up for 2024 — Elio, coming on March 1, and Inside Out 2, releasing on June 14. In addition to Pixar's 1-2 feature films every year, the studio's first-ever TV series is also coming soon (Win or Lose, about a middle-school softball team, debuts on Disney+ in December). Another unannounced TV series is reportedly in the works, not to mention all the Pixar shorts for Disney's streamer.