Netflix has been canceling series at a pretty steady clip in recent months, abruptly killing off shows that had some pretty hardcore and engaged fanbases. One of those series was the 2-season Warrior Nun — created by Simon Barry, and adapted from Ben Dunn's comic series — that racked up enough viewership to spend multiple weeks on Netflix's global Top 10 chart. Ultimately, though, Netflix wasn't happy with the numbers it saw internally and decided to end the show in December.
Since then, Warrior Nun fans have, shall we say, refused to let this go. The engagement online continues apace, with fans strategizing about how to save the show. Some are begging Apple TV Plus to pick it up. Offline, supporters have also paid for a billboard in support of the show … which now stands outside Netflix's office in Los Angeles.
With all of this continued interest in the series, I decided to put a question to OpenAI's popular new AI chatbot ChatGPT, which has electrified the tech industry. My prompt for the chatbot was as follows: Imagine that you're the creator of Warrior Nun — write a real ending for the show, as if Netflix had never canceled it.
A real ending for Warrior Nun, courtesy of ChatGPT
You can check out ChatGPT's pretty interesting 230-word response below, which breaks down how it thinks Warrior Nun should have ended into four buckets that deal with Ava's origin and powers; the conflict with the Order of the Cruciform Sword; the future of the Warrior Nuns; and the resolution of various subplots.
Now, granted — the multi-part response below doesn't offer much in the way of specifics. But maybe a reply like this will help you better understand why estimates say the chatbot got more than 100 million users in January, just two months after its launch. That also makes ChatGPT the fastest-growing app in history, having easily surpassed TikTok and Instagram.
Check out the full response that ChatGPT gave me below: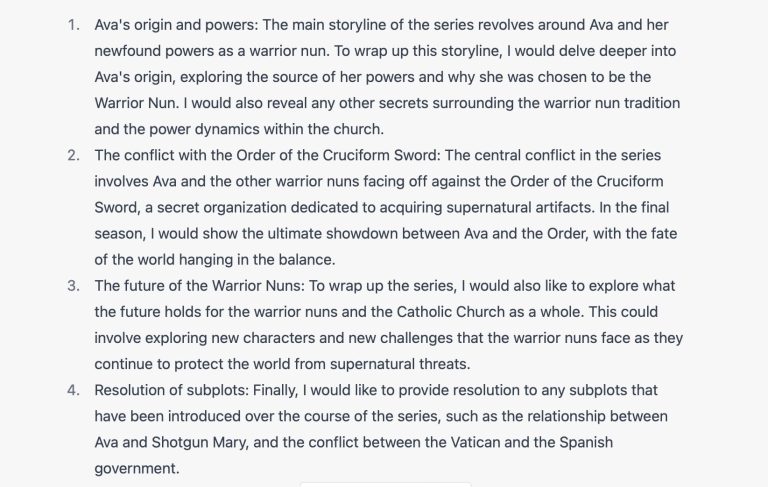 'A satisfying conclusion for fans'
This next part will surely read as bittersweet to fans of the show who are still crushed by Netflix's decision, but here's how ChatGPT ended that long answer to me, in summary:
"While this is just one possible way I could imagine wrapping up the storyline of Warrior Nun, the most important thing would be to provide a satisfying conclusion for fans who have invested their time and energy into the show" (insert the sad emoji of your choice here).
As yet another indication of how committed fans are to a revival of the series, more than 113,000 people have signed a Change.org petition calling on Netflix to reverse its decision and give the show a Season 3.