Surrounded by some of the biggest, most impressive RPG releases in years, a retro-inspired, turn-based role-playing game would need to make quite an impression to stand out. Thankfully, that is exactly what Sea of Stars has done in the lead-up to its launch. Anticipation for Sabotage Studio's latest title has been building for three years, and at long last, retro RPG fans will have a chance to dive in when the game releases later this month.
What is Sea of Stars?
Heavily inspired by classic RPGs like Chrono Trigger and Illusion of Gaia, Sea of Stars is a turn-based RPG that blends retro aesthetics with modern game design philosophies. You'll play as a party of characters who are on a quest to stop an evil alchemist from unleashing monsters upon the world. Along the way, you will meet new characters who can join your party.
Combat is turn-based, but like Super Mario RPG or the Paper Mario titles, you can increase the damage you do and decrease the damage you receive by pressing the action button in sync with the animations. You can also set up combo attacks with multiple paty members and use specific skills to stop enemy attacks. Plus, there are no random encounters.
One of the ways that Sea of Stars separates itself is by giving the player the freedom to explore the stunning world by swimming, climbing, and jumping around the environment. And when you aren't fighting off monsters, you can fish, sail, cook, or sing.
Sea of Stars price, release date, and platforms
Sea of Stars launches August 29, 2023, on Nintendo Switch, PlayStation 4, PlayStation 5, Xbox One, Xbox Series X|S, and PC for $34.99. There don't appear to be any big preorder bonuses or preload options at the time of writing, but Sabotage Studio and iam8bit are teaming up to release a physical copy of the game for PS5, Xbox, and Switch in early 2024:
Notably, Sea of Stars will also be available on Xbox Game Pass and the PlayStation Plus Game Catalog for Extra and Premium subscribers on launch day. If you're already paying for either of those memberships, you can download and play the game for free on August 29.
Sea of Stars file size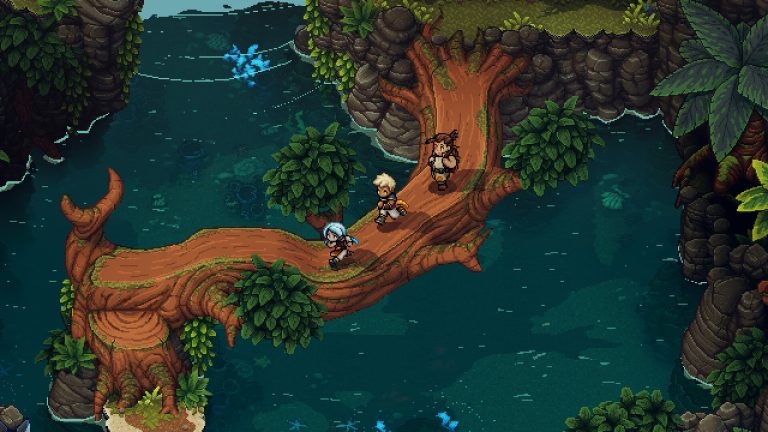 Even if your console or PC storage is filled to bursting with games like Diablo 4, Starfield, and Final Fantasy XVI, you should still have room for Sea of Stars. Nintendo's eShop lists the file size at 3.9GB, while Steam says you'll need 5GB of available space.
Is there a Sea of Stars demo?
Sabotage Studio has released a demo for Sea of Stars on every major platform. If you want to try the game before you buy it, download the demo from these digital stores:
"While this demo features areas that will be part of the final game, we made sure to pick a slice that did not reveal any major spoilers from the main story," the developers explain in the demo's synopsis. "It is designed to give a hint of context, but mostly showcase some gameplay systems and mechanics around the game's main pillars."
Want to know how the game was made?
If you want to see behind-the-scenes footage of the making of Sea of Stars and interviews with the developers, be sure to watch The Escapist's documentary: