As massive of a hit as Pokemon Go was when it launched last summer, no one expected it to have much staying power. As the year went on, the game's daily active user count fell rapidly, but appeared to level out near the end of the year. That said, it's still hard to fathom just how many people played Pokemon Go.
According to a new comScore report, Pokemon Go peaked with 28.5 million users in the United States on July 13th, 2016. That just one week after the game launched — a stunning feat for any app. By the end of the month, that number had fallen to around 20 million users and dropped to 10 million by September: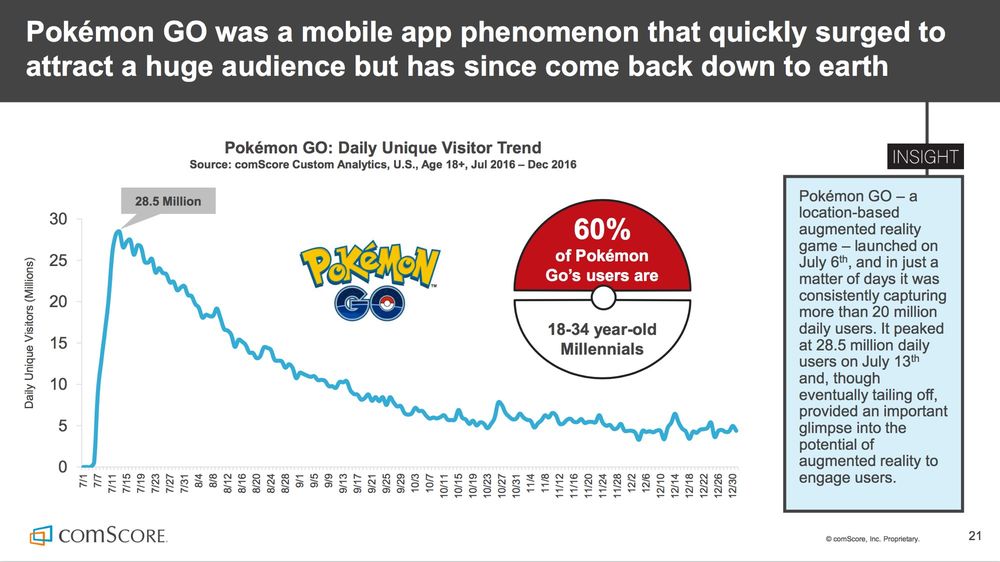 As you can see in the chart above, Pokemon Go dipped all the way down to under 5 million daily active users in the US before seemingly leveling out around the holidays. While Niantic certainly would have preferred to be able to maintain the unprecedented momentum that the app received in its first month, five million users is still nothing to scoff at. Even if that number has shrunk further in 2017, it's still an achievement.
The question now: Can Niantic stabilize Pokemon Go in the long term? The addition of Generation 2 Pokemon earlier this year brought millions of players back to the game, and introducing Shiny Pokemon during the latest event was a smart move, but players want more from the game's developers.
Once Niantic finally brings trading and improved gym battles to the game, it might be able to build a larger, more stable user base. Now we just have to see if Niantic can push those updates out in time.