We were so impressed by the massive catalog of games that Microsoft showed off at E3 2018 this year, we almost forgot that team Xbox has an interesting non-gaming feature in the works as well. On Monday afternoon, Xbox Insider team lead Bradley Rossetti announced on the Xbox Wire that Xbox Insiders will finally be able to go hands on with the Xbox Avatar Editor that the company revealed last year. The rollout begins later today.
This won't be a full release, but rather a beta for the Xbox Avatar Editor, letting Insiders get a head start on creating their own custom Xbox Avatars. The editor app will include "a selection of customizable appearance and closet items in each category," with additional accessories, clothing, and more set to be unlocked regularly.
As Rossetti explains, the new Xbox Avatars include "an unprecedented amount of inclusive customization options," from a wide range of body types to gender-neutral clothing that can be placed on any avatar. And the new editor gets granular as well, allowing you to customize fingernails, limbs, makeup, nose rings, and even moods.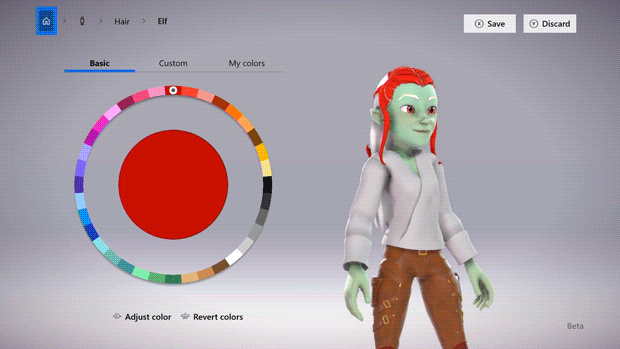 The editor also features a color wheel with over 16 million color options which can be applied to virtually everything on your avatar, from skin tone to hair to wearables and more. With so many color options, you'll almost certainly never be able to find the exact shade again, but all your recent colors are saved under "My colors."
Once you've created an avatar you're satisfied with, you can head to the Photobooth in the editor to take a picture of your avatar that you can use as your Gamerpic. As you'd expect, there are plenty of poses to choose from.
Microsoft still hasn't announced a release date for Xbox Avatars, but the Xbox Avatar Editor beta should begin rolling out to Xbox Insider Alpha and Alpha – Skip Ahead members by 12:00 PM PDT.