We're still talking about Avengers: Infinity War and Avengers: Endgame five years after the former's premiere because the events in these movies reshaped the MCU into what it is today. They were highly consequential, and we're still exploring the aftermath of the Avengers fighting Thanos (Josh Brolin) over the span of five years. And from time to time, I see plot hole theories emerge for both Infinity War and Endgame, which I routinely address.
That's because the two movies do not have any plot holes. I can explain it all away with ease, including this hilarious Doctor Strange (Benedict Cumberbatch) Infinity War plot hole that went viral on Reddit. The wizard could have severed Thanos's hand on Titan, thus stealing the Infinity Gauntlet right away and stopping the villain from winning. Expect spoilers from the MCU Phase 5 movies and shows that followed Endgame below.
A Redditor posted a hilarious comparison between the way Doctor Strange fought Cull Obsidian (Terry Notary) early in Infinity War, and his fight against Thanos.
Yes, Strange closed a portal right in time to sever the hand of Cull Obsidian. That hand, by the way, ended up in possession of the Department of Damage Control (DODC), and the Skurlls have used it for their Super Skrulls program in Secret Invasion.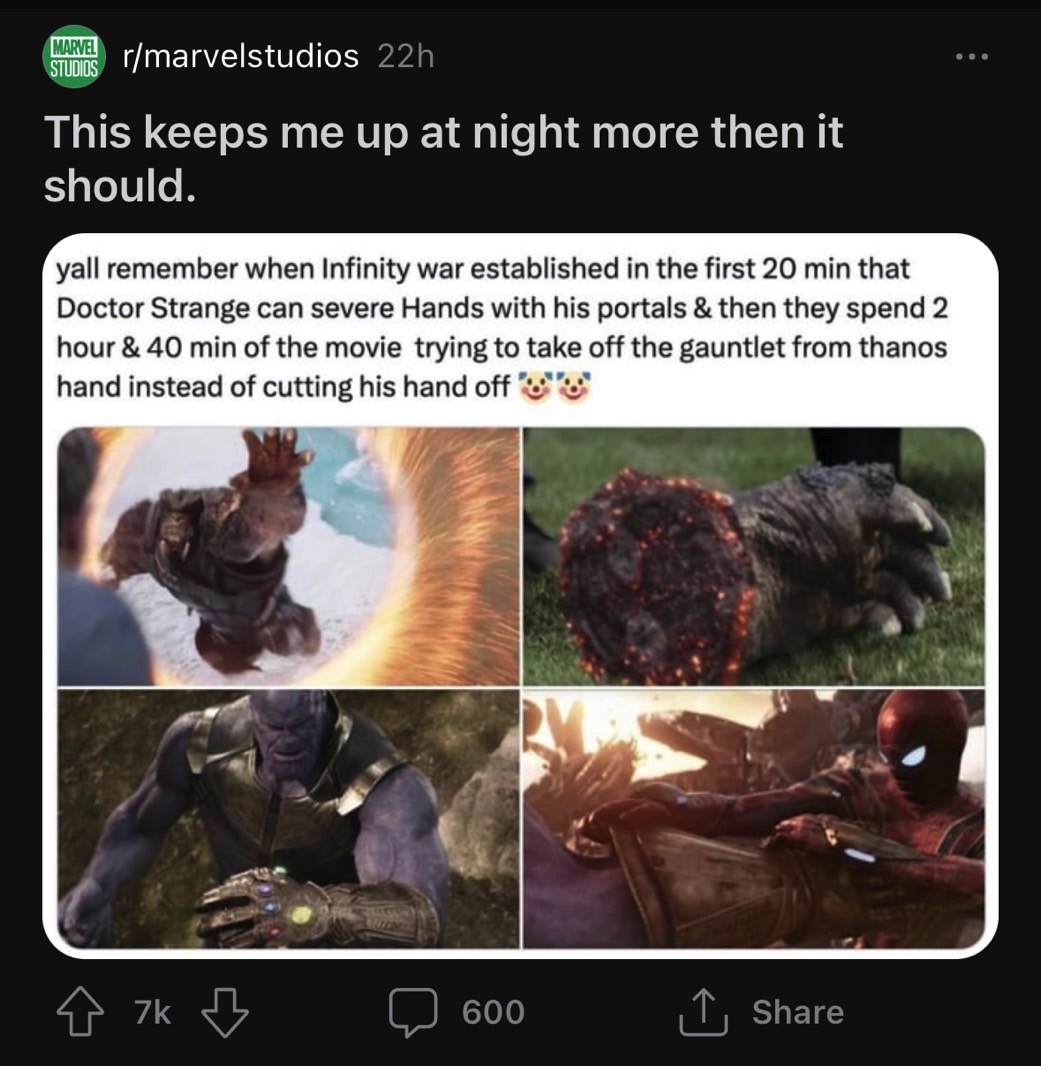 The Reddit post above says that Doctor Strange could have pulled off the same trick on Titan to cut Thanos's hand and finish the job. That is true, in theory, just as Peter Quill (Chris Pratt) could have decided not to wake the Mad Titan from his slumber early. Or how Doctor Strange could have made Thanos forget his lifelong mission.
When you look at everything like that, the Avengers' inability to kill Thanos is a huge Infinity War plot hole.
But you're forgetting the thick plot armor that Marvel played upon both Infinity War and Endgame.
There is only one way for the Avengers to win
Before Doctor Strange has a chance to cut Thanos's hand off in Infinity War, he looks into the future to see how they can beat him. He finds only one win in over 14 million alternate endings.
The only way to beat Thanos and save the universe is for the Avengers to follow the path laid out for them in Infinity War and Endgame. That means no making Thanos forget his mission and no cutting off one of his hands. It also means that Quill has to wake Thanos up. That the Avengers have to lose and then go through five years of grief before they can beat a different Thanos.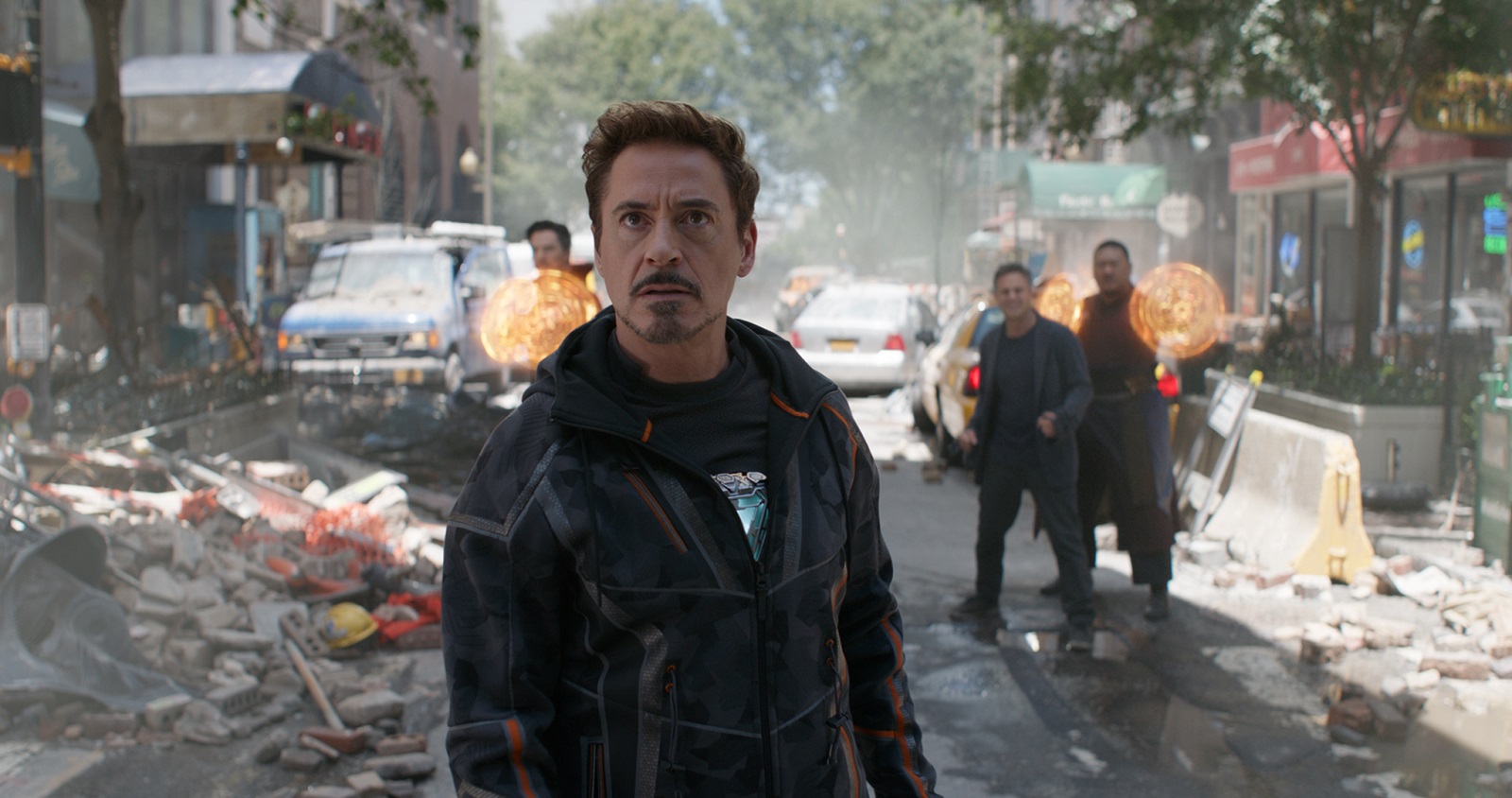 There is no other way, so Doctor Strange never tries to cut Thanos's hand. Not that it would have been easy. Instead, Strange did what he knew would work, at least when it came to his specific actions.
That's why the Infinity War plot hole above is not a plot hole. And why there aren't any valid plot holes in either Infinity War or Endgame.
It was Kang all along
The whole "one way" to win might seem like a lazy tactic from Marvel to get the story it wanted to tell without worrying about logic issues. And it is, at least until you see Loki. It's in that TV show that we learn Loki (Tom Hiddleston) and Sylvie (Sophia Di Martino) end up before He Who Remains because the latter placed them on that path. And he ensured they'd follow it accordingly every step of the way.
Everything that happened in the MCU until that Kang variant dies is meant to happen that way, including the events in Infinity War and Endgame. The Avengers have just one way to win because that's the win that Kang drew out for them. Doctor Strange only observes it, not knowing someone is pulling all the strings.
Kang could have set up a different course of events, of course. One where Thanos doesn't win. But he needed this event to happen in this particular order for the timeline to advance.
Remember that Kang must also ensure that at least one Kang variant gets born in the distant past. And that variant has access to advanced tech, including the timeline travel tech that Iron Man (Robert Downey Jr.) invented in Endgame.
After seeing Loki, Infinity War and Endgame make even more sense. And plot holes like the one above can be easily dispelled.