Guardians of the Galaxy Vol. 3 opens in theaters next week, with lucky fans set to see the movie in early screenings this Friday. That's probably when we'll know exactly which Guardian will die in the story, something Marvel has been trying to conceal since shooting the movie. Marvel might have some fans worried that a certain character's death is inevitable, but that's probably the studio just misleading fans. Because spoilers fans already know which character will die in Guardians of the Galaxy Vol. 3.
That said, one Guardians Vol. 3 star indirectly confirmed their character would survive whatever happens in the new story. We'll tell you all about it below, but you should know that big Guardians of the Galaxy Vol. 3 spoilers might follow.
Guardians of the Galaxy Vol. 3 is a story where the Guardians will have to hustle to save the life of Rocket (Bradley Cooper). We know as much from the film's official synopsis. And Marvel has confirmed the plot detail again via various Guardians Vol. 3 scenes it posted on social media in the past few days. That's how Marvel implies that Rocket's life is in danger, trying to hide the actual death.
The only way to save Rocket is to meet his maker, the story's main villain, the High Evolutionary (Chukwudi Iwuji). But it's not Rocket that will die in the movie.
All the leaks point to a different character's death. That's Drax (Dave Bautista), a character Marvel hasn't paid enough attention to so far. Dave Bautista already said he's done with the Marvel role, which seems to imply that his character is dead.
That's not always the right conclusion, however. Chris Evans said goodbye to his Captain America role well before Endgame, prompting speculation that Steve Rogers would die. That wasn't the case. But, unlike Rogers, Drax's death appeared in various Guardians of the Galaxy Vol. 3 leaks.
The Guardians of the Galaxy Vol. 3 character who won't die
Like Bautista, Zoe Saldana commented on her future as Gamora in the Guardians of the Galaxy franchise and the larger MCU storyline. The actress confirmed to GamesRadar that Guardians of the Galaxy Vol. 3 is the last movie for her.
"I think the time has come for me to step down, and for the next generation to come forward," the actress told Total Film magazine. Had she stopped at that, fans might have assumed that Gamora might die. You know, again.
The MCU's original Gamora died in Infinity War, leaving Peter Quill (Chris Pratt) and fans heartbroken. The character returned in Endgame as a variant from a different timeline who got stuck into this universe. This Gamora isn't in love with Quill, and she has her own agenda.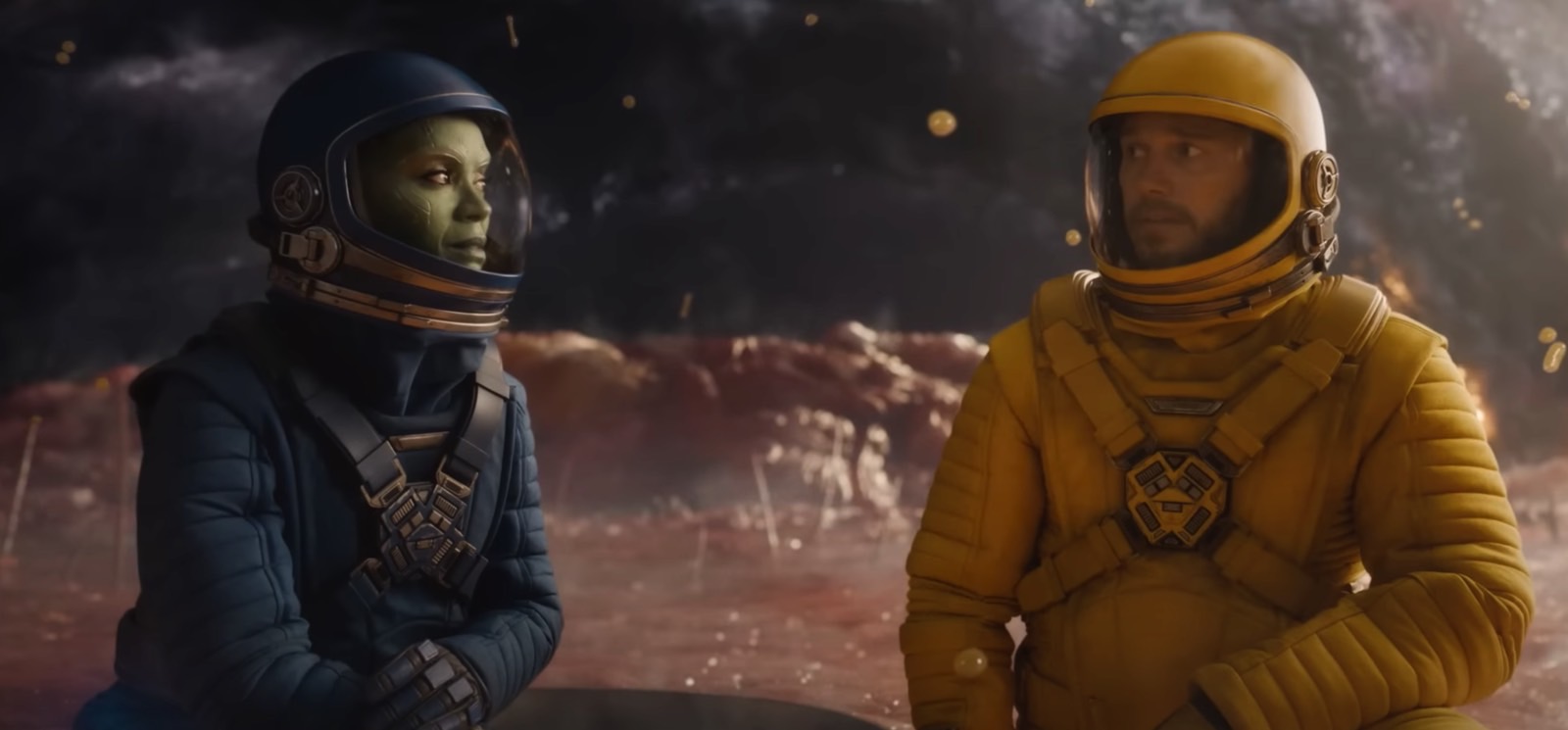 Killing Gamora wouldn't feel right, as Marvel already did that.
Thankfully, we know Gamora's death won't come in Guardians of the Galaxy Vol. 3. The actress implied as much when she said she hoped that Marvel would recast the role so that Gamora would continue to entertain fans in future adventures:
The one thing I would not want is for Gamora to go away. She's been such an impactful character for fans, and especially female fans, and young female fans. I would love for Marvel to figure out a way to find that next generation of actors that can incarnate these characters, and give them this immortality that fans generationally keep coming back to… But me, per se? I mean, I signed up for one, and I got 10 years. Lucky me, man. I have no complaints. And I'm moving on with so much grace and gratitude in my heart.
On top of that, we know from a Guardians of the Galaxy Vol. 3 plot leak which seems to be accurate that Gamora will continue to exist as a character in the MCU at the end of the film. But it'll be a while until Marvel recasts the role, if it ever happens.