In an age when games have no choice but to explain all of their arcane controls, upgrade systems, progression loops and ancient lore, Fe is a pleasant respite. There are no tutorials, walls of text, branching paths or chatty NPCs. In Fe, it's just you and a vast, dangerous forest, filled with mysteries that you'll uncover on your journey.
Fe is an open world platforming adventure from Zoink, an independent developer best known for Stick it to The Man and Zombie Vikings. It follows a small, strange woodland creature that has to save the forest from being destroyed by a race of creatures known as the Silent Ones who are systematically capturing other inhabitants.
When you first set foot in the forest, you have to get your bearings before you can save anything. Your small cub can run, jump and clamber up short ledges, but that's about it. In order to advance, you have to depend on other creatures of the forests to help you find your way forward. You do this by singing with them.
One of the many things that sets Fe apart is the button on the controller dedicated to singing. Depending on how hard you push down on the button, you can sing at the top of your lungs or quietly enough that enemies won't hear you. As you make your way through the forest, you'll learn the songs of other creatures which you can use to interact with the world or the creatures themselves. There are deer-like creatures that you can ride on, birds that will fly you to hard-to-reach places, and giant slugs that can pull you underground and whisk you across the map.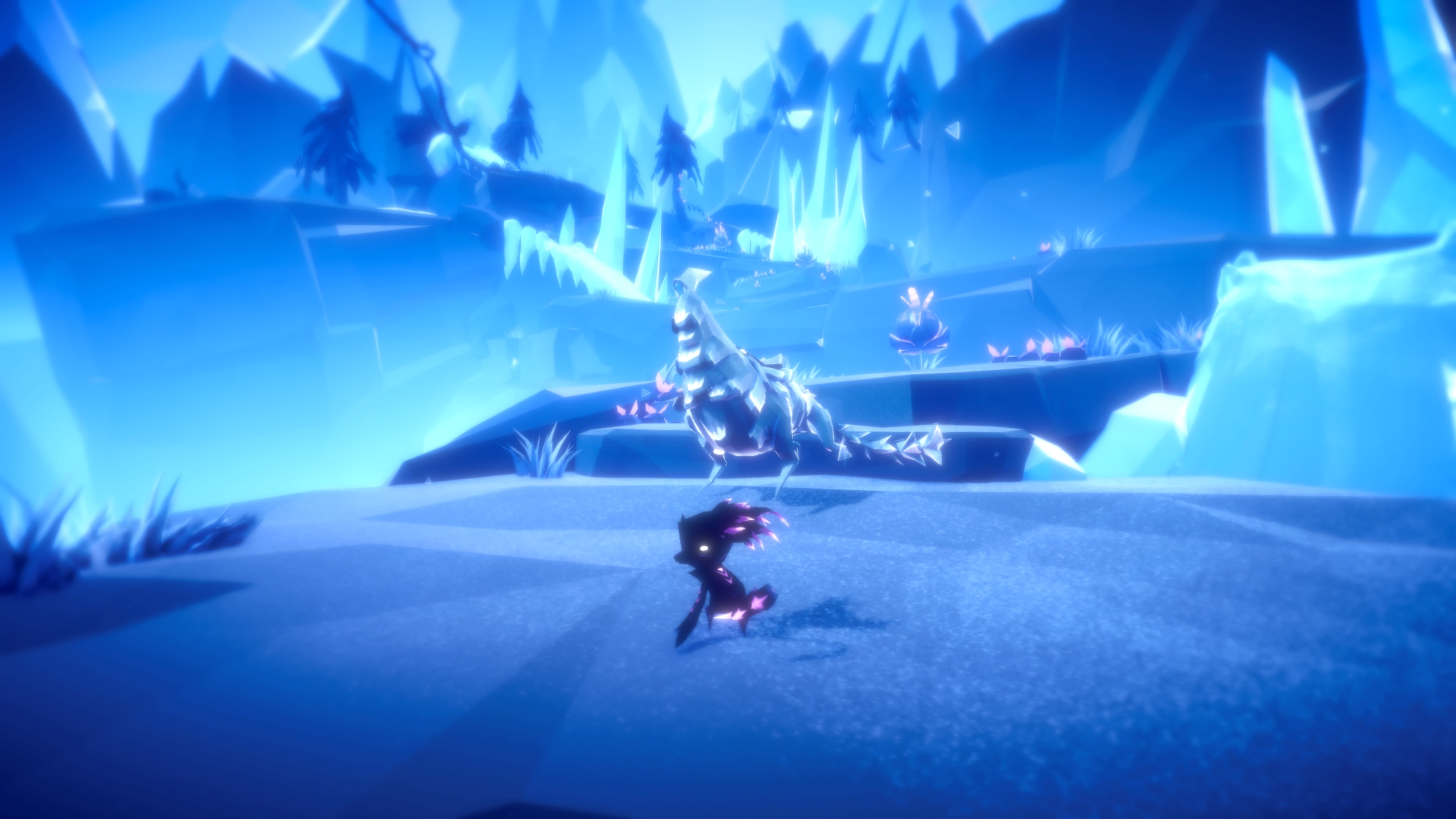 Although the game will occasionally throw you a bone with a pop-up bubble hinting at what to do next, Fe does a great job of showing rather than telling a vast majority of the time. The main hub of the forest branches off into several areas, in each of which you will learn a new song. You may feel overwhelmed when you first enter one of these areas, but the game encourages you to explore at your own pace. And if you're desperate to move on, a green icon on the map will always let you know where your next main objective can be found.
The songs (which reminded me of power-ups from Mega Man) are vital for progression, but there are other ways to enhance your character's skill set as well. Crystals scattered throughout the world can be cashed in for upgrades that allow your character to climb trees, glide, sprint and more. I managed to make it through the entire game having only unlocked the first two, but they all make traversing the world much easier.
What impressed me most about Fe was how successfully it mashed up some of my favorite genres. As I learned more songs and the world began to open up, I really started to enjoy jumping, climbing and gliding around. There are also puzzles to solve, some of which require you to jump around and some of which are a bit more thoughtful. And since there is no traditional combat in the game, you will have to rely on stealth to stay alive around enemies.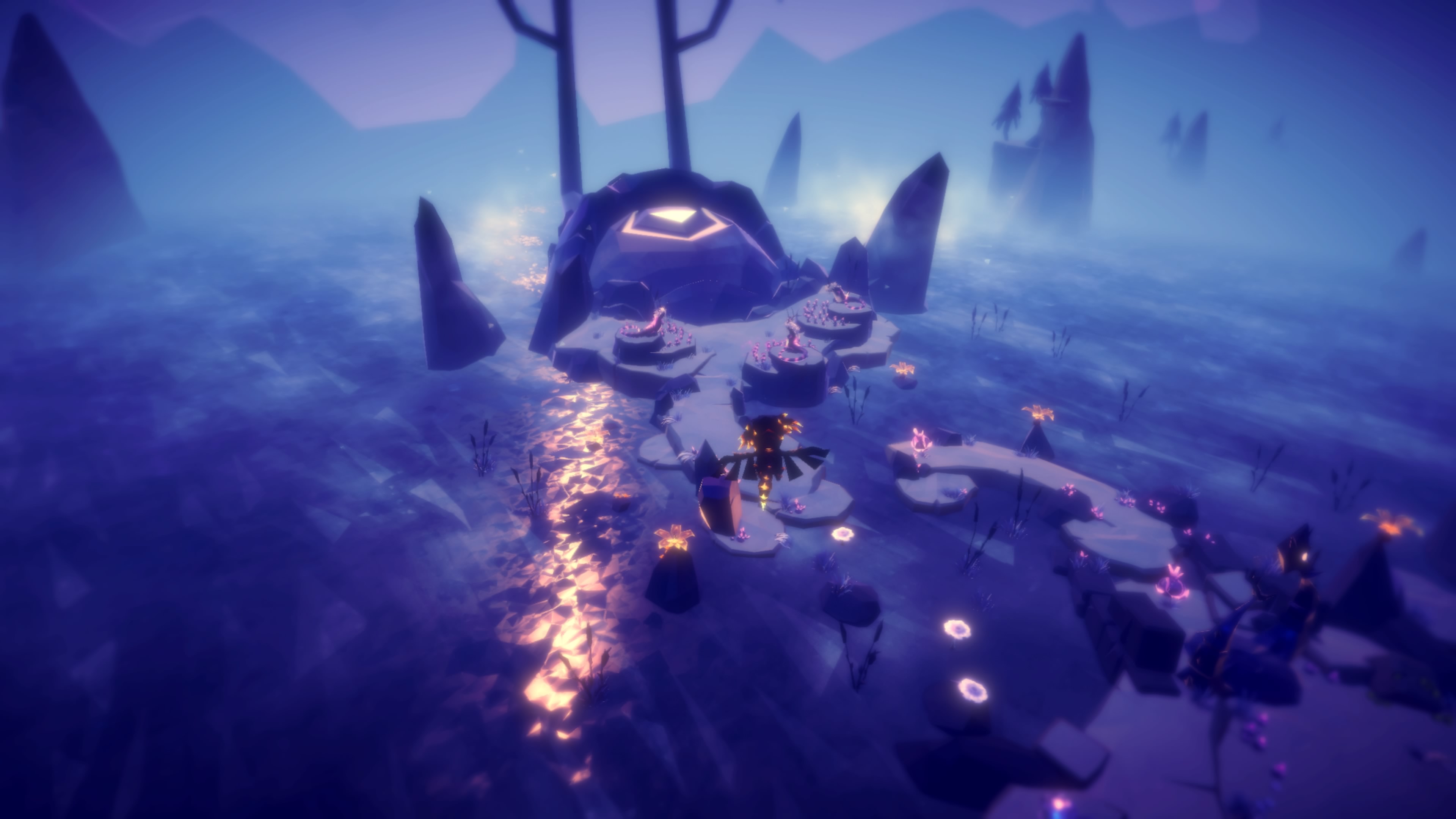 And of course there's the presentation, which is about as unique as the game's premise. The painterly, polygonal art style didn't click with me right away, but the deeper I went into the forest, the more I began to appreciate it. And then the light bulb came on when I realized how well the art synced up with the game itself. The way that Fe uses shapes and colors to show you where to go and what you can interact with is quietly brilliant. You never feel lost.
The only thing that took me out of the game were the controls themselves. The character feels a little too floaty at times, which is especially frustrating when you're trying to make a precise jump, miss it and fall back down to the bottom of a cliff you've been climbing. By the time I felt mostly proficient, I was reaching the end.
But it wasn't enough to spoil what was one of the most pleasant surprises of the year so far. Fe features a world you'll want to explore, tries things that have never been tried before, and, without a single line of dialog, tells a meaningful, relevant story that, at the very least, will make you want to go outside and take a hike.
---
EA provided BGR with a copy of Fe on PS4 for the purposes of this review.