Disney+ launched with over 600 shows and movies on November 12th, and no matter how much you've binged since then, there's no way you have seen more than a fraction of what it has to offer. That said, this is just the beginning for Disney's streaming service, and even though it is currently stuffed to the gills with massive hits like Toy Story, Avatar, Avengers: Endgame, and the entire Star Wars franchise, there are some notable absences.
As Lifehacker noted this week, there are a handful of blockbuster movies that are currently tied up with other deals and services, which means subscribers are going to have to wait a while to watch them on Disney+. The good news is that you can still find them on the service and see when they will be available.
As you can see in the screenshot below, Disney+ has already built landing pages for upcoming content into the app, with a note that explains why the content isn't currently accessible and provides a release date: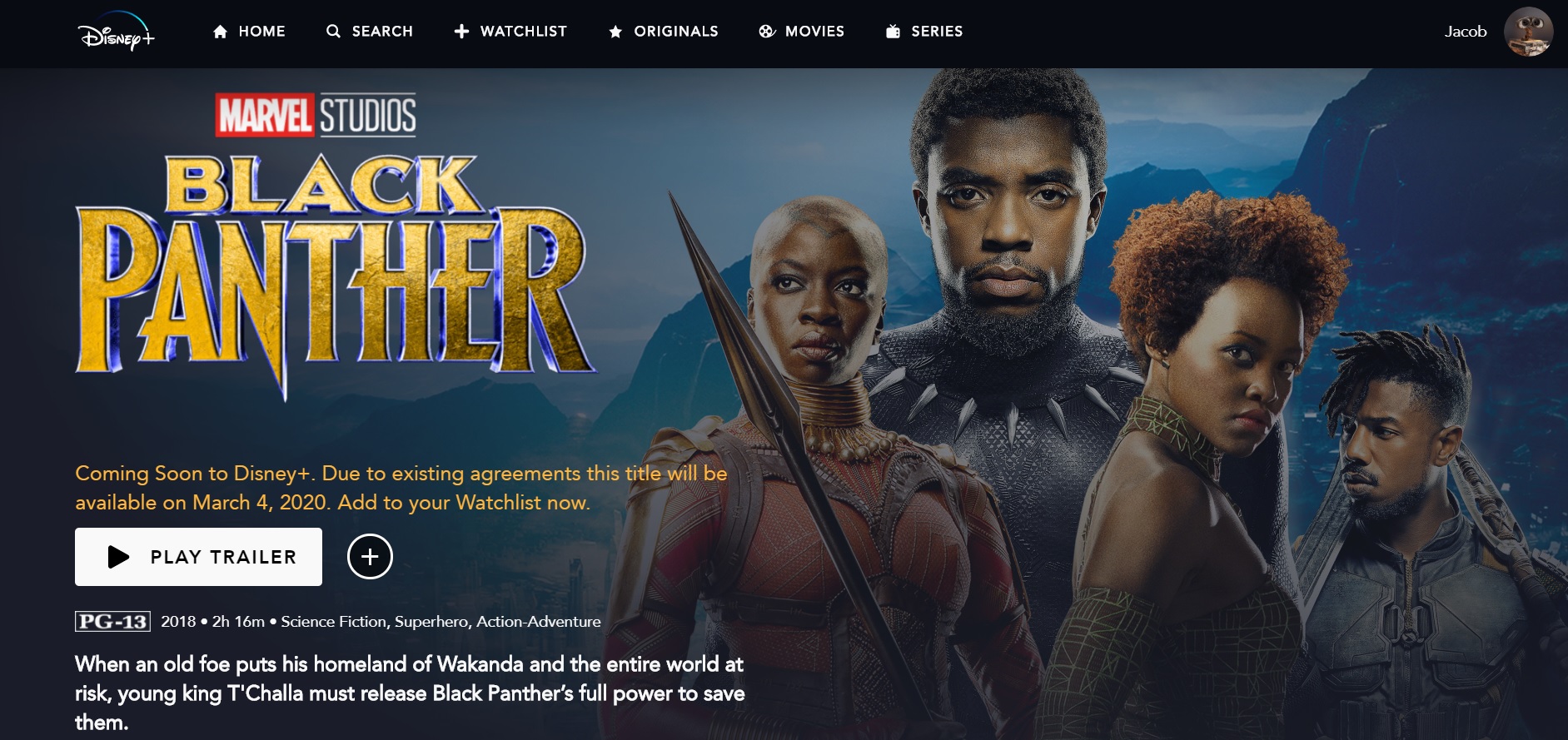 Also, if you tap on that plus sign next to the Play Trailer button, you can add the movie to your Watchlist so you won't forget about it in the interim. And there are plenty of major movies you might want to add to your Watchlist, a bunch of which we've compiled into a list of direct links that you can check out below:
Coco | November 29, 2019
Thor: Ragnarok | December 5, 2019
Alice Through the Looking Glass | December 11, 2019
Star Wars: The Last Jedi | December 26, 2019
Black Panther | March 4, 2020
A Wrinkle in Time | March 25, 2020
Avengers: Infinity War | June 25, 2020
Solo: A Star Wars Story | July 9, 2020
Ant-Man and The Wasp | July 29, 2020
Incredibles 2 | July 30, 2020
Christopher Robin | September 5, 2020
Beauty and the Beast | October 1, 2020
Maleficent | October 1, 2020
The Nutcracker and the Four Realms | November 28, 2020
Pirates of the Caribbean: Dead Men Tell No Tales | December 2, 2020
Ralph Breaks the Internet | December 11, 2020
Mary Poppins Returns | January 9, 2021
The Jungle Book | May 30, 2021
Tomorrowland | September 1, 2021
McFarland, USA | October 23rd, 2021
There will be plenty of other content coming to Disney+ in the weeks and months and even years to come, but these are some of the biggest missing pieces at launch. Thankfully, you can mark them all down on your calendar and play the movies right from your Watchlist the minute they become available on the service.